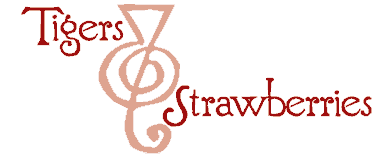 Cook Local, Eat Global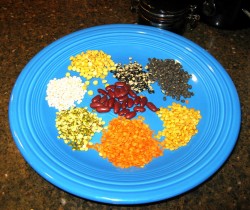 I have always loved lentils and dried beans.
I think that it is because when I was growing up and we were on the lower end of the lower-middle class spectrum, we ate a lot of meals where dried beans and lentils were the centerpiece. Navy bean soup with a hambone, carrots, celery and onions, lentil soup with a little bit of beef, some potatoes, carrots and celery, pinto beans with cornbread, and my favorite, dried baby limas, found themselves on our table, and the tables of most of my friends, neighbors and relatives several times a week. Beans were a great way to stretch a tiny bit of meat, or to replace meat altogether, they were nutritious, hearty and filling, and frankly, they made us all very happy.
Beans and lentils were poor people's food, but even after our family climbed up the social ladder towards middle-middle class, we still relished our beans, and ate them with the same frequency as before.
They were just too damned good to ignore.
So, knowing as we now do that I grew up eating lots of beans, it should come as absolutely no surprise whatsoever that my number one favorite type of Indian food is dal.
Dal is a word that is used to denote either a spiced bean or lentil dish, or it can also refer to the split or split and skinned beans and lentils that are used to make the dish. I have read that there are over fifty different types of beans and lentils cooked and eaten all over the Indian subcontinent, which not only is amazingly cool, it also makes me hungry just to think about it!
Dal is the soul food of India, and I feel safe to say that it is eaten in nearly every household there, from the most humble to the most opulent, and I would be surprised to find a person of Indian extraction who is not comforted by a nice warm bowl of aromatic, delectably spiced dal. I'm not Indian myself, but I know that no matter how stressed I am at a given moment, no matter how down or blue, my mood can always be lifted by dishing up a bowl of dal, and sitting down to let it wrap my senses in the comfort of its fragrant, delicious embrace.
Dal is the culinary equivalent of an old,soft, warm blanket and fuzzy bunny slippers–and even though, like a threadbare quilt, it seldom looks like much, it is filled with the very essence of comfort.
In the photograph above, you see a selection of some of the different dals I have sitting in my pantry. If you look at the plate like a clock, at the noon position, you see split urad–which cooks up to a nice creamy consistency, and has a very nutty flavor. Going clockwise, next is whole urad–these take a while to cook–about three hours, or about forty-five minutes in a pressure cooker–but they are worth the wait. Whole urad become velvety when they are done and their dark color is strikingly lovely. Next is toor dal, which I think has a very sweet flavor, and which cooks up very quickly, but with a bit more texture than the next dal–the brilliant salmon-orange colored one: masoor dal. This is my favorite basic dal–the one I often will use as the basis of mixed dals. It cooks into a yellow puree that has a delectable aroma, and it mixes very well with other lentils and beans.
The green and white dal is split moong dal with the skin left on. Skinned, mung dal is very nutty and sweet, but leaving the skin on not only gives more dietary fiber to the finished dish, it gives color, texture and a vegetal, herbal aroma. The white dal is skinned, split urad–splitting any bean or lentil makes it cook faster, and skinning them makes them more digestible.
Channa dal is next–these are split, skinned channa–chickpeas. They cook up beautifully, retaining their shape and nutlike flavor and aroma. I like to mix channa dal with split skinned moong, split moong and masoor dal for a wonderfully thick, fragrant and well-textured dish.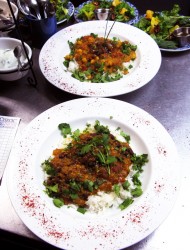 In the center, you will see kidney beans, also known as rajma. These are my new favorite–they have a very meaty, rich flavor and when they are cooked properly, their strong, chewy skins encase velvety soft flesh. I just made a dal with rajma for a dinner special this weekend past, and it was extremely popular.
Dal is easy to cook–but I think that it is a mistake to take its simplicity for granted. The secret to making a great dal isn't in how you cook the lentils or beans–so long as they are cooked fully, it doesn't matter if you boil them in a regular pot or use the pressure cooker. And while adding various vegetables to dal–like mushrooms, tomatoes, spinach, squash, or potatoes, or even meat or poultry–will give the finished dish a great amount of flavor, texture and color, they are not crucial to a good bowl of dal.
The secret to a great dal is this: make a good tarka.
As I explained in a previous post–a tarka is created by heating oil or ghee (Indian clarified butter), and toasting whole spices, such as mustard seeds and cumin seeds, herbs such as curry leaves or bay leaves, as well as thinly sliced onions, garlic, ginger and chilies until everything is deeply browned and extremely fragrant. This amazing melange is then poured into the dal, and stirred in thoroughly. The tarka is what makes the dal–so it behooves the cook to learn how to cook every ingredient until it is browned perfectly.
I generally cook the onions first in my usual fashion. As outlined in the post, Teaching Tarka, I let the onions cook until they are golden colored, then add the chilies, ginger and garlic, and after these are fragrant and take on color, I add the whole spices and curry or bay leaves if I am using them. Then, I continue cooking until the onions are deep reddish brown, the garlic is golden, the mustard seeds have popped and the curry leaves have wilted and crisped.
At this point, the tarka is ready, and is stirred into the dal, where it imparts the most amazing fragrance and flavor to the dish imaginable.
It is my tarka that makes my dals so good–so good that many a meat-eater has told me that they had no idea that vegan food could be so good before they had eaten my dal. It is because of my tarka that many Indian folks have said that my dal is like a little taste of home when they have eaten at my table.
So, by all means–do that dal thang, folks–but do it right.
Make a bangin' tarka and treat yourselves and your friends and family to a bowl of healthy, delicious Indian soul food that is not only good for you, the environment and your pocketbook, but it also tastes so good it is nearly sinful.
9 Comments
RSS feed for comments on this post.
Sorry, the comment form is closed at this time.
Powered by WordPress. Graphics by Zak Kramer.
Design update by Daniel Trout.
Entries and comments feeds.