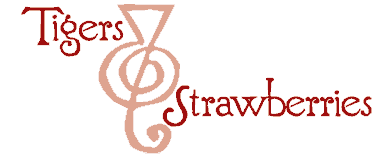 Cook Local, Eat Global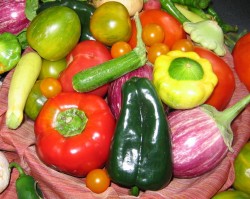 New York Times health blogger, Tara Parker-Pope, posted about a new two-year study to be undertaken at the University of North Carolina to determine the public health impact of consumers moving toward a diet composed of more locally grown and produced foods.
This study will be the first to look at the health implications of eating locally grown fruits and vegetables, and I look forward to the results, since I am pretty certain already that the locally grown food we eat at our house has made us all healthier. I do remember in my nutrition classes learning that after a fruit or vegetable is picked, pulled, cut or otherwise removed from the parent plant, it begins to lose vitamins and other phytochemicals which are necessary for proper health. And, unfortunately, the "fresh" vegetables and fruits you see in supermarkets, no matter how beautiful, are not particularly fresh. Many of them were picked two weeks or more ago.
Some vegetables, such as winter squash, potatoes, onions and apples can all be stored for a long period of time without a noticeable loss of nutrient value, but other vegetables like leafy greens, or broccoli, or sugar snap peas, all lose their nutrients pretty quickly. And vegetables like tomatoes, which are picked green and then are forced to ripen in transit by the application of ethylene gas, never even get the full compliment of nutrients they would have had if they had ripened on the vine. (Not to mention that they taste like water and plastic.)
Marion Nestle, author of the weighty but useful tome, What To Eat, discusses these issues in her book and on her blog; I trust her works because she writes not from the perspective of a hippy-dippy idealist, (not that there is nothing wrong with being a hippy-dippy idealist–I have been one myself, and still am some days) but from the scientific point of view of a distinguished and well-respected professor of nutrition. She backs up her statements with the latest scientific studies, so when she tells you that the "fresh" foods in the grocery store produce department are lacking in vitamins and minerals because they really aren't that fresh, you can trust her words are based on fact, not belief.
When you eat locally, buying from a local farmer, most often the food you purchase was picked that very morning. The foods at farmer's markets generally are so much more fresh–in the truest sense of the word–than what you can find in grocery stores, that it stands to reason that when you eat them, you are getting more vitamins, minerals and phytochemicals which can help fight cancer, than you would be getting otherwise. At a farmer's market, the only time a tomato is picked green is so you can take it home and make fried green tomatoes or green tomato pickle from it. Vine-ripened tomatoes are not only superior to grocery store tomatoes in vitamin content, they are worlds beyond them in taste and texture, so much so that you cannot really compare the two.
Large amounts of vitamins and minerals help boost human immune systems, and I have to say this–Kat has only had one major illness, no recurrent colds, no ear infections or other maladies common among infants and toddlers. Morganna still has allergies, but she doesn't get colds or the flu very often, and neither Zak nor I have been sick in quite some time–I had one sinus infection a couple of months ago, but that was the first one in FIVE YEARS. This is astounding, since I used to have one ever six months when I was younger.
There is also the issue that it seems that once people start shopping at farmer's markets, they seem to start eating a diet with more varied fruits and vegetables than before, in large part because they are exposed to interesting, different varieties of these foods than they see in grocery stores. And, I have anecdotal evidence from watching the eating and shopping patterns of some friends of mine who have been influenced by the foods they eat at my house to change their shopping patterns, that once you get a taste of really fresh produce, you will want more, and will eat more of it. (This also goes for high quality dairy products, eggs and meat as well.) Nothing compares to the sweet fragrance of just picked ripe local strawberries, and once you taste that, the cottony giants at the supermarket will never satisfy you again.
Frankly, anything that gets people to eat more fruits and vegetables and a little less meat is fine by me.
There is also the issue of food safety.
When you have food being shipped across our country and into our country from across the world, there is a significant risk of food contamination. Why?
Because other countries do not have to abide by the same safety standards in agriculture that farmers in the US do. When I was in culinary school, there was a local outbreak of e coli that was traced to raw scallions from Mexico, where they were irrigated with raw sewage. The usual washing procedures are not sufficient to safely remove all traces of any bacteria present in a scallion, because of the way they grow–in layers and concentric rings which can trap soil and more disturbingly, bacteria.
And, of course, there is the current outbreak of a rare form of salmonella that has been traced back to tomatoes grown either in the US southwest or Mexico.
This outbreak has caused local Texas health officials to state that it is perfectly safe to eat raw home grown tomatoes of any kind, but that full-sized and Roma tomatoes bought from grocery stores should not be eaten raw.
When you grow your own food, or when you buy it locally from a farmer you know and trust, you know exactly what went into growing it. When you grow it yourself, you know what was used to fertilize it, where the water came from that irrigated it, and who picked it. You know if it came into contact with possibly contaminated animal manures, you know how much or little it needs washed before eating and you know exactly how ripe or unripe it is.
I have been saying for a while now that for food security issues, that smaller, localized food production is safer. When you have huge farms growing one food and shipping it off to all corners of the country and globe, if there is ever anything wrong with that food, a hell of a lot more people are in danger of food-borne disease than would be otherwise. There is also the issue that tracing the source of illness is harder in a huge food system like this.
For these reasons and more, I am looking forward to the new study on the health impact of local food. While I believe that local food is healthier and I have a lot of circumstantial evidence to support my contention, there is a difference between believing something and knowing it for a fact.
Besides, there is nothing wrong with more knowledge in the world.
10 Comments
RSS feed for comments on this post.
Sorry, the comment form is closed at this time.
Powered by WordPress. Graphics by Zak Kramer.
Design update by Daniel Trout.
Entries and comments feeds.