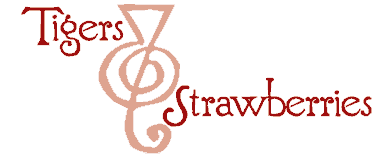 Cook Local, Eat Global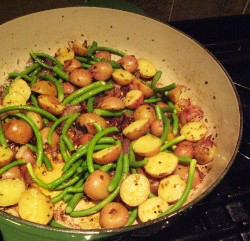 When I saw these tiny, marble-sized new potatoes at the farmer's market, I had to have them, not only because they reminded me of my childhood, which they did.
Potatoes this small are sweet with a marvelous waxy texture that is beautiful either braised in a sauce or parboiled and then sauteed with seasonings. You hardly ever see potatoes this tiny at the markets, because it really isn't all that cost effective to dig them up and sell them, but we used to eat them every spring at my grandparents' farm. Grandma used to cook them in a cream sauce with tiny baby peas, whileI used to saute them in butter with plenty of green garlic and fresh herbs, primarily thyme and rosemary.
My nostalgic heart was moved by the idea of creamed new potatoes and peas, but this year, I wanted to do something different.
I wanted to cook them with garlic scapes–and I wanted to do it with Indian spices.
I did parboil the potatoes first, just to get them to soften properly. To do this all you need to do is after washing the little guys, put them into a pot of cold water and bring them to a boil. Cook them whole, with the skins intact, because the potatoes' texture will be improved; if you cut the potatoes before cooking them, they will be inclined to soak up too much water and will become soggy and mushy.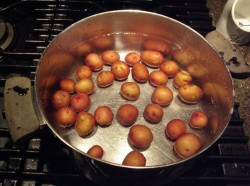 When the potatoes were just tender–not completely done, because I was going to cook them further in the saute pan–I added trimmed and cut up garlic scapes and let them blanch in the hot water for a minute before draining the whole lot into a colander.
Then I let the potatoes cool a bit until I could touch them and cut them each in half so that the cut sides could brown a bit when they were sauteed.
After that little bit of preparation, all that was left to do was to heat a mixture of canola oil and ghee in a pan, cook a red onion until it was halfway golden and add the potatoes, garlic scapes, panch phoron and some chili flakes then cook until everything was fragrant and golden.
No extra garlic is necessary because the garlic scapes subtly flavor the buttery-smooth potatoes, while still having the wonderful texture of young string beans. The panch phoron adds its own myriad toasted spice flavors and nutty texture while the onion sweetens everything deliciously.
And as an extra-added bonus–they taste just as good at room temperature or cold as they do hot. I know this because I plucked the leftovers out of the fridge this afternoon and lacking patience for the microwave, tried them chilled.
They were delicious–this recipe is definitely a keeper.
Tiny New Potatoes And Garlic Scapes With Panch Phoron
Ingredients:
1 pound tiny new potatoes, washed and unpeeled
1 teaspoon salt
1/2 pound garlic scapes, tops trimmed and cut into pieces 1 1/2″ long
2 tablespoons canola oil
2 tablespoons ghee or butter
1 cup thinly sliced red onion
1 1/2 tablespoons panch phoron
1 teaspoon or to taste Indian chili flakes
salt to taste
roughly chopped cilantro as garnish–optional
Method:
Put the potatoes in a large pot of cold water and add salt. Bring to a boil and cook until the potatoes are just tender–easily pierced with a fork, but when you try to shake the potato off the tines, it sticks and doesn't move.
Turn off heat on the pot and add garlic scape pieces. Allow to sit with the potatoes in the hot water for about a minute, or until the color of the scapes deepens to a brilliant emerald hue.
Drain the vegetables and let the potatoes cool until you can easily handle them.
While the potatoes cool, heat canola oil and ghee or butter in a heavy-bottomed skillet. Add onion and cook, stirring until they turn lightly golden brown on the edges.
While the onions cook, cut each potato in half.
Add the potatoes and garlic scapes to the pan and cook, stirring until the onions turn almost completely brown and the potatoes brown along the cut sides and edges. Add the panch phoron and chili and cook, stirring until the mustard seeds pop and the chilies tint the cooking oil a pale orange red color.
Add salt to taste, and remove from heat. Sprinkle with cilantro leaves if you want and serve either hot or at room temperature with other Indian dishes or on its own as a light entree.
To make this recipe vegan, substitute canola oil for the ghee.
7 Comments
RSS feed for comments on this post.
Sorry, the comment form is closed at this time.
Powered by WordPress. Graphics by Zak Kramer.
Design update by Daniel Trout.
Entries and comments feeds.