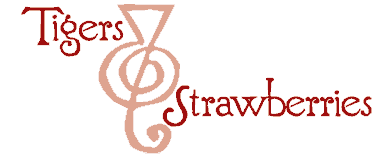 Cook Local, Eat Global
My parents came to visit two weeks ago, and wanted to stop by the Athens Farmer's Market in search of one thing:
Tomatoes that taste like tomatoes.
Apparently, the farmers around Putnam County, West Virginia, where my Mom and Dad live have taken to growing tomatoes that are perfectly round, beautifully red, and look lovely, but which have the texture of styrofoam and the flavor of, well, wet styrofoam. It sounds to me like these farmers have taken to growing tomatoes meant for the wholesale grocery store trade, which means they look pretty on the shelves, and are a uniform color, size and shape, and have no smell, flavor or texture to speak of.
Here's the deal–I'd rather eat something ugly that tastes good than something beautiful that has no flavor (and probably little in the way of nutritive value as well.)
Luckily, the farmers here in Athens have learned the cure for the market tomato blahs–heirloom tomatoes.
Now, I have written aboutthese lovelies before—several times–but this time, I wanted to evangelize a little bit, just as I did with my parents.
Look at the sliced tomatoes up above, all grown by Becky, Kip and the interns at Green Edge Gardens/Athens Hills CSA. (Same folks, same farm, different business names, same great produce.)
Aren't those sliced tomatoes beautiful? They look like gemstones, shimmering in the sunlight. Three varieties of tomato are represented there: Green Zebra, Cherokee Purple and Sungold. I will let you guess which is which, since the colors of the tomatoes are mentioned in their names. Not one of them is the typical scarlet red of the tomatoes in the produce section of your local supermarket, and the Cherokee Purples are definitely a different shape. But who cares, when you can smell their delicious fragrances as soon as you slice into them? Look at how juicy they are? They are bursting with juice, life and goodness–and you can just see it. Imagine if you could taste it–the earthy sweetness of the Cherokee Purple, the tangy zing of Green Zebra and the honey-tinged richness of Sungold.
These are the tomatoes I introduced my parents to the last time they were here.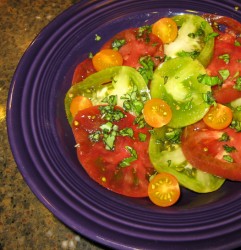 And these are the types of tomatoes I wish I could serve to everyone in America, just so they know what tomatoes are supposed to taste like. Heck, why stop at America?
I wish I could personally slice up a tomato for everyone on earth, and serve it to them simply, like these pretties, with a sprinkling of fresh basil (grown up on my deck garden) and a little shake of pure sea salt.
I think that if people could just taste these gems from the garden, there would be a tomato revolution. People would want that taste again and again, and would be willing to do what it would take to get it, whether it was shop at a farmer's market, insist upon local tomatoes being sold in local supermarkets, grow them in a community garden or get them at a local restaurant.
I'd love to see people stop buying the supposedly "fresh" tomatoes at the grocery store.
The truth is, I haven't bought one in years. I just don't eat fresh tomatoes when they aren't in season.
I eat them canned, in juice, in sauces, dried and pureed, but not fresh. There just isn't any point.
Those red baseball sized "tomatoes" in the grocery store just don't taste like anything. Who knows how long they have been off the vine, and who knows how many vitamins or minerals are left in their crisp, nearly juiceless flesh?
They just are not worth the bother or the price.
Nope, it is all about the seasonal, home-grown, freshly picked tomatoes.
They are where its at.
And I am so there.
23 Comments
RSS feed for comments on this post.
Sorry, the comment form is closed at this time.
Powered by WordPress. Graphics by Zak Kramer.
Design update by Daniel Trout.
Entries and comments feeds.