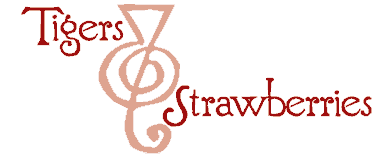 Cook Local, Eat Global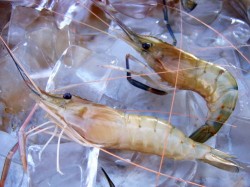 Saturday morning, September 20th.
I awoke to a gorgeous early autumn day: brilliant blue sky, sweet, cooling breezes with just a hint of crispness to them, and glorious sunlight filtering through the whispering sycamore and pawpaw leaves.
My nose twitched once, and I knew–I just knew–it was Shrimp Day.
I could feel it in my bones. I knew it the same way that the Canadian Geese know it is the day to start flying south. I knew it the same way that mother cows know their own calves and will not let other calves come and nurse. I knew it the way that salmon know which river to swim up in order to go to their very own spawning grounds in order to mate, and then die.
It was just instinct that told me that at that very morning, at the Athens Farmer's Market, the Hocking College Fish Management and Aquaculture Program was setting up their stall in order to sell the living harvest of their program: pound after pound of gorgeous freshwater shrimp. It is the one day a year here in Southeastern Ohio where foodies can feel like they live on the Gulf, and can feast on delicious super-fresh seafood. As far as I am concerned, it is cause for a celebration, and I was thrilled to know that I could give Zak a shrimp dinner–or two–for his birthday, which was on the following day.
So, it was with shaking hands that I got Kat up and dressed, fed and wiped off, gathered my canvas tote bags, and stuck the checkbook in my purse. I then gathered a snack for Kat, along with a sippy cup of juice and her two favorite critters, Ticklebird and Melora the Monkey, and set forth with child in tow, in order to pick up Morganna and James downtown and head for the market, where Zak was already set up to play flute and guitar.
I left my purse behind in my hurry, but I didn't know that yet.
As I drove downtown, I found myself singing, "Shrimp day, shrimp day, oh, yes, it is shrimp day, oh, yeah," much to Kat's amusement. I pulled up in front of Tony's bar, where the two of them were sitting and waiting on the bench outside, and when they hesitated to leap into the car, I honked and yelled, "Get in the damned car already, it's shrimp day!"
"Shrimp day?" they asked. "How do you know?"
"I just do," I said as they buckled in and I roared off down State Street, grinning like a fiend.
To their credit, both Morganna and James were just as excited as I was at the prospect of shrimp so fresh and sweet that the little critters were still alive and kicking, so we jabbered incessantly about the different ways in which we could cook them, while speculating on just how many we needed to buy.
Last year, I had only bought a pound of them, because I had no idea how good they would be, and after tasting their sweet, delicious meat, was sad that I could not get any more at the college, as they had sold out that day. I resolved never to make such a mistake again.
So we pulled into the parking lot of the market, and jumped out of the car. I grabbed the bags, and Morganna was in the process of unfolding the stroller when I realized that a crucial piece of equipment was missing from our entourage–my purse.
I then remembered that I had left it on the kitchen counter in my rush to make it out the door with the child, Ticklebird, Melora, sippy cup, tote bags, snack and everything else intact.
"James!" I barked in my best field-marshal voice. "Go forth and see if it is indeed shrimp day, and if it is, go forth and have them ready me a bag of at least three pounds of the critters, while Morganna, Kat and I fetch my purse. And call us to let us know it is indeed shrimp day, because I bloody well want to know if I am right or not."
So, with a salute and a bow, James galumphed off across the asphalt in search of shrimp, while Morganna refolded the stroller, stowed it in the back of the Subaru, and I jumped in and started the car with a swiftness just this side of Batman on the trail of the Joker. I refrained from peeling out of the parking lot, though we were nearly killed by an idiot making an illegal turn against the light to enter the market lot as we were leaving. (Maybe she could feel the Shrimp Day Vibe, too.)
We made it just halfway home when James called to tell us in a voice filled with wonder that yes, it was indeed Shrimp Day, and how the hell did I know that?
At which point, I put the pedal to the metal and slalomed around the pedestrians on both sides of our hill, which is inconveniently sans sidewalks.
I screeched to a halt in driveway, and leaving the car running, dashed for the door. The key stuck in the lock, but eventually turned and I ran up the stairs, burst the the kitchen door, tripped over two cats, snatched my purse off the countertop, turned and nearly tripped back down the stairs as another cat tried to make an escape through the swinging door.
I closed the door behind me, turned and opened it, then turned the lock, then closed it again, took the stairs down to the ground in two strides and jumped back in the car, and set it to teleport mode and made it back to the market in less than five minutes.
We buzzed past Zak who was playing beautiful flute music at the entrance of the market and dodged the huge early fall crowds of people milling about, shopping, talking, campaigning, visiting, gossiping and generally standing right where I wanted to be. Morganna, to her credit, did not run over any old ladies, small children or musicians with Kat's stroller, and Kat refrained from tossing either her Ticklebird or Melora Monkey from said stroller. (She saved that trick for later after the shrimp were safely bought and stowed back in the car while we went about our usual, more leisurely shopping missions.)
We arrived at the shrimp stall, breathless with excitement. After determining that the nice gentleman who heads up the Fish Management and Aquaculture Program would indeed take a check made out to Hocking College for his shrimp, I bought six pounds of still kicking water beasties. While students netted up my bounty and weighed them and bagged them, two Ohio University students came up and evinced interest in the shrimp. "Do they taste good?" they asked me.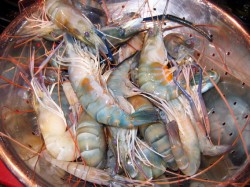 "They are sweeter than any shrimp you can buy at the grocery store, because they are so fresh," I answered.
When they saw them flipping their tails and wriggling, the two young ladies blanched and said, "But how do you cook them–they are still alive!"
So, in one breath, I rattled off this recipe:
"Take some beer–two bottles worth, and six lemons, cut in half, and some salt and pepper and spices–Old Bay Seasoning is best. Put them all in a pot with enough water to cover however much shrimp you have bought. Bring this to a boil–throw in a hot pepper or two if you like, or some pepper flakes, and let it boil nicely for about ten minutes to get a nice tasty broth going. Then, dump your shrimp in–once they are iced, they go into hibernation, and won't feel a thing. As soon as they turn from blue to pink, which will take seconds, they are done. Fish them out, twist their heads off, toss the heads back in the pot, and put the headless shrimp on ice. Melt butter, put some Old Bay in it, squeeze lemon juice in it along with a bit of the cooking broth, and shell your shrimp, dip them in the butter stuff and eat them. Save the shells and put them back in the pot with the heads. Simmer this mixture until you have reduced the liquid by half. Strain it and you have shrimp stock which you can use in soups, jambalaya, sauces or whatnot. Two recipes in one."
Their eyes widened, and they grinned. "Well done," one said. "You sound like a professional."
I bowed and said, "I'm the chef at Restaurant Salaam, come in and see us sometime."
I then picked up my two bags of shrimp and wove my way through the crowds back to the car. Along the way, I spread the news to friends and neighbors that it was Shrimp Day, sending several more customers over to the stall for their fix of Appalachian home-grown seafood.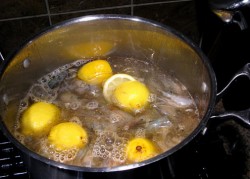 Later that night, after a crazy-making shift at the restaurant where we kicked ass and took names, and Dan and Leah worked the crowd with dazzling displays of drumming and dance, Dan and I came home to reinact last year's late-night shrimp feast, although this time, we cooked and ate three pounds of shrimp instead of just one. (I had seen Dan in his side yard practicing his whip cracks on my way to work. Needless to say, I turned up his street, pulled over and rolled my window down. "You'll be wanting to come home with me after work tonight, I yelled. "Why?" he asked. "Shrimp Day!" I answered–and he grinned and said, "You don't have to ask me twice!" I then tore off towards the restaurant, happy in the knowledge that Dan would be sharing in the celebration that is Shrimp Day.)
After Zak put Kat to bed–I was still unwilling to let her try a food which is so likely to cause allergic reactions–we sat down to a feast of shrimp boiled in a broth of beer, lemons, Old Bay seasoning, fresh garlic, onions, chilies and smoked paprika. Dan sprinkled the still-shelled shrimp with a generous amount of Old Bay after I twisted their heads off and tossed them back into the pot, then I made a dip of melted butter, a bit of Old Bay, lemon juice and a few drops of the cooking liquid, and we had at the headless wee beasties. After we were sated–and even Dan refused to eat the last four shrimp which went into the pot along with the shells–Zak played music while Dan and I sat and talked and digested. The stockpot simmered until Dan went home. I strained the precious quart of shrimp stock into a container and tossed the heads and shells into the trash.
Shrimp Day was a marvelous, delicious success, and since our feast started around eleven pm, it made a great beginning to Zak's birthday.
Too bad it would go downhill from there.
2 Comments
RSS feed for comments on this post.
pirate day, too?

Comment by Jasi — September 23, 2008 #

Hi! I found your link through LJ's picturing food community. I also LOVE LOVE LOVE shrimp and cook it even simpler to bring out the sweetness. I steam the shrimp so as to not boil out the flavor (i boil when I'm lazy 'cause it's faster ;P but I add some sliced ginger). For a dipping sauce – sliced green onions, ginger, and chili peppers. Add 1-2 capfuls of oil to pan until hot, add ginger, green onions, and chili peppers, stir for a few minutes, then add soy sauce (as much as you'd like depending on how much shrimp you have). I also leave the head 'cause dipping the head in the sauce and sucking out the insides – HEAVEN. 😀

Comment by Cass — September 23, 2008 #
Sorry, the comment form is closed at this time.
Powered by WordPress. Graphics by Zak Kramer.
Design update by Daniel Trout.
Entries and comments feeds.