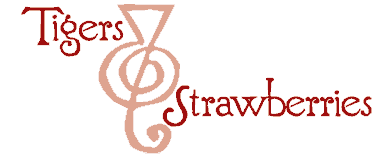 Cook Local, Eat Global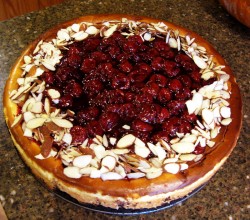 When I found out that Kim, one of the servers at Restaurant Salaam, was going to have a birthday and that she loved cheesecake, I asked her if she would like me to make one for her as a gift.
Her eyes lit up and she nodded avidly.
Dan, the usual recipient of a different cheesecake for each birthday, perked up his ears and listened as I asked Kim a few questions.
Such as, "Do you like cherries?"
And, "I know you like chocolate–what about almonds?"
As she answered, I formulated the concept for this cheesecake–it would include almond extract, toasted sliced almonds, vanilla bean paste and a swirl of sour cherry preserves in the cake itself. The crust would be chocolate wafer crumbs flavored with espresso. It would be topped first with ganache–chocolate melted with cream until it is of a pouring consistency–then, with sour cherries enhanced by a pinch of ardamom and vanilla and cooked until they formed a thick sauce. The edges would be garnished with toasted sliced almonds, and I would call it "Black Forest Cheesecake" in honor of the German chocolate-cherry cake which inspired my idea.
Now some of you may be looking at that set of flavors and might think it is just a bit too much.
I will counter your fears with the immortal wisdom of Bob Dobbs:
"Too much is always better than not enough."
With those words echoing in my mind, I began scribbling my ideas on a menu insert.
Dan hovered over my shoulder as I sat and wrote the recipe out from memory and inspiration and shook his head.
"And you say you'd be a crap pastry chef," he clucked. "Yet you write out cheesecake recipes off the top of your head."
"I can only do this with cheesecake," I answered without looking up. "And that is because I have been making cheesecakes for you for your past five birthdays and for New Year's Eve for a couple of years now. Thus," I said, whilst sketching what I thought the cake would look like, "I know my cheesecake recipe by heart. I don't know any other dessert recipes by heart."
Morganna had ducked her head out into the dining room for a breath of fresh air and overheard the last exchange of words. "Chai Crene Brulee," she piped up. "You know that one by heart, too."
"Two recipes do not a pastry chef make," I answered, knowing that I was right, because I had been in the presence of real pastry chefs who are such paragons of precise perfection that they make me at my most OCD look like a slacker bum.
At least when it comes to desserts.
But at any rate–two weeks later, on Kim's birthday, I arrived at the restaurant with a massive, weighty cheesecake that was the result of that hastily scribbled recipe written out between dinner rushes at the restaurant.
And lo and behold–it was, as I had hoped, seductively creamy, rich, decadent and evil, without being too cloying.
The secret to this cheesecake's success is the contrasts in flavor and texture. The chocolate wafer crust is made darker, deeper and more bitter by the addition of espresso powder. The slight bitter edge imparted by the coffee not only makes the chocolate more chocolaty, it contrasts with the sweetened cream cheese filling. The richness of the ganache is tempered by the sour cherry topping, while the astringent tang of the fruit offsets the smooth chocolate flavor.
I tested my theories on chocolate and sour cherries out on Zak, who as a rule, doesn't like chocolate. (I know, there is something odd about him, but I think it must be genetic, because his father is also generally apathetic about chocolate as a flavor, and neither of them will react to chocolate in any dessert or confection unless it is exceptional in some way, which makes them perfect test subjects for my new chocolate recipes. I know that if they like it, people who actually love chocolate will swoon.) I dipped one of the cooked sour cherries into the barely cool ganache and popped it into his mouth. After it burst on his tongue into a shower of sparkling fireworks (his words), he told me that I was a wicked woman for making such a thing.
That meant I had done it right.
The crispy sliced toasted almonds add much needed crunch and a delightful surface texture to the dessert, as well as adding their own smooth, earthy sweetness.
So, without further ado, here is the recipe. It is involved and it does take about two days to complete, but a lot of that time is taken up with letting various elements of the cake cool overnight or for some hours in the refrigerator In my opinion, however, the time and effort are well worth it, because you end up with a dessert that can feed sixteen to twenty people depending on how thinly you slice it and how many guests you wish to have falling at your feet a time expressing their undying devotion and gratitude.
Because, really, as Captain Kirk once said, "Too much of anything, Lieutenant, even love, isn't necessarily a good thing."
But as my friend Dan has said many times, "There might be such a thing as too much love, but there is never too much cheesecake."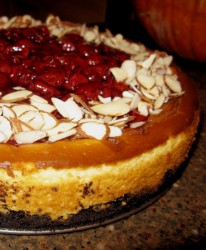 Black Forest Cheesecake
Ingredients:
1 3/4 cups chocolate wafer crumbs
1 tablespoon instant espresso powder
1 tablespoon sugar
7 tablespoons butter, melted
3 pounds cream cheese, softened
1 1/2 cups raw sugar
1 teaspoon almond extract
2 teaspoons vanilla bean paste
3 whole large eggs
2 egg yolks
1/2 cup sour cherry preserves
1 pound frozen (or canned in syrup or water, drained) sour cherries, thawed
1/2 cup sour cherry preserves
1/4 cup sour cherry concentrate, like Fruit Fast (optional–but it adds a great deal of flavor and color)
1/2 teaspoon almond extract
1/4 cup sugar
2 teaspoons cornstarch dissolved in 1 tablespoon cold water
4 ounces premium dark chocolate
2 1/2 ounces heavy cream
1/2 cup sliced almonds, toasted
Method:
Preheat oven to 375 degrees F.
Place chocolate wafer crumbs, espresso powder and sugar into the bowl of a food processor. (I also use the processor to make the crumbs, by the way, so they are usually already in the bowl.) Start the processor and as it is running, drizzle the melted butter through the feed tube. Allow machine to mix thoroughly until the texture of damp sand is accomplished.
Dump crust ingredients from processor bowl into the center of a non-stick 10 inch springform pan. Pat the crumbs in an even layer on the bottom of the pan and about a third of the way up the sides of the pan. Don't worry if the top edge is a little ragged. It won't matter.
Bake in the preheated oven for fifteen minutes (ten if you have a convection oven), then remove from the oven and allow to cool thoroughly. Turn the oven temperature down to 300 degrees and put a pan of water in the bottom of the oven. This creates a moist, steamy environment for the cheesecake to bake in, without having to bake it -in- a water bath.
Beat together the cream cheese and sugar in a heavy-duty mixer until they are thoroughly combined and are fluffy. Add almond extract and vanilla bean paste and beat well to combine.
Whisk together the eggs and egg yolks until they are thoroughly combined and lighten in color somewhat. Add to cheese batter and beat well to combine. (This also incorporates some air into the batter.)
Scrape half of the cheesecake batter into the prepared, cooled pan over the crust. Drop cherry preserves into the batter by tablespoonsful, and swirl it around with a table knife. Then, scrape the rest of the batter into the pan and smooth the top so it is even. Place into the center rack of the 300 degree preheated oven and bake for one hour and fifteen minutes. (Bake for fifty minutes to an hour if you have a convection oven.)
Remove from oven when done–the cake will be set around the edges, and will be somewhat jiggly in the middle. Do not worry–as it cools on a wire rack on the counter, the residual heat of the cake will continue to bake the middle. By the time it is at room temperature, it will be completely set.
Allow to cool to room temperature, then cover tightly with foil, and still in the pan, refrigerate for at least ten hours or until completely cold. (This part of the baking I do the first evening, so that the cheesecake is perfectly cold when the ganache layer is poured on the top of it.)
While the cheesecake is baking, cook the cherry topping. Put 1 pound thawed sour cherries, sour cherry preserves, sour cherry concentrate, almond extract, and sugar into a saucepan, and bring to a boil, stirring, until the preserves melt and some juice is released by the cherries. Add the cornstarch and cold water mixture and stir until the liquid thickens. Remove from heat immediately, put the contents of the pan into a covered container and chill completely.
The next day, make the ganache. Finely grate the chocolate in the food processor or by hand and put it into a heat-proof bowl. Glass is great. Heat the cream to a boil, stirring constantly and remove from heat. Pour it over the chocolate and stir until the chocolate melts thoroughly and combines with the cream, forming a glossy, thick, delicious mixture.
Allow to cool for a few minutes. The ganache should still be pourable, but thick and not so hot that it will melt the top of the cheesecake.
Remove the cheesecake from the refrigerator and note that the center of the cake has sunken slightly leaving a raised rim all the way around. Pour the ganache and smooth it into the center of the cake, leaving the rim plain. Put the cheesecake, covered, back into the refrigerator and leave it about a half an hour, or until the ganache is mostly set.
Take the cheesecake back out of the refrigerator one last time and spoon the cherries over the ganache covering it completely, and then sprinkle the toasted almond slices over the edge of the cherries, leaving the rim of the cheesecake bare.
Chill until serving time.
This will serve up to twenty people, depending on how much cheesecake they can eat!
8 Comments
RSS feed for comments on this post.
Sorry, the comment form is closed at this time.
Powered by WordPress. Graphics by Zak Kramer.
Design update by Daniel Trout.
Entries and comments feeds.