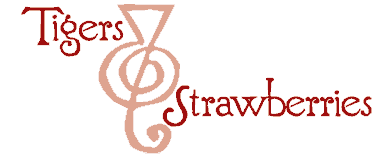 Cook Local, Eat Global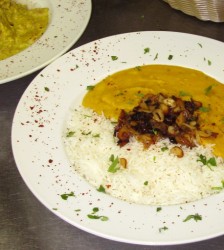 This is one of those recipes that was a moment's inspiration. It came about because Hilarie had scored a big load of fresh, locally grown butternut squash at the restaurant, and wanted me to make a dinner special using them.
Now, we had already had butternut squash soup, which I had made a week and a half before, and yeah, it is good, especially with Indian spices and yogurt and some shredded raw Granny Smith apples on top as a garnish, but I wanted to do something different. And yeah, I could come up with another variation on stuffed squash, since every time we make it, people gobble it up as if it is their last chance to eat a meal before the Second Coming and they really want to go on a full stomach.
But I wanted to do something different.
Emboldened by the tasty success of the Pumpkin Masoor Dal, I determined to make a dal with the squash. And while I -knew- that apples and squash go together famously–please note the presence of the Granny Smith Apples as a garnish to the aforementioned soup–I didn't want to repeat my caramelized onion and apple topping that I did for the pumpkin dal. That would be no fun, you see.
So, I thought to myself–what would be similarly good, seasonal and yet sufficiently different to make this dal stand out? After all, pumpkin and winter squash are pretty similar fruits–they are in the same family–and they have flavors and textures that are analogous.
Then, I got it. I would once again not only use caramelized onions in the dal as part of the tarka that flavors it, but I would use them as a garnish as well, and instead of apples, I would use dried cranberries and sliced almonds. The cranberries, like the squash are seasonal native American fruits that just scream "autumn" to cooks and eaters across the country, and the almonds, in addition to tasting great and adding great texture, are used as garnishes and ingredients in many northern Indian curries, so there is culinary cultural precedent.
That is what I like–a true fusion dish–one that is true to both cuisines that make up its pedigree. It respects both the ingredients and techniques of the cuisines that are being brought together, and this brings character and soul to the dish. It isn't flashy, it isn't fancy, but it is new, different and yes–delicious.
Now, for all that this dal is similar to the pumpkin masoor dal, it is quite different, because the way I put it together is different. It has a less rustic texture because I blend the lentils and roasted squash flesh together into a velvety golden puree -before- I add the tarka. This means that while the main body of the dal is perfectly smooth and unctuous, there are also bits of caramelized onion, garlic, ginger and whole spices distributed throughout the dish to give the diner a little surprise in every bite.
It is also different in that I use a 1:1 ratio of squash to lentils by volume, which is rather tricky to eyeball, but for the sake of writing the recipe down, I give exact measurements. The pumpkin dal uses more lentils than pumpkin, so the resulting flavor is earthier and less sweet, and it has a definite leguminous taste and texture. I think I like the approach with the butternut recipe better, and it certainly has a more interesting texture and definitely a richer flavor, especially if you do like Hilarie asked me to, and use butter instead of oil and make it vegetarian rather than vegan. (That is not to say a vegan version is bad–it isn't–it is, in fact, quite good, but I agree with Hil–the butter takes this humble dish over the top.)
But while the dal itself is heaven on a spoon, the topping is a choir of angels for the tastebuds. No, really. The deeply caramelized onions are sweet and soft, while the cranberries are chewy and tangy. They balance each other perfectly, and are a great foil for the toasty, crisp, rich almonds. A sprinkle of mild chili flakes and salt completes the flavor profile and rounds it all out.
But this isn't just about taste–Butternut Dal is good for you.Served with rice, this dish offers a complete protein, a huge amount of vitamin A from the squash, vitamin C from the cranberries as well as the antibiotic properties inherent to onions, ginger, garlic and chilies. In addition, the turmeric used to boost the color of the dal turns out to be good for your brain, as it seems to help ward of dementia and other age-related brain disorders.
Besides, it is comforting. It is like a warm, lingering hug, or a cuddly soft cat curled up on your lap. Eating it is like slipping on your favorite fuzzy sweater or sinking into a steamy, fragrant bath on a cold night. It is sweet, soft and just–well, it just reminds you of home, Mom and all the good things of life.
For all that it is humble, and made from common ingredients, Hilarie tells me that this dal is her favorite of all the dishes I cook at her restaurant.
I think it is because it has the power to warm her from the inside out and it relaxes her and makes her smile.
And what more can one ask for in a vegetarian dish than that–simple magic.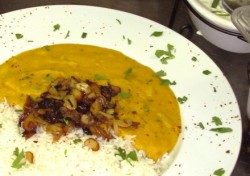 Butternut Dal
Ingredients:
1 large or two small butternut squashes (you should get about 3 cups of puree once roasted and mashed)
1 tablespoon canola oil
1 1/2 cups red lentils (masoor dal)
1 teaspoon turmeric
4 tablespoons butter (optional)
3 tablespoons canola oil
1 1/2 cups thinly sliced onions
1 teaspoon salt
1 tablespoon Aleppo or other mild chili flakes
3 cloves garlic, minced
1″ cube fresh ginger, peeled and minced
1 1/2 tablespoons cumin seeds
1 1/2 tablespoons mustard seeds
4 tablespoons butter or canola oil
2 cups thinly sliced onions
1/2 teaspoon salt
1 teaspoon Aleppo or other mild chili flakes
1/2 cup dried cranberries
3/4 cup sliced almonds
Method:
Heat oven to 400 degrees F.
Cut squash in half and scoop out seeds and stringy bits from the cavity of the squash. Line a baking sheet with foil and rub it with the one tablespoon of canola oil. Put the squash halves on the sheet cut side down. Dip your hands in the oil on the sheet and rub it on the outside rind of the squash. Place squash in oven and roast until a fork can pierce all the way through the rind and the flesh.
Remove from oven when done and allow to cool in the pan until it is cool to the touch.
While the butternut squash is roasting, place the lentils in a pot and cover with enough water to rise above the top of the lentils by 1/2 inch. Add the turmeric and stir to combine. Bring to a boil and turn down the heat and simmer, stirring as needed until the lentils are fully cooked and fall apart.
The lentils should cook down to a fairly thick, rustic puree–if they are soft but still watery, pour the contents of the pot into a fine mesh strainer and allow the excess water drain away. If it is a thick puree, take it from the heat.
While the lentils cook and the squash roasts, cook the tarka. Heat the three tablespoons of canola oil, and add the first measure of onions. Sprinkle with salt, and cook, stirring, until the onions are golden. Add the chili flakes, and cook stirring until the onions are golden brown, a medium color. Add the garlic, ginger and whole spices and cook, stirring until the onions are dark reddish brown and the spices are toasted. Remove from heat.
Scoop the flesh from the squash, and add it to the pot. If you wish, add the butter, and using an immersion blender, blend the contents of the pot into a velvety smooth puree.
Stir the tarka into the puree and taste. Add salt to taste.
Heat the remaining oil or butter in a deep, heavy bottomed skillet. Add the onions, sprinkle with salt and cook, stirring until the onions are golden. Add the cranberries, chili flakes and almonds and cook, stirring, until the onions are deep reddish brown, the cranberries are slightly caramelized and the almonds are toasted.
Serve the dal with rice and topped with a generous dollop of the caramelized onion, cranberry and almond mixture.
10 Comments
RSS feed for comments on this post.
Sorry, the comment form is closed at this time.
Powered by WordPress. Graphics by Zak Kramer.
Design update by Daniel Trout.
Entries and comments feeds.