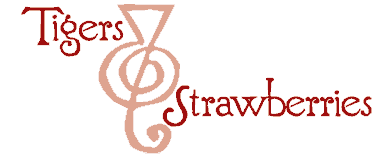 Cook Local, Eat Global
First of all, I want to thank everyone who has posted here, emailed me, stopped me on the street or called me on the phone to extend best wishes and the hopes that all is well with my family and myself. My readers are among the best people in the world–caring, curious, interested, intelligent, compassionate, kind and creative, and, luckily, patient.
Secondly, I want to apologize for my recent silence. Long-time readers probably noted that my posts had begun to dwindle from a hearty gush of verbiage to a steady stream to a bare trickle over the past few months, so I am sure that some of you were not particularly surprised by my sudden absence in the blogosphere. The reasons for my absence are simple, really, but are not ones I want to go into publicly–I don't think it is proper to go into what exactly happened to cause me to go silent. Suffice to say that what has been on my mind for the past six weeks when it comes to food, cooking, restaurants and recipes is not appropriate for me to opine upon publicly. I just don't roll that way. (Although, if one is curious, and one sends an email, and one asks nicely, one might get a private answer to further enlighten one–especially if one is a long-time reader or internet friend.)
Basically, I had to make a hard decision, one that affected how I felt about food while I was making it, and which potentially would affect how I felt about food in the immediate future, and I didn't want to give an expose on my thoughts while I was thinking them.
The astute among you have probably divined the nature of the decision, but for those who don't know me as well as all that, I decided to stop working at Restaurant Salaam, and have instead decided to focus my time and energy on my family and other projects, including this vastly neglected blog. It was a hard decision, and in poring over the facts and assumptions in my head as I prepared to make my decision, I had to keep it all to myself, for many, many reasons, especially professional ones.
Now that we have the not fun stuff out of the way, let me tell you a bit about what has been going on in my life that is more positive!
As you can see from the photograph above, which I posted for Kat's internet family of virtual aunties and uncles, Kat has started eating apples on her own. That is her first one–she just plucked it up from the fruit basket graciously sent to us by Dan's parents over the holidays, and took a big old bite from it. And, as you can see, as she chomped, munched and crunched her way through the crispy fruit, she had a great time. There was much lip-smacking, finger-licking and teeth bearing involved in the process.
She is finally learning to talk, although her expressive language (that means talking–her receptive language skills, which relate to how much she understands and comprehends–is above average for her age) is significantly delayed. This is a cause of concern, and we are currently working to get her in with the best local speech therapist available, who comes highly recommended by just about every professional we talk with on the issue. Just this week, Kat's speech has improved greatly–words are starting to come out perfectly and clearly, and she has started using more of them, even in combination, which she had not done before. She also knows her letters–which makes me think at times that she will learn to read before she effectively learns to speak!
But we are being patient, reading up on the issue, taking her out to play with other kids, talking and reading with her and doing all the stuff we should be doing. It is just–well, it is frustrating, especially for her. But, we are confident that she will get there, especially with two parents around more often than not, both working with her at every opportunity..
Morganna is doing great–she started her second quarter of college a few weeks ago and is having a lot of fun in her classes. She is still working as a line cook at Salaam, which she loves doing, and she is happy, especially now that her best friend from childhood has decided to move here to Athens.
Zak is doing great–he has taken up learning how to fingerpick acoustic guitar and after a month sounds like he has been at it for about a year. He is planning on returning to playing out in public again, which is great for him, not only because it is fun, but because he even gets paying gigs now and again.
As for me–I have gone back to cooking and enjoying it at home again. I had stopped really liking food for a while, and while I still don't eat as much as I once did and have lost over twenty pounds in the past six months or so, my passion for culinary arts is re-awakening. I also have been busy sewing gifts for my family and friends–for the past holiday season, I have completed a queen sized rag quilt, a throw sized quilt, about fifteen aprons, a case for Zak's Japanese bamboo flute (shakuhachi), a set of patchworked and embroidered placemats, a doll quilt, mattress and pillow set for Kat and have started assorted other projects. I am looking into starting an Etsy shop to sell my aprons and other kitchen-themed quilted items, and as soon as that happens, I will let readers here know about it. In the meantime, if there is interest, I will post photos of the holiday projects here to show people what I have been up to while also being wrapped in my self-imposed cocoon of silence.
So, there you have it. The news of my and my family's whereabouts, health and well-being.
I have some original recipes to share with you coming, so look for them in the near future.
Blessings and thanks to everyone who has asked about us–and I hope that everyone of you had a great holiday season.
35 Comments
RSS feed for comments on this post.
Sorry, the comment form is closed at this time.
Powered by WordPress. Graphics by Zak Kramer.
Design update by Daniel Trout.
Entries and comments feeds.