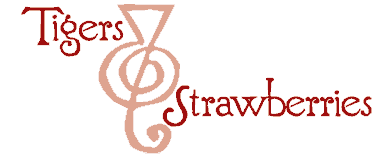 Cook Local, Eat Global
This dish is a Barbara original, although it was inspired by the simple, clean flavors prevalent in the Cantonese cuisine of southern China. It was born of the fact that I had fresh, local bacon, Shanghai bok choy and chicken breasts in my refrigerator that needed to be used. And, I thought to myself, "I wonder how they would taste together?"
There is precedent for the use of bacon in stir-fried Chinese dishes–and of course, we Appalachians have been using smoked pork products to flavor greens ever since there were hillbillies, pigs and greens here in the mountains.
So this recipe is a natural result of an Appalachian-born chef's interest and education in Chinese cookery.
What is odd is that I had never thought of doing this before.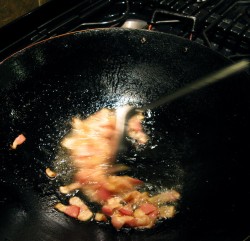 I have to stress here that it is best to use really fresh, high quality ingredients for this dish, because there is a minimum of condiments and flavorings, so there is nothing to cover old, bitter greens, flavorless chicken or overly salty bacon. Tje three aromatics are simply minced fresh garlic, ginger and very thinly sliced scallions, while the condiments are good quality light soy sauce, raw sugar, a tiny bit of rice vinegar, sesame oil and Shao hsing wine or sherry. The only other ingredients are canola or peanut oil, chicken broth or stock, and cornstarch for thickening.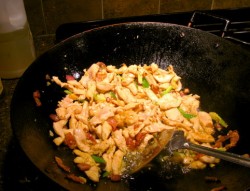 One thing you will note, is that the order of stir-frying in this recipe is different than most of my stir-fried recipes; the aromatics are added -after- the chicken, which is cooked -after- the bacon.
The reason for this is two-fold. One, it is necessary to cook the bacon before cooking anything else, because it takes longer to cook than any of the other ingredients, and two, if you cook the bacon first and remove it from the wok and set it aside until later, the meat will render its fat into the cooking oil, and will then add all of its flavor to the dish. If you were to try and add the aromatic ingredients before the bacon, they would burn long before the bacon and then the chicken were finished cooking, and no one would like dinner. It would just be a waste of good ingredients, and really, who wants to waste garlic and bacon? In fact, such profligate waste of good ingredients is a crime in certain jurisdictions.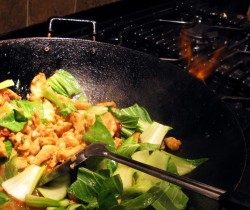 One other thing about this recipe–not only does it taste really, really good and is loved by everyone who tastes it (except for vegetarians and Muslims, of course–the chicken and bacon rather put the kibosh on those folks enjoying this dish), it is fast and easy to make. I can start a pot of jasmine rice in my rice cooker and in the forty minutes or so it takes to cook, I can have everything else prepped and ready to stir fry. (Okay, that isn't really fair of me to say–I can also prep plenty of more complex stir-fried dishes in the same amount of time, because I have been working as a professional chef for the past year, but what I am saying is that -anyone- could prep the ingredients in that time.)
So, without further ado, here is my newest favorite dish, from my kitchen to yours.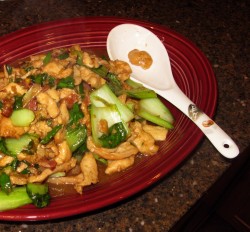 Chicken With Bok Choy and Bacon
Ingredients:
1 1/2 boneless skinless chicken breasts, cut into slices 1/8″ thick by 1/4″ by 1″
1 tablespoon premium light soy sauce
1 teaspoon Shao Hsing wine
1 tablespoon cornstarch
2 tablespoons peanut or canola oil
4-6 slices smoked thick bacon, cut crossways into 1/2 slices
1 tablespoon raw sugar
5 cloves garlic, minced finely
1 1/2 inch cube fresh ginger, peeled and minced finely
6 large scallions, white and light green parts only, thinly sliced on the diagonal
1 1/2 tablespoons premium light soy sauce
1 tablespoon Shao Hsing wine
1 teaspoon rice vinegar
1 pound Shanghai or baby bok choy, rinsed, bottom trimmed away and cut into 1″ chunks
3/4 cup chicken stock or broth into which 1 teaspoon of cornstarch has been dissolved
dark green tops of the scallions, cut into thin slices on the diagonal
1 teaspoon sesame oil
Method:
Gently toss chicken breast slices with the first measures of light soy sauce, Shao hsing wine and cornstarch, and allow to marinate at least twenty minutes.
Heat wok on high heat until a thin ribbon of smoke spirals up from the hot metal. Add peanut or canola oil, and let it heat for thirty seconds. Add the bacon, and stir well to separate each piece out from the others.
Cook, stirring, until the bacon has rendered its fat and is done but not crispy. Remove from the wok and set aside.
To the wok add the chicken, spreading it out into a single layer against the bottom of the wok. Sprinkle with the sugar, garlic, ginger and scallion slices. Leave the chicken undisturbed for a minute or so, until the bottom of the chicken begins to brown, then cook, stirring until 2/3 of the chicken is no longer pink, but white and brown. Sprinkle the chicken with the soy sauce, wine and vinegar and stir, scraping up any browned bits from the bottom and sides of the wok. Add the bacon back to the wok.
Add the bok choy and the broth or stock and cook, stirring, and scraping any more browned bits from the bottom of the wok, until the bok choy wilts slightly and a sauce forms.
Sprinkle with the scallion tops, drizzle with sesame oil, and give the whole thing a final stir before scraping it out of the wok into a warmed serving
Serve with steamed rice and really good Chinese tea.
As you can see, this dish has been taste-tested and approved by Kat–one of my toughest critics!
(She liked it so much that she ate seconds of it!)
8 Comments
RSS feed for comments on this post.
Sorry, the comment form is closed at this time.
Powered by WordPress. Graphics by Zak Kramer.
Design update by Daniel Trout.
Entries and comments feeds.