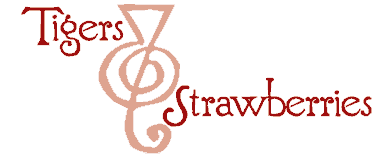 Cook Local, Eat Global
Nothing will cure the wintertime blues for me better than greens.
Don't get me wrong, I love me some greens all through the year, but in the deep, dark, cold months of winter, greens help pull me through the sunless days and long, shivery nights. (No, I don't live in Alaska, but I do live in Ohio, and in the winter here, the sun is but a rumor, and we Ohioans exist in a grey twilight world of cold and shadow. It gets depressing after a while–particularly in February.)
And while I adore a fine mess of Southern style long-cooked collards and kale, I can't help but also truly appreciate a plate full of Chinese-style stir-fried greens, with or without meat, tofu or any other vegetables. They are just so good–brilliantly colored, tender-crisp to the teeth and meltingly velvety on the tongue. A big bowl of steamed rice with greens can banish just about any kind of bad mood winter can throw at me, and make me smile. In fact, since my depression tends to be much worse in the dark months of the year, greens are like medicine to me, and I treat them as such. I make sure to eat greens at least twice a week in the winter, usually more like three or four times.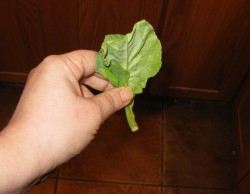 And they do help. The taste makes me smile, the color makes me think of spring which makes me smile again and the vitamins and minerals help bolster my immune system against all the viruses that are endemic to the season.
Tonight, I did something I had not done before, and now I am wondering exactly why that is. (Kind of like I have no idea why I never cooked chicken with bacon and bok choy together before.)
I combined two Chinese greens in one dish, and discovered something: if one green is good, then two are better.
I had about a half pound of baby gai lan left from Sunday dinner, and I had a bundle of three small Shanghai bok choy.
Baby gai lan is a delicacy among a lot of Chinese folks–there in the photograph above you can see what it looks like–it is essentially what it says it is–gai lan that has not matured yet. Interestingly, this fall, when my gai lan came in on my deck garden, this is how I harvested it, because I wasn't patient enough to let it get big. And when I did it I felt kind of guilty for not waiting, but it tasted so good-sweet, and crisp, with only a tinge of the native bitterness to the leaves. And it was pretty too–the stalks had little flushes of violet along their creamy jade sides, and the leaves were a brilliant emerald color.
Then I saw it at the Columbus Asian Market (CAM to city residents) and was informed as I picked it up, by the Chinese Grandma next to me that it was a delicacy, and it was her favorite way to eat the vegetable. Of course, I had to get it.
And I didn't use all of it for Sunday dinner, since I got about a pound and a half, so there was some in the crisper drawer, looking lonely next to those Shanghai bok choy bundles, so I decided tonight that they needed to become friends.
I decided to cook them with chicken because Kat loves chicken and is in a growth spurt, but one day, I really want to do this with spiced dry tofu or black mushrooms. I think that both variations would be fantastic.
I decided to make the seasonings pretty simple: an onion, some garlic and lots of ginger, with light soy sauce, sugar, a bit of Shao Hsing wine, a dab of chile garlic paste, a teaspoon of vinegar and some chicken broth and sesame oil to finish it.
When I went to the pantry, I had a choice of red or yellow onions, and for a change, I picked up a red one. I wanted to see how much of the pretty violet color would be left after stir-frying, hopeful that at least some of it would remain, because I love to combine greens and purples, whether it is on a plate or in a quilt.
It turned out that a reasonable amount of color was left, so I got my wish of having a supper that had colors of a beautiful plum-violet and varying shades of brilliant green with pale pinkish-white and brown chicken. It looked really, really, pretty.
But looks aren't everything–how did it taste?
I thought it was perfect. The stems of the baby gai lan were crisp, and the leaves were velvety, while the bok choy stems were juicy and crunchy in a totally different way, with leaves that were soft and yielding to the teeth. The bok choy was sweet the way it always is, but the gai lan was sweeter, with just a little bit of the bitter edge that makes it interesting. And the chicken and slices of red onion just tied everything together nicely.
I will definitely be making this one again–though I might have to try slipping in a third green like Napa cabbage or Chinese mustard, just to see what happens.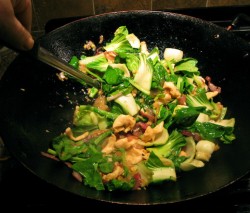 Chicken with Baby Gai Lan and Bok Choy
Ingredients:
1 whole boneless skinless chicken breast, thinly sliced into pieces 1″X1/2″X1/4″
1 tablespoon raw or brown sugar
1 tablespoon Shao Hsing wine or dry sherry
1 teaspoon light soy sauce
1 1/2 tablespoons cornstarch
3 tablespoons canola or peanut oil
1 red onion, peeled and sliced thinly
1 2″ cube ginger, peeled and minced
5 cloves garlic, peeled and minced
1/2 teaspoon chili garlic paste
1/2 teaspoon sugar
2 tablespoons light soy sauce
1/2 pound baby gai lan, bottoms trimmed and stalks separated, washed and dried
3 medium Shanghai bok choy, bottom trimmed, washed and dried and cut into 1″ pieces
1/2 cup chicken broth
1/2 teaspoon toasted sesame oil
Method:
In a bowl, toss together the chicken with the first measure of sugar, the wine, the first measure of soy sauce and the cornstarch and allow to sit for at least twenty minutes.
Heat a wok over high heat until a thin ribbon of smoke spirals up from the bottom. Pour in oil, swirl to coat the bottom and allow to heat for about thirty seconds. Add the onion and cook, stirring, for two minutes or so, until the onion is soft and is starting to brown and turn golden on the edges.
Add the chicken and its marinade and push into a single layer on the bottom of the wok. Sprinkle the ginger and garlic over the chicken and put the chili garlic paste in the middle on top of the chicken. Sprinkle with the second measure of sugar.
Allow to sit, undisturbed on the bottom of the wok for about a minute or so, until the chicken begins to brown. Then, start stirring, and cook, stirring, until most of the pink is gone from the meat and it is mostly white with some brown bits.
Add the soy sauce and baby gai lan, and cook, stirring, until the gai lan's color brightens and the leaves begin to wilt. add the bok choy and the broth and keep cooking and stirring until the leaves of the bok choy wilts slightly. Remove from heat, drizzle in the sesame oil, stir and toss to mix it in thoroughly and transfer to a heated platter and serve immediately with steamed rice.
2 Comments
RSS feed for comments on this post.
My mouth was watering the entire time I was reading this recipe. I live in Illinois, which is similarly steeped in the deadly and depressing cold and darkness of winter, and I've been contemplating delicious things to do with greens lately. I'm definitely going to have to give this a shot, and soon! 😀

It's lovely to see you post often again!

I have a question I've been meaning to ask you, and I was wondering whether you'd be able to help. Recently I bought two sets of lovely wooden spoons, which are supposed to be made of rosewood. I washed them after first use and all that, but the rice spoon leaked colour on my rice. That got us a bit worried so we didn't use them again. The place I got it from was totally unhelpful, and in another country, and I ended up not posting them back (my own fault, i know). So, what I wanted to ask is whether you knew anything about rosewood utensils. Whether they do leak initally, but then stop, and are ok to eat. 🙂 that's what I'm hoping to hear at least. Anyway, any advice would be useful and much appreciated.

Many thanks for your help,

Maninas
Sorry, the comment form is closed at this time.
Powered by WordPress. Graphics by Zak Kramer.
Design update by Daniel Trout.
Entries and comments feeds.