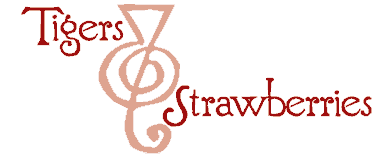 Cook Local, Eat Global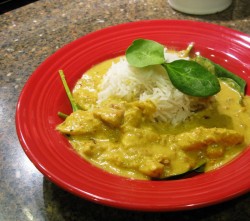 This is a super-simple version of chicken curry that anyone, and I mean anyone, can make. Not only can anyone make it, anyone can make it quickly.
And you can make it even more quickly if you want to brown your onions and grind your curry paste ingredients ahead of time and freeze them in individual portions.
All you need are some basic items in your pantry: a handful of Indian spices (cumin, coriander, cloves, fennel, fenugreek seeds, cardamom pods, chile flakes and turmeric), onions, garlic and ginger, one lemon or lime, coconut milk and the optional frozen grated unsweetened coconut that you can find in most well-stocked Indian markets these days.
To these ingredients, you add chicken, and any of a plethora of vegetables, fruits, herbs and greens to make a unique curry that will taste delicious every time, even if you never make it exactly the same way twice.
The key to making this curry is to relax, and let loose. Add what you like, leave out what you don't. You don't have to follow my spicing instructions exactly, but the masala I use makes a very nice, mild coconut milk curry that pleases everyone and offends no one.
And once again, you can speed the process up considerably by preparing ahead of time. Brown your onions in batches for a single curry, and put them in ziplock bags and stick them in the freezer. Then, grind up your ginger, garlic, spices and frozen grated unsweetened coconut (if you use it–it is optional, but I love it) in single batches and put the resultant spice paste into little ziplock bags and put them in the freezer.
Then, when you are on your way out of the door for work, pull your chicken, your onions and masala paste out of the freezer to thaw in the fridge while you are away, and voila! When you come back, you have all the fixings for instant curry. At that point all you need is a fourteen ounce can of coconut milk and some vegetables, herbs or fruits if you want. If you have a rice cooker, you can set it to make basmati rice and have it ready when you get home, too.
To put it all together, just put a bit of canola or coconut oil in a pan, and add the onions. Heat everything on medium high and when it is hot, add the chicken and cook, stirring until half of the pink has turned brown and white. Add the masala paste and keep cooking and stirring until the spices smell deliciously toasty and divine and the chicken shows almost no pink at all. Then, add the coconut milk, and stir well to combine everything, turn the heat down to low and simmer.
At this point add any vegetables or fruits you like–I will give you a list of ideas at the end of the recipe–and cook until the vegetables are done. If you want to add greens, add them near the end, or in the case of baby spinach, at the very end. If you want to use herbs, stir them in at nearly the end of cooking–unless you choose to use curry leaves, in which case, they go into the pan with the masala paste, and get cooked directly in the hot oil so their flavor and fragrance permeates the dish completely.
And then it is done.
If you take the shortcuts, this recipe can be done in about fifteen minutes, start to finish, depending on what fruits or vegetables you choose to add to the curry. If you cook it all from scratch, it can be ready in about forty-five minutes, which coincidentally is how long it takes my rice cooker to make me up a batch of basmati, so it is all just perfect.
It's like fast food, only homemade, tasty and good for you.
Oh, one more thing–the frozen unsweetened shredded coconut.
It isn't necessary, but it makes the curry oh so much richer, nicer and thicker. I use Swad brand, and I have never had trouble finding it in any of the well-stocked Indian or Asian markets around Ohio, so if I can get it, I figure most other folks can. You can also use dried unsweetened flaked coconut for this purpose–which you can definitely find at Indian or Asian grocery stores, but if you use it, add some water to your masala paste to moisten it a bit. You can also soak the dried coconut in water for a few minutes to rehydrate it slightly before grinding everything together.
Whatever you do, don't use the sweetened flaked stuff you can get in the grocery store baking aisle. Not only will it make your curry sweet, which is the last thing you want to do, it also contains propylene glycol, which is a humectant, meaning it keeps the coconut moist by attracting water molecules from the air. Which is all fine and good, but when heated, as it would be when it is toasted or when it is put into a hot pan to be cooked, it releases the propylene glycol in a cloud of bitter, acrid fumes which not only smell awful and are probably not good for you to be breathing, but it leaves a bitter aftertaste in the coconut.
So, just don't go there.
Everyday Chicken Curry
Ingredients:
21/2″ cube fresh ginger, peeled
5-7 large cloves garlic
1 1/2 teaspoons cumin seeds
2 1/2 teaspoons coriander seeds
1 teaspoon fennel seeds
3 whole cloves
5 green cardamom pods
Kashmiri or other mild chili flakes such as Aleppo, to taste–I use about a tablespoon of them
1/2 cup frozen shredded unsweetened coconut, lightly thawed
1 1/2 teaspoons turmeric
water as needed to make a proper masala paste
2 tablespoons canola or coconut oil
2 cups thinly sliced onions
1 teaspoon salt
2 whole boneless skinless chicken breasts–about two pounds–cut into slices ! 1/2″ X1/2″X1/2″
14 ounce can coconut milk
1/4 cup water
salt to taste
juice of 1 lime or lime juice to taste
Method:
In a blender or spice grinder, grind the first 10 ingredients into a paste, using however much water you need to get the paste to become thick and smooth. Set aside.
Heat oil over medium heat in a heavy-bottomed skillet or braising pan–cast iron, either enameled or plain, is perfect for this–and then add onions, and spread them into a single layer. Sprinkle them with salt and cook, stirring, until the onions turn a dark golden brown color that is edging onto reddish brown.
Add the chicken to the pan, and continue cooking and stirring until half of the pink in the flesh has turned to brown and white. Add the spice mixture and stir to combine well, and continue cooking until the spices smell wonderful and the chicken shows almost no pink at all.
Add the coconut milk and 1/4 cup of water and simmer for about fifteen minutes, or until the chicken is done. Add salt as needed to taste and add lime juice to balance the natural sweetness of the coconut milk with a little top note of sour.
Serve over steamed plain basmati rice.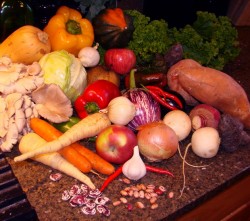 Optional Additional Ingredients:
Vegetables and Greens:
Baby or fingerling potatoes, white red or blue, scrubbed and halved or kept whole. You can either parboil them until they are nearly done in a separate pot of water and then add them to the curry after the coconut milk, or you could add more water to the curry and let the potatoes cook in the curry sauce, but you may have to let the sauce simmer the excess water away after everything is cooked.
Peeled and cubed sweet potatoes
Sliced summer squash
Whole tiny baby carrots
Frozen peas
Pearl onions
Blanched fresh green beans or frozen green beans
Blanched or parboiled cauliflower–purple would look neat
Mushrooms–but if you use them add them with the chicken and saute them first
Baby turnips, peeled and halved
Baby spinach–add at the very end, just before serving so it just wilts and stays a nice velvety fresh green
Kale, stemmed and cut into thin ribbons–blanch first or add in the last ten minutes of cooking
Tomatoes, canned or cherry tomatoes, fresh–add canned in the last ten minutes of cooking, add cherry tomatoes, halved, at the end of cooking
Fruits:
Mango, fresh or frozen. Add at the end, in the last five minutes of cooking
Pineapple, canned, fresh or frozen–add in the last ten minutes of cooking Don't use syrup packed pineapple–it is too sweet
Pomegranate seeds–just sprinkle them over the top right before serving
Ripe Plantain, peeled and cut into 1″ chunks–add in the last ten minutes of cooking
Golden raisins–add right after the coconut milk
Herbs:
Fresh cilantro, added right before serving in copious amounts
Fresh mint, added just before serving in a moderate amount
Fresh or frozen fenugreek greens, added in the last ten minutes of cooking
For Vegetarians and Vegans: You could easily make this vegetarian by using pan-fried or deep fried paneer in place of the chicken, or if you want to make it vegan, then use pan-fried or deep fried tofu instead. You just have to remember you won't need to simmer the cheese or tofu as long as you do the chicken, though the longer it simmers, the more flavor it will pick up from the sauce.
Leftovers of this curry freeze very nicely, and like all curries, it benefits by being made a day ahead, or if not, the leftovers will taste amazing the next day.
13 Comments
RSS feed for comments on this post.
Sorry, the comment form is closed at this time.
Powered by WordPress. Graphics by Zak Kramer.
Design update by Daniel Trout.
Entries and comments feeds.