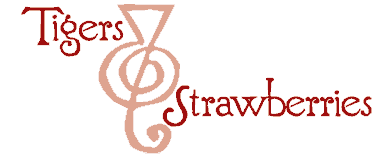 Cook Local, Eat Global
"Chef" is a word much overused these days.
It seems that anyone who can cook competently, whether at home or under the scrutiny of television cameras, is now called a chef, either by himself or by others.
I think it is time to stop indiscriminately using the word and return to its original context: that of a professional kitchen.
Chef is actually the shortened form of the French term, "chef de cuisine," which is defined quite simply as the "head of the kitchen," and refers precisely to a professional cook who manages all facets of a professional kitchen. Whether that kitchen is large or small and in a restaurant, a hotel, a cruise ship, The White House, an in-house catering facility or Disneyland doesn't matter. What matters is that it is a professional kitchen, and as such is one that is run, in the best of cases, like the military.
A home cook should never be referred to seriously as a chef.
Nor should a cooking instructor.
Or a food writer.
Or a food blogger.
Or a line cook.
Or a television personality–unless of course, the home cook, cooking instructor, food writer, food blogger, line cook, or television personality have actually done time as the head of a professional kitchen somewhere.
OK–I will cut some slack here. If an individual has worked as a sous chef, that is, as an under-chef who does the job of the chef or executive chef, when the exec is out of the kitchen, then they can be called chef.
But otherwise, no. Sorry. Nope. Nada. Zip.
If you have not run a professional kitchen, you are not a chef.
Period.
End. Of. Story.
So what do I mean by "run" a professional kitchen? What is it that a chef does that home cooks, cooking instructors, food writers, food bloggers, line cooks and television personalities do not do?
They don't create menus, cost out each menu item so that accurate prices can be assigned to them, set up pantries, understand and effectively run and repair arcane kitchen equipment, much of which is dangerous to life and limb, deal with multiple purveyors, keep track of inventory, order foodstuffs, hire and train staff, create plate presentation, devise and cook off-menu specials, expedite during service, deal with cranky dining room staff, cook and act as both den mother and field marshal at the same time.
In short, these folks, who all may be wonderful cooks and great people, don't run professional kitchens.
Which is why they shouldn't be called chefs.
They should be called home cooks, cooking instructors, food writers, food bloggers, line cooks and television personalities. (And yes, Rachael Ray is a television personality, but no, she is not a chef. You will notice that she does not call herself a chef. Neither does Nigella Lawson, another food writer and television personality.)
And there is nothing wrong with that. Home cooks, cooking instructors, food writers, food bloggers, line cooks and television personalities are all fine in their own rights and have their own unique sets of skills and experiences which are just as interesting and fascinating as the skill sets of a chef.
The problem is, there is a new aura of prestige that surrounds the idea of a chef these days, that is probably the result of too much exposure to The Food Network. Although, frankly, Anthony Bourdain, as much as he would hate to admit it, probably has to carry a tiny bit of the blame for this recent fascination with the people food-obsessed enough to want to spend twelve hours or more a day in a cramped, crowded inferno, producing delicious food for throngs of diners.
As much as Bourdain has tried his best to paint the life of a chef as lonely, gritty, dirty, grueling, physically and emotionally dangerous and usually not particularly monetarily rewarding, the fact is, lots of folks find his descriptions of chefs as tough, mean, hard-drinking, substance-using, womanizing he-men alluring.
And when I say folks, I mean, both men and women are fascinated by the ideal of a chef as a pirate captain, a bad boy, a rock star,and an iron-fisted gunslinger all rolled into one.
And it seems that everyone wants to be a chef these days.
So, how do you get to be a chef?
You run a professional kitchen.
OK, so how do you get to run a professional kitchen? I mean, you go to culinary school, right?
Sometimes. That is how Bourdain did it. And Emeril Lagasse. And Cat Cora. And Dean Fearing. And David Chang. And Eric Ripert. And Mary Sue Milliken and Susan Feniger.
But, you know, going to culinary school does not make you a chef, as any of the folks I just listed above will tell you. And, as a culinary school graduate, I can tell you the same thing–just because you graduated from culinary school, doesn't mean you emerge from your student chrysalis, toque unfurling and whisk in hand as a chef. It just means that you graduated from culinary school with a degree that may or may not help you get a job in a professional kitchen at a level slightly above that of dishwasher, prep cook or commis. (And then again, in some kitchens, a culinary school grad may well start down at the bottom anyway. It depends on the chef running the kitchen.)
Look at it this way. Michael Ruhlman graduated from the Culinary Institute of America, but he doesn't call himself a chef.
He calls himself a food writer, which is what he is–and a damned fine one at that, one who has collaborated with chefs such as Thomas Keller on cookbooks.
And yes, Ruhlman can throw down and cook up a magnificent feast, but as he and I both know, and as everyone else should know, that doesn't make him a chef.
Ruhlman knows he isn't a chef–because he sees what chefs like Keller do and while he understands the language that Keller speaks, and he can explicate Keller's techniques and recipes in prose that is both evocative and practically accessible, he isn't like Keller.
Keller does things that are beyond Ruhlman's ken and that is fine, because the world needs both its Thomas Kellers and its Michael Ruhlmans.
Let's look at another example: Julia Child.
A graduate of Le Cordon Bleu in Paris, Child became a fine cook under the tutelage of Master Chef Max Bugnard and other master chefs. She went on to become one of the best cookbook writers and cooking instructors in the world and probably the most iconic television cooking personality ever.
But she never ran a professional kitchen.
And so, even though her first television series was entitled "The French Chef," (the title wasn't her idea, by the way) she never considered herself to be a chef, because she knew and respected what that title truly meant.
So, culinary school alone does not a chef make.
It is culinary school plus practical experience that makes a chef.
Or, if you want to kick it old-school and do it the way it was in the old days, you can just skip school and go straight for the practical experience by starting at the bottom of the kitchen hierarchy (as a dishwasher, prep cook or commis) and clawing your way up to the top.
That's how Marco Pierre White, Thomas Keller, Cristeta Comerford, Jeremiah Tower, Jean-Georges Vongerichten, Judy Rodgers and Lidia Bastianich all became chefs.
Or, you could grow up in a family of great professional cooks and spend your childhood in the kitchen of family-owned restaurants, working as a dishwasher and prep cook at an early age while culinary expertise is absorbed directly in your brain as you live, breathe, eat and drink the heady atmosphere of a professional kitchen.
And then, when you grow up, you can decide to open your own restaurant, and continue the family tradition anew.
Which is how Paul Prudhomme became a chef.
Or, you can be like Alice Waters and just up and one day decide to open a restaurant which will become world famous and inspire a cooking style and food movement without much in the way of culinary experience, but she is unique.
The key to becoming a chef–the one commonality in all of these chef's disparate backgrounds–is experience. Years and years of it. Whether some of it is in the form of culinary school or not, the bulk of this experience takes place in professional kitchens where a cook learns to become a chef by working hands-on, under the supervision of other cooks and chefs.
These experiences do not come instantly. They do not come overnight.
One just does not wake up and become a chef. One does not just decide that one is a chef and start calling oneself a chef.
It is a long, gradual process, one that should be respected by those both within and without the food service industry.
And one way to show that respect is to stop calling every Tom, Dick and Mary who can cook competently on and off camera a chef, and reserve that title for the ones who have put in the time and effort to really become culinary professionals.
Note: The inspiration for this rant came from a commenter on a story last month at The Huffington Post about how Michelle Obama was going to keep the current White House Chef, Cristeta Comerford, as the executive chef.
The commenter in question said that Comerford wasn't a real chef like Emeril Lagasse, Bobby Flay and Gordon Ramsay, I suppose because she didn't have a television show.
I got all up in the guy's face, because it was obvious that he had no idea what being a chef meant, and what a real chef was. To his mind, one was only a real chef if one was famous and had multiple restaurants and television shows and lots of adoring fans out there in TV land. Right. I then decided to write this post, but never got around to it until last night, so here it is.
32 Comments
RSS feed for comments on this post.
Sorry, the comment form is closed at this time.
Powered by WordPress. Graphics by Zak Kramer.
Design update by Daniel Trout.
Entries and comments feeds.