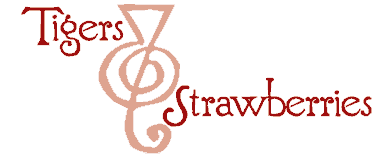 Cook Local, Eat Global
Okay, I didn't make up this recipe.
It is Morganna's friend, Brittney's recipe and even though she says it is just something she makes for quick dinner, I think it is delicious, and wanted to share it with you.
Now, the truth is, the rapini, also known as broccoli rabe, which is in it, was my idea–she usually uses spinach. But then, we had rapini and no spinach, so there you go. And as she says, the ingredients change depending on what is in the pantry and fridge, but this time around, the fresh shiitake and rapini really made it taste really wonderful–even more wonderful than the first time she made it for me, when it featured baby spinach.
What is rapini? Well, it is a brassica, just like cabbage, broccoli, gai lan, cauliflower, kale, collards, turnips and the like, which means it is chock-full of vitamins and minerals, and is tasty, too. Even though it is often known as broccoli rabe, and it has little flowerlets that look like broccoli, it isn't really very closely related to broccoli–instead, its closest brassica relative is the turnip. Which explains why it doesn't really taste broccoli-like–the leaves, stalks and flowerheads taste like slightly less bitter and more sweet turnip greens, with a more robust texture.
I like rapini a lot, most often just finely chopped and sauteed with olive oil, garlic, salt and pepper with maybe a sprinkling of balsamic vinegar and a dash of chili flakes. I had bought some to try cooked with panch phoron, but when Brittney said she would like to make her skillet spaghetti, I thought that the rapini would go beautifully with the fresh, locally grown shiitake mushrooms and greenhouse basil she planned to put in it.
I was happy to be right.
Now, the reason that this is called skillet spaghetti, is that the sauce, which is fairly chunky, is made in a deep skillet, and when the spaghetti is cooked al-dente, it is added to the skillet, along with a quantity of cheese, and the whole lot is tossed carefully together with tongs until the spaghetti is liberally coated with sauce and melty cheese, and can be twirled into a shapely mound on a plate or in a bowl. The liquid in the sauce is sparse and thick, and when the cheese is thoroughly combined, it acts rather like a glue to hold the sauce and pasta together, without being sticky or goopy in any way.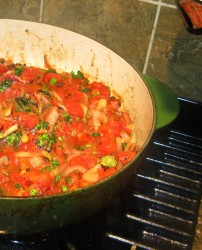 The cheeses Brittney usually puts in the pasta are freshly shredded Parmesan or Romano, but this time around, because I had just bought some locally made goat milk feta, she used that in combination with the Parmesan, and the salty-sharp flavor of the feta melded perfectly with the nuttiness Parmesan and mellowed the lightly bitter flavor of the greens while complementing the earthy mushrooms.
As good as the feta was, though, Brittney says you can use just about any good cheese you want in it, depending on what else is in the sauce.
As for what other vegetables could be used in this sauce, you are only limited by your pantry, your refrigerator or your garden. In the summer, fresh summer squashes would be delightful, and in the spring or fall, chard would be great. A mixture of fresh mushrooms would be delicious, and if you have nothing fresh, some olives and frozen or jarred artichoke hearts would be lovely. Eggplant in the late summer and early fall would rule, and in the summer, replacing the canned tomatoes with fresh ones would be perfect. About any herbs you have could go in this instead of, or with the basil, but I particularly think that oregano, thyme, rosemary or marjoram would be lovely. Pine nuts would be great if you have them, too, now that I think on it.
Brittney also told me that she has put thinly sliced chicken in this sauce, or crumbled Italian sausage (remove the casing first) or ground beef and every version is really good, but this time around, we are talking about vegetables and cheese.
I figure that if you are vegan, you could leave out the cheese, and maybe replace it with ground up pine nuts or something, but I love cheese, so I am not advocating leaving it out unless you must. For me, I think the cheese in this is essential, because it contributes so much to the texture and flavor of the sauce.
Brittney's Skillet Spaghetti With Shiitake and Rapini
Ingredients:
3 tablespoons olive oil
2 cups thinly sliced yellow onions
7 large cloves garlic peeled and thinly sliced
1 teaspoon salt
10 large fresh shiitake mushrooms, stems removed and cut into quarters
1/3 cup red table wine
1 cup finely chopped rapini
1 28 ounce can diced tomatoes (we used Muir Glen Organic)
1 cup packed fresh basil leaves, roughly chopped
1 pound spaghetti, cooked al dente, rinsed and drained
1/4 cup crumbled goat or sheep's milk feta
1/3 cup shredded Parmesan cheese
salt and freshly ground pepper to taste
extra basil leaves and feta for garnish
Method:
In a large deep skillet, heat olive oil over medium heat. Add onions and sprinkle with salt. Cook, stirring, until the onions turn golden. Add the garlic and cook until it turns golden and the onions brown slightly. Add the mushrooms when the garlic is halfway to golden. Cook stirring, until the mushrooms soften, and pour in wine.
Cook off most of the alcohol, then add the rapini, and cook stirring, until the rapini wilts and the color deepens to a rich dark green.
Add the tomatoes and all their juice, and turn the heat down to medium low and cook until the tomatoes release their juices and the liquid begins to reduce. Add the basil, and cook until the tomatoes are softened and the juice is lightly thickened.
Add the spaghetti and the cheeses to the skillet and turn off the heat. Using tongs, toss the pasta, cheese and sauce together, until well combined and the cheeses have melted. Be patient and be ready for a forearm workout–this takes a while. Taste for salt and pepper, and add as needed, then toss again to mix thoroughly.
Twirl into heated bowls or onto heated plates, and sprinkle with basil leaves and feta.
Serves four really hungry adults and one sort-of hungry toddler. (Adults who forgot to eat all day, like we did. Yeah, that was dumb–but fear not, we fed Kat. Just not ourselves.)
3 Comments
RSS feed for comments on this post.
Mmm this looks so good! I might have to try this tomorrow night. Thanks for another fun recipe!

Comment by Zoe Dawn — February 16, 2009 #

I think the key in this whole recipe is that people learn the trick of putting the pasta directly form the water into the pot with the sauce while it is still absorbing. So many people don't do this and it can make such a difference in the end result.
I'll have to try rape with red sauce though, I've never had that before…always garlic and oil. Thanks.

I did this on Saturday and it was delicious and simple. Feta in an Italian style tomato sauce never crossed my mind, but it was really good. I used spinach because we had some that needed using, but I adore broccoli rabe and will definitely try it that way next time.

Comment by bread and roses — February 23, 2009 #
Sorry, the comment form is closed at this time.
Powered by WordPress. Graphics by Zak Kramer.
Design update by Daniel Trout.
Entries and comments feeds.