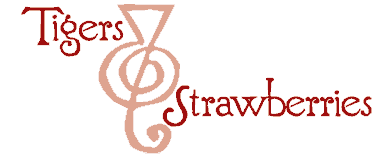 Cook Local, Eat Global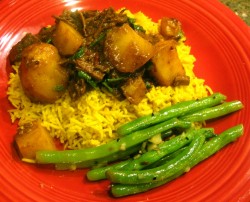 I have posted a couple of different vindaloo recipes here in the past, like my chicken version with mango chunks, and one made with pork, coconut milk and mangoes. As much as I love this fiery curry, I haven't posted a more classic version, flavored strongly with vinegar and made hearty with potatoes, mostly because I do so love my mango version that I tend to just keep making it that way over and over and eat the traditional potato versions when I am out at a good Indian restaurant.
That is, until I made dinner last night–I had a hankerin' for a good, stick-to-the-ribs meat and potatoes meal, but one with lots and lots of flavor, and because I was getting over the flu, I wanted one with some heat, to help clear the rest of the gunk that was stuffed up in my sinuses. And, frankly, the intense flavors were perfect for chasing away the bitter cold that the wind had swept into our region the night before.
Vindaloo–the name comes from the Portuguese "Vinha d'Alho," which translates to "wine with garlic," was originally a preparation of pork simmered in wine or wine vinegar with a large quantity of garlic. It was brought to the coast of Goa by Portuguese spice merchants, but soon after the dish came into the hands of Indian cooks, it improved immensely with the addition of fresh ginger, pungent mustard seeds, cumin, turmeric, and a generous helping of the newly popular chilies.
Some recipes call for tamarind as the souring agent rather than the more traditional vinegar; in this version with beef, I use both balsamic vinegar (I had no red wine vinegar in the pantry) and tamarind concentrate to give a delicious fruity, tart flavor. I also used a very large quantity of browned onions–more than I use in my chicken version, certainly, which gives the more strongly flavored beef a delectable sweetness.
To be authentic, you really should marinate the meat for at least a few hours, but I have to admit I didn't, and the dish turned out really flavorful anyway. It could be because I used the pressure cooker–cooking meat this way almost always results in really well-seasoned, tender dish. If you want to marinate yours, mix together the mustard seed, cumin seed, mustard, vinegar, tamarind, turmeric, paprika, cayenne, garlic and ginger, and toss with the beef, then seal it in a container and refrigerate it for at least two hours, or as long as overnight.
Then, after you brown your onions, add the beef with the marinade and brown the beef, and when it is browned, then add the water indicated in the recipe and continue the method as written.
The potatoes that I used were really nice fingerlngs, but you can use any kind of potatoes you have around. Little red baby potatoes would be nice here. If you use new potatoes, scrub them well and don't bother peeling them, but if you use older, larger russet potatoes, peel them.
Whatever kind of potato you use, don't pre-boil them, cook them in the curry–that way they soak up all of the flavors of the sauce.
One other thing–you can use whatever fresh chili peppers you want to spice up this curry–and depending on how hot you want the vindaloo to be–you can add the chilies sooner in the cooking process, or later.
If you don't want to use a pressure cooker, just simmer the beef covered until it is nearly done and add the potatoes. Continue simmering until the potatoes are done, then uncover the curry and simmer uncovered until the sauce thickens to the consistency you want. You will likely have to start with more water than I call for in this recipe, because you will lose more liquid than you would using the pressure cooker.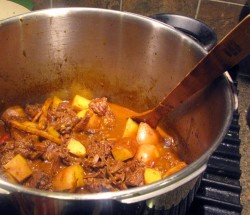 Beef Vindaloo
Ingredients:
4 cups thinly sliced onions
3 tablespoons mustard oil (or canola oil)
1 teaspoon salt
2 tablespoons mustard seeds
2 tablespoons cumin seeds
1/2 teaspoon ground cumin
2″ cube fresh ginger, peeled and cut into jullienne strips
1 head garlic, peeled and minced
2 1/2 pounds stew beef
1 teaspoon turmeric
2 teaspoons sweet paprika
1/2-1 teaspoon ground cayenne
1 tablespoon dijon mustard
2 tablespoons balsamic vinegar
1 tablespoon tamarind concentrate
2 cups water
2 pounds fingerling potatoes, scrubbed and cut into 1″ chunks
4-10 fresh red or green Thai chilies, stems removed, chilies left whole
1/2 teaspoon garam masala
salt to taste
cilantro leaves for garnish
Method:
Heat oil in a heavy-bottomed skillet or pan over medium heat. Add onions, and sprinkle with salt. Cook, stirring, until the onions turn a deep reddish brown.
Add the whole spices, cumin, ginger and garlic, then the beef, and cook, stirring until the beef is half-browned. Add the turmeric, paprika, and cayenne, and cook, stirring until the beef is completely browned.
Put beef mixture into a pressure cooker and add mustard, vinegar, tamarind and water. Bring to a boil, lock the lid in place and bring to full pressure. Turn heat down to low, and cook under full pressure for forty minutes.
Remove pressure cooker from heat and allow the pressure to reduce to normal naturally, by just letting the pot cool. This takes about ten or fifteen minutes. After the pressure is normalized, remove the lid, put back on the heat, and bring to a boil. Add potatoes and chilies, put the lid on, bring to full pressure and cook for five minutes. Remove from heat and allow to sit, covered for three minutes. Release pressure by opening the valve, and when the pressure is normalized, open the lid, put back on the heat and bring back to a boil. Simmer the curry until the sauce is as thick as you want it to be. Season to taste with garam masala and salt.
Garnish with cilantro leaves and serve with turmeric rice.
7 Comments
RSS feed for comments on this post.
Sorry, the comment form is closed at this time.
Powered by WordPress. Graphics by Zak Kramer.
Design update by Daniel Trout.
Entries and comments feeds.