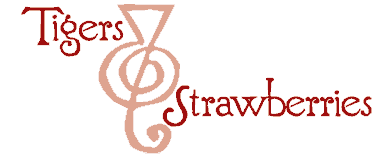 Cook Local, Eat Global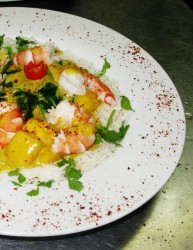 Shrimp Empress is a delicately flavored coconut milk curry of my own invention which I devised as a light yet rich dinner special while I worked as a chef. It is effervescent in flavor, seasoned with mostly sweet spices, but it is rich with the unctuous texture of coconut milk paired with sweet, slippery mango chunks. Barely cooked shrimp with its tender pink flesh is paired with velvety blanched baby spinach, and the tender-crisp snap and translucent pale violet color of red onion slices.
It is a very, very pretty dish, with a balance of fresh, springtime tints: delicate turmeric yellow, verdant cilantro, roseate chilies, gleaming white basmati rice, deep emerald spinach, and sunrise orange mango. The fragrance of it matches the colors perfectly: cardamom, cinnamon, cloves, fennel and black pepper dance together in a joyful chorale of scent, while cilantro, ginger, and lemon juice add a fresh, floral note to the melange of aromas.
In order to preserve the fresh colors and flavors of the baby spinach and shrimp, I cooked them separately from the curry sauce. This means you could make the sauce a day or so before you want to serve it, and keep it in the refrigerator where the aromas and flavors of the spices will meld together, only becoming better for having had time to get to know each other better. If I were going to do that, I would cook the curry sauce without the mango and red onion, and only add those as the curry sauce is heated up for service.
In this way, you could make a splendid and complicated looking dish for a dinner party, and not have to work yourself to death on the entree on the day of the party.
Let me admonish you to get the nicest, freshest-tasting shrimp you can manage in order to make this dish. I would highly suggest you go to a seafood specialist whom you trust and only buy truly fresh shrimp, or ones which are still frozen. Wild-caught shrimp taste better than farmed, so get those if you can afford them. I did this dish with very large shrimp, arranged on top of the curry in a radial spinning wheel formation, but you could also use smaller ones just as effectively. You can use frozen mango for this curry, although I prefer slightly under ripe fresh mango for its superior texture and balanced, lightly-tart, mostly sweet flavor.
Whatever you do, please don't use canned mango for this curry! It would ruin the effect. If canned mango is all you can find, just leave the mango out.
The world will not end if you have no mango in your curry.
But, it might end if you use canned mango in your curry. (I don't know whether it will end or not, I am just saying it might. I have never wished to test this hypothesis by putting canned mango in my curry, but if you feel as if you can gamble with the continued existence of all humanity, then by all means dump that canned mango in…you are a braver soul than I.)
Oh, and one more thing–I don't dare ever make this curry again for myself–it turns out that my allergist is nearly certain that I am allergic to shrimp, and probably clams and most likely other seafood as well.
So, I wanted to share this recipe with the rest of the world, even if I never get to eat it again!
Shrimp Empress
Ingredients:
3 tablespoons canola oil
3 cups yellow onions, peeled and thinly sliced
1 teaspoon salt
3 tablespoons fresh ginger, peeled and minced
1 tablespoon fresh garlic, peeled and minced
2 tablespoons coriander seed, freshly ground
2 1/2 teaspoons cardamom seed, freshly ground
1/2 teaspoon fennel seed, freshly ground
1/2 teaspoon black peppercorns, freshly ground
1/8 teaspoon ground cinnamon
3 whole cloves, freshly ground
2 tablespoons Aleppo or other mild chili flakes
2 teaspoons ground turmeric
1 28 ounce can Mae Ploy coconut milk
1 14 ounce can Chao Koh coconut milk
3-5 whole fresh red Thai chilies (optional)
3 medium ripe mangos, diced into 1/2″ cubes
1 medium-sized red onion, peeled and cut into 1″ squares–cut into 1″ chunks and then separate the onion layers to make squares
juice of one lemon
salt to taste
4 cups fresh baby spinach
2 pounds large fresh shrimp, peeled, with tail shell left on
roughly chopped cilantro for garnish
Method:
Heat canola oil in a heavy-bottomed pot and add sliced onions and sprinkle with the teaspoon salt. Cook, stirring, until the onions are golden brown. Add the ginger and garlic and spices, and continue cooking until the onions are deep golden brown. Add coconut milk, and if you want to use them, the whole, stemmed Thai chilies. Bring to a simmer, and add the mangoes and red onions. Simmer for about ten minutes. Taste curry sauce for salt, add what is necessary, and stir in lemon juice.
Boil water in a large pot while the curry sauce cooks. Drop shrimp in and cook until they are just done–allow them to turn from translucent blueish grey-white to solid white and pink, with red-shelled tails.
Just before serving, drop the spinach into the curry sauce. You can either add the shrimp to the curry sauce or make a mound of rice in the center of a shallow pasta bowl, then ladle curry sauce around it and arrange the shrimp over the rice and sauce.
Garnish with cilantro leaves.
5 Comments
RSS feed for comments on this post.
Sorry, the comment form is closed at this time.
Powered by WordPress. Graphics by Zak Kramer.
Design update by Daniel Trout.
Entries and comments feeds.