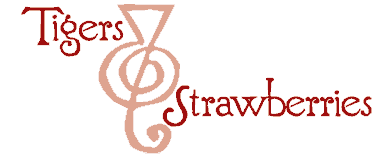 Cook Local, Eat Global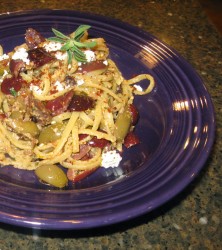 This simple pasta dish is redolent with the voluptuous flavors and aromas of Greek cuisine and is the result of my attempts to have our household eat vegetarian meals several times a week. The reasoning behind this attempt is not only because I believe that eating even less meat than we already do is healthier, but also because it saves money, and often, time in the kitchen. (With all of this sewing I am doing, sometimes it is really nice to have a quick meal to fall back on and often, vegetarian pasta fits the bill.)
This dish came about because I wanted a recipe to feature the delicious salty-milky savor of the locally produced goat feta that I buy from Chris Chmiel of Integration Acres. Chris makes rich, unctuously creamy chevre, but I think that I like his feta even better–it is tangy, salty without being overwhelmingly briny and richly milky, all without that unpleasantly chalky texture that commercially produced feta can sometimes have. His feta is always firm and crumbly without being rubbery, with a soft, melting mouthfeel that is satisfyingly velvety.
In other words, his feta is to die for.
And I wanted to do another pasta dish to feature it, and since I had some green Nafplion and black Kalamata olives in the fridge, and lemons piled in a cobalt blue bowl on my dining room table, I thought that I just might have to combine the three into a simple, easy and fast to make sauce for linguine, my new favorite pasta shape. With the addition of a liberal dose of fresh herbs: thyme, oregano and rosemary, a bunch of fresh, locally grown garlic, and a heavy sprinkling of Aleppo pepper flakes, the contours of the recipe began to take shape.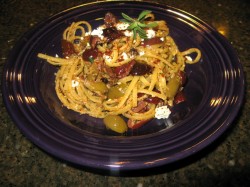 One caveat about this recipe is that it all comes together very quickly–so do all of your prep work before you step up to the stove. As in Chinese stir-frying, it is crucial that your mise en place is all done and ready to go before you start cooking for this recipe to be successful, so before you turn that burner on under your pan of olive oil, make sure that your garlic is all minced, your olives are all sliced and pitted, your feta is crumbled, your lemons are zested and her herbs are stemmed and minced.
Also, start your water boiling for your pasta, and have it boiling when you start cooking the sauce. When the sauce is nearly done, put the linguine in to cook–you don't want it to be done before the sauce–pasta that sits and waits for the sauce is liable to get sticky, rubbery and just plain not good, whereas most sauces can wait a few minutes for pasta to cook without any ill effects–in fact a few more moments on very low heat more often than not improves a pasta sauce.
A note about the olives–I use pitted Greek olives here, because I hate pitting them. You can use any kind of olive you want in this, but I think the Greek ones are best–green brine cured Nafplion and rich violet-black brined Kalamatas are my favorite, and I highly suggest you use them, but if you don't want to, that is up to you. Just know that if you use typical pimento-stuffed Spanish green Manzanilla olives and canned black California olives, your pasta sauce won't have as much flavor and character as it would if you used the Greek olives.
If you don't have Aleppo pepper flakes, you can use a smaller amount of any other kind of chili flakes, or use freshly ground black pepper instead.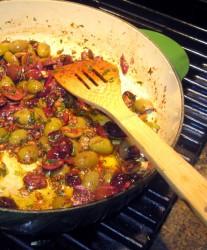 Linguine With Olives, Lemon and Feta
Ingredients:
3 tablespoons olive oil
2 1/2 tablespoons minced fresh garlic
1 1/2 teaspoons Aleppo pepper flakes
1 cup pitted Kalamata olives, sliced in half longitudinally and lightly rinsed and drained to remove excess salt
1/4 cup lemon zest, divided
2 tablespoons minced fresh oregano, divided
2 tablespoons minced fresh thyme leaves, divided
2 tablespoons minced fresh rosemary, divided
1 cup Nafplion olives, rinsed, drained, pitted and sliced in half longitudinally
1/8 cup lemon juice
2 tablespoons heavy cream (optional)
3/4 cup crumbled feta cheese
1 pound cooked, drained linguine
sprigs of oregano , extra feta cheese crumbles, extra lemon zest and sprinklings of Aleppo pepper flakes for garnish
Method:
Heat olive oil in a heavy-bottomed skillet on medium heat. After a minute or so, add garlic and Aleppo pepper flakes, and cook, stirring, until the garlic is golden and fragrant. Add Kalamata olives and 1/2 of the lemon zest as well as 1 tablespoon each of the fresh oregano, thyme and rosemary. Cook, stirring, for about three minutes, then add the green Nafplion olives and cook for another minute or so.
Stir in the lemon juice, the other half of the lemon zest, and the rest of the herbs, as well as the heavy cream and 1/2 of the feta.
Add the linguine, turn off the heat and toss thoroughly, adding the rest of the feta. Toss until the pasta is coated with the flavored oil and the melted cheese, and the olives, herbs and lemon zest are thoroughly mixed with the pasta.
Twirl into warmed bowls and garnish with sprigs of oregano, crumbled feta, lemon zest and Aleppo pepper flakes.
This is great served with a salad of mixed greens with a simple herb, lemon juice and olive oil dressing garnished with pine nuts or walnuts.
Posted by Barbara on March 17, 2009 in Local and Sustainable, Local Athens Food and Foodies, Recipes: Almost Vegetarian, Vegetarian and Vegan, Recipes: Bread, Pasta, Grains, Recipes: Fruits and Vegetables, Recipes: Italian, Recipes: Original | 1 Comment
1 Comment
RSS feed for comments on this post.
Sorry, the comment form is closed at this time.
Powered by WordPress. Graphics by Zak Kramer.
Design update by Daniel Trout.
Entries and comments feeds.