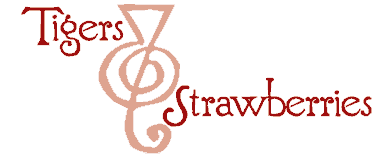 Cook Local, Eat Global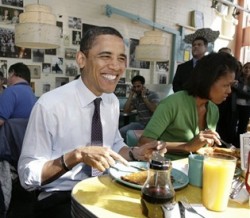 These are my new titles for our President and First Lady, and I think they are probably apropos, in addition to being cute.
I find it fascinating how everyone wants to know everything about the Obamas–what they wear, where they send their kids to school, and what they eat, all being included in the exuberant public curiosity that follows their every move. I can understand some of it–after eight years of having a pretty uncharismatic First Family for Americans to look at, the Obamas are most certainly a breath of fresh air. They are a beautiful, young, and friendly couple with two really adorable kids, and of course, they came into office on a wave of hope and promise for a new way of doing things in America.
So is isn't really surprising that people are focusing on what foods the First Family likes to eat. And, all of the media interest makes sense, because as the many new designs of sleeveless fashion can show us, the Obamas are now role models whom Americans seem ready to embrace and emulate.
When it comes to food, the Obamas seem to have come in favor of home gardening, local food, and sustainable agriculture.
How do I know this?
They are breaking ground today on the first full-fledged large kitchen garden on the White House grounds since Eleanor Roosevelt's Victory Garden during WWII. Local food activists, including Alice Waters, who have been working for decades to get a kitchen garden on the lawn of the White House for years are ecstatic.
As a symbolic act, planting a kitchen garden is a potent one. It harkens back to America's agrarian roots. It ties in to First Lady Michelle Obama's call for Americans to eat more fresh, nutritious food, and her commitment towards making such food more available to the masses. It shows that when it comes to her support of community gardening, and edible schoolyard initiatives, Ms. Obama is willing to put her money where her mouth is: apparently, she and the rest of the family will work in the garden along with some lucky kids from Bancroft Elementary School, who are helping to break ground today.
I have to say I am thrilled to see this strong symbolic support from the First Family in areas of local, sustainable food production and food self-sufficiency and security for our nation's citizens.
As far as I am concerned, it is a breath of fresh air that has been a long time in coming, and I welcome the idea of a president and his family who are willing to get down and get dirty and help produce the food for their own table–just like many other Americans are doing.
Maybe many more Americans will try it, inspired by the Obama's example.
And whatever gets Americans back into the soil, back into the land that sustains them, gives me hope for our future.
7 Comments
RSS feed for comments on this post.
Sorry, the comment form is closed at this time.
Powered by WordPress. Graphics by Zak Kramer.
Design update by Daniel Trout.
Entries and comments feeds.