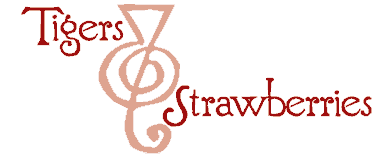 Cook Local, Eat Global
I have wonderful news: last night, at about two in the morning after Kat woke up from a bad dream, and insisted she was hungry (she wakes up hungry in the middle of the night during a growth spurt), we brought her downstairs to make her a scrambled egg.
She saw her big sister, Morganna, who was still up after a night shift at the restaurant, and squealed with delight, ran to her and hugged her tightly, insisting that Morganna hold her. She ate her snack on Morganna's lap, and then the two of them started to play.
Since neither of them had seen each other much for the past couple of months (Morganna is on spring break from OU), I figured, to heck with bedtime and let them go. While they were galumphing, chasing and tickling, Kat said Morganna's name, perfectly and clearly, not once, but three times in all of our hearing, much to everyone's absolute delight.
I even got a little choked up, because Kat has had a hard time with expressive speech. Her receptive speech has always been perfectly fine–she has always understood us, at even a more advanced level than is normal, but she could hardly make any words and would get stuck on one-syllable sounds that stood in for every other word she couldn't say. She relied on gesture and signs to get her meaning across, and we all had to essentially develop psychic skills to converse with her.
Well, we took her to a really great speech therapist here in town, Kim Hale, and she said that it had to do with Kat's facial muscle development, which is tied in to her premature birth, and is tied up with her learning to walk so much slower than normal. She couldn't feel how the shape of her mouth needed to be for the sounds to be produced, so she had trouble making sounds. Kim showed us how to manipulate Kat's face to help her make proper sounds, and eventually, Kat would do the little manipulations with her own hand to help her mouth move correctly and she started talking, right away.
At this point, she doesn't even need to do that, and while she is still going to speech therapy, she is on track again, and is picking up words–even complex ones like Morganna's name, like they were pebbles on the beach. And she is so much happier–as are we.
We were pretty worried about it.
One thing that we also did, is on the advice of her pediatrician, we started supplementing her diet with Nordic Naturals fish oil, which is full of Omega-3 fatty acids. Dr. Wapner said that he likes all of his patients to have it, but he especially wanted her to have it because it can help kids who have speech delays, including kids with Oral Apraxia or Vocal Apraxia.
None of the speech therapists Kat has gone to have thought that she had verbal apraxia, but her expressive speech patterns were similar to kids with this neurological disorder. And as we read the book, The Later Talker: What To Do If Your Child Is Not Talking Yet, by Marilyn Agin MD, Lisa Geng, and Malcolm J. Nicholl, which admittedly does deal primarily with verbal apraxia, we came across some preliminary studies which indicate that fish oil supplements do indeed seem to help kids, often dramatically, with their expressive speech delays.
So, I took it upon myself, upon the advice from Kat's pediatrician and the advice of the pediatrician who wrote the aforementioned book, to give Kat fish oil supplements. I chose Nordic Naturals, because Dr. Wapner assured me that it didn't taste bad, and when I brought it home and tried it, he was correct. It was quite refined, and the addition of orange essential oil for flavoring rendered it quite palatable. And, when stirred into Kat's orange juice–it was nearly undetectable.
I want to say this–even though this is purely anecdotal, and I am certainly not a pediatrician, so am not giving medical advice–within a week of taking daily doses of the fish oil–Kat's speech improved dramatically. Part of it was getting her to a good therapist who helped show us how to model sounds with Kat by molding her mouth while she spoke, but I am pretty sure that the fatty acids in the fish had something to do with it.
One theory, as stated in The Late Talker, is that kids who don't have a lot of Omega 3's naturally in their diets do not produce as much myelin, which is the sheath to neurons and that promote connections in the corpus collosum, which is the membrane between the two hemispheres of the brain. (I am simplifying here, so bear with me.) The myelin sheath also promotes electrical conductivity in the neurons, and is made primarily of fatty acids including the Omega 3 fatty acids. It is thought that deficiency in these Omega 3's can slow brain development including in areas that involve speech production.
So, that is the deal.
Kat is finally speaking, and in addition to being able to thank great speech therapists, and having Mom home full time along with Dad, I think we can also thank fish oil supplements.
I just wish we lived where there was abundant, fresh, safe to eat fish!
11 Comments
RSS feed for comments on this post.
Sorry, the comment form is closed at this time.
Powered by WordPress. Graphics by Zak Kramer.
Design update by Daniel Trout.
Entries and comments feeds.