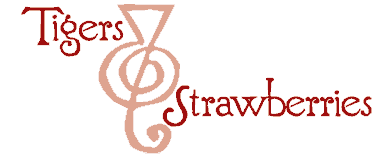 Cook Local, Eat Global
I love me my ramps and green garlic.
All year long, I anticipate with gustatory delight the spring season which not only brings morels, asparagus, rhubarb and strawberries, but also pungent-sweet, spicy-hot ramps and green garlic. I use them in cooking just as I would scallions and garlic, but in even more copious amounts than usual for my aromatics. I love the overpowering aroma of these young, fresh vegetables, and when they are paired with cheese and tomatoes, as I did last year in Kiss Kiss Bang Bang Spaghetti, they are especially delectable.
This year, because for some reason I cannot fathom, I have been craving meats and cheese like a madwoman, even as I lose weight, I decided to make Kiss Kiss Bang Bang again, but this time, to add meatballs. I used parmesan cheese instead of goat feta, because I had that and not the other, and I used a teaspoon of bacon drippings instead of the butter to enrich the sauce. For the meatballs, I used the extremely lean, tender and beefy flavored locally produced ground bison from Dixon's Elk Run Buffalo Farm. These were seasoned with plenty of minced ramps and green garlic, cumin, Aleppo pepper flakes and smoked Spanish paprika, and fried in olive oil, then simmered in red wine until they were nearly done, then they were added to the sauce, while the wine reduced to 1/3 of its original volume. The wine reduction was then added to the sauce, and the whole lot simmered for about fifteen minutes, until the sauce thickened and the meatballs were done perfectly.
One thing about bison meat–because it is so low in fat, you need to be careful how you cook it, in order to keep it from drying out. I use lower heat, and after the outside of the meat has browned, I use moist heat–this time in the form of wine–to keep it tender and succulent. You can also add a little bit of fat to it–in the form of olive oil, a tiny amount of bacon drippings or butter, or a little bit of egg yolk or mayonnaise–when you blend the seasoning ingredients into the ground meat. You don't need much–just a small amount–and your meatballs will be juicy and flavorful, instead of dry and flubbery. About a teaspoon per pound will do. The added benefit of the fat is that it will help your very lean ground bison hold together when you cook it–it will lower the amount of binder you need to use to get the meat to cling to itself.
For binder, I used matzo meal, because that is what I had around and I like the texture it imparts to meatball mixtures. It makes them less dense than fresh breadcrumbs and it imparts no flavor of its own to the bison.
As for seasoning, I like the way cumin makes beef and bison taste–beefier. It synergizes with the meat and makes it taste even richer and more–meaty. I guess it probably boosts the umami flavor inherent in the bison. The smoked paprika adds a nice earthy touch and the ramps and green garlic–well, they speak for themselves. A little bit of salt is all the rest that you need.
And yes, you can tell by reading these last two posts that I ave been eating wheat, until and unless I am told otherwise. We will see what we will see when the tests come back. Until that time, I am going to enjoy food as much as I can, and that includes my beloved spaghetti and Chinese noodles, sauced in as many different ways as I can conceive.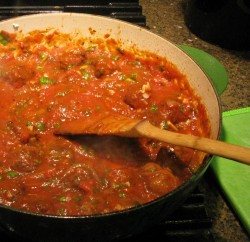 Ramped Up Spaghetti and Meatballs
Ingredients:
1 recipe of Kiss Kiss Bang Bang–leave out the goat feta (or use it in place of the Parmesan, and if you want, replace the butter with a teaspoon of bacon drippings)
1 pound ground bison or beef (If you use the beef, do not use the added fat, which is next on the ingredient list)
1 teaspoon bacon drippings, mayonnaise, egg yolk (I use 1/2 a large egg yolk, or you can use 1/2 an egg instead), olive oil or butter
1/2 teaspoon ground cumin
1 teaspoon Aleppo pepper flakes
1/4 teaspoon salt
1/8 teaspoon smoked paprika
1/8 cup minced ramps and green garlic tops combined–or one or the other, if you prefer
1/4 cup matzo meal
2 tablespoons olive oil
1 cup soft red wine
1/4 cup shredded or shaved Parmesan cheese
1 pound spaghetti cooked al dente and drained well.
extra Parmesan for garnish.
Method:
Follow the instructions to make Kiss Kiss Bang Bang. While the sauce simmers on low heat, make the meatballs.
Mix together the bison, added fat of your choice, spices, ramps and/or green garlic, and the matzo meal. Mix together with your hands until it is completely blended. Roll into walnut-sized balls.
Heat olive oil in a frying pan until it is nice and hot. Add meatballs, and cook, shaking now and again until they are completely brown on the outside. Add the wine and cover, and allow to simmer and steam for about five to eight minutes. Uncover and transfer the meatballs to the Kiss Kiss Bang Bang sauce and allow the wine to reduce to 1/3 cup. Pour the combined wine and meat juices into the sauce with the meatballs, and stir to combine. Allow the sauce to thicken until it coats the back of a spoon, then toss with the spaghetti and the cheese. Garnish with extra cheese flakes or shreds, and serve in warmed bowls.
This will serve four adults and one toddler.
1 Comment
RSS feed for comments on this post.
Sorry, the comment form is closed at this time.
Powered by WordPress. Graphics by Zak Kramer.
Design update by Daniel Trout.
Entries and comments feeds.