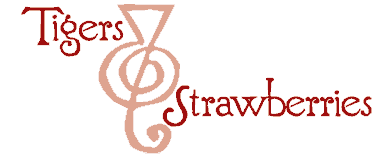 Cook Local, Eat Global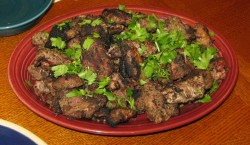 So, yesterday, I posted my version of Jamaican "peas and rice," which is what most Americans would call red beans and rice. Whatever you call it, it is tasty–in fact, probably the tastiest beans and rice ever.
A couple of readers asked for my jerk rub recipe, and so here is my favorite–the one that I have developed over the past decade or so.
Last year, I published two variations of jerk rub. I really love the Japanese-Jamaican version, and I used the basic recipe for it to create this variant, which I think is my favorite of all time. It has more black pepper in it than the other version, more garlic and some cumin.
Cumin is so totally not traditional, but I find that when it is judiciously used, it really enhances the meaty flavor of whatever it is used on it. I wonder if it has natural glutamates in it?
If you are more interested in a traditional jerk recipe–try the first one on the link above. It is pretty truly traditional.
But this one, while untraditional and inauthentic in the extreme, is pretty amazingly good, and while it makes great seasoning for pork tenderloin medallions, it also rocks on chicken. I can't wait to try it on lamb, bison and venison, too.
Barbara's Favorite But Not Traditional Jerk Rub/Marinade
Ingredients:
1 1/2 heads garlic, peeled and finely chopped
1 cup very finely minced scallion, both green and white parts
3 tablespoons fresh thyme leaves
2″ cube fresh ginger, peeled and minced
fresh chili pepper, minced–to taste (scotch bonnet or habanero are traditional, but I have used Thai chilies to good effect)
1 teaspoon whole peppercorns, freshly ground
2 tablespoons whole allspice berries, freshly ground
5 whole cloves, freshly ground
1/2 teaspoon cumin seeds, freshly ground
1/2 teaspoon ground cinnamon
1/4 whole nutmeg, ground
1/2 teaspoon salt
1 tablespoon tamari soy sauce
1 teaspoon toasted sesame oil
1/4 cup pineapple juice
2 tablespoons lime juice
2 1/2 tablespoons canola or peanut oil
Method:
Mix everything together until you have a kind of chunky greenish brown paste. It will be quite fragrant, but in a good way.
Rub it all over whatever meat you are using–I like to cut my meat into small pieces for cooking, because you get more surface area to get the spice rub on for more flavor–but it is up to you how you do it.
Let it sit, well covered, in the fridge however long you like–up to overnight. Bring to room temperature before throwing it on the grill. Grill on a hot fire for however long it takes for whichever meat you use to get done. The meat should be crispyish on the outside with some nice browned crackly spots and juicy and tender inside.
You can make jerk rub up ahead of time and freeze it in an airtight container–I like doubled ziplock bags to keep the fragrance in–and it will keep for about six months.
If you would rather make a pourable marinade out of this, add more pineapple or lime juice and a bit more canola or peanut oil.
3 Comments
RSS feed for comments on this post.
Thanks so much for sharing this! And just in time for Memorial Day grilling!

Comment by Betsy — May 16, 2009 #

I've made my own jerk rub several times, trying to imitate my friend's mothers recipe (She's chinese-jamaican). Finally I just asked her. Her response: "Walkerswood"

Comment by Ryan — May 18, 2009 #

Am looking forward to trying this. Thank you Barbara.

Comment by Maureen — May 18, 2009 #
Sorry, the comment form is closed at this time.
Powered by WordPress. Graphics by Zak Kramer.
Design update by Daniel Trout.
Entries and comments feeds.