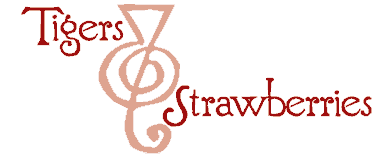 Cook Local, Eat Global
Have you ever decided to cook a couple of things together that turned out to taste so good that you wondered why you had never ever cooked them that way before?
That is what happened to me last night.
I had some delicious tiny new potatoes–the variety is called Carola, and if you can get some, you should try them. When they are tiny–about the size of quail eggs, like these–they boil or steam up creamy and sweet, with papery skins that have a delectable earthy aroma. When they are slightly bigger, they are great roasted–and frankly, I suspect that I could make a different version of this recipe by roasting the potatoes and cherry tomatoes and then tossing them with fresh pesto, and it would be equally amazing in a toasty kind of way rather than a creamy way.
Carola potatoes have become one of my favorite varieties of late–I have been buying them from Rich Tomsu, who also grows my favorite garlic in the world–Extra Hardy German–more on that in a moment. Carolas are also a variety developed in Germany and have a dependably consistently lightly sweet flavor and creamy texture, whether tiny or mature. I buy them throughout their season, from early June through the fall–and use them every which way I can–they are just that good!
As for the tomatoes–it is not really tomato season here in SE Ohio yet–but Star at Shade River Organic Farms starts her plants in greenhouses in the deep winter so she can have cherry tomatoes and slicers by early to mid-June, long before the other farmers here. And let me tell you–her tomatoes are amazing–full-flavored and very juicy–nothing like the crunchy hothouse balls of red styrofoam that masquerade as fresh tomatoes in the grocery store. I've been buying two quarts of cherry tomatoes per week for the past couple of weeks and using them in pasta, salads and in grilled cheese sandwiches. Mostly, though, I eat them right out of the bowl where I store them on the countertop–they are my snacks. (You should not ever keep your tomatoes in the fridge–it messes up their flavor. A lot.)
So, here we are–last night I wanted to make a vegetarian entree for myself for dinner–Kat wanted macaroni and cheese again, Zak was out of town and I did not want mac and cheese myself. What to do?
Well, I looked and saw that I had two lovely types of round vegetables roughly the same size–the potatoes and tomatoes (incidentally, these vegetables are related–they are both in the nightshade family–cool stuff, huh?) and ooh–leftover pesto from two days before carefully preserved in the fridge.
Ah, pesto–now we come to the discussion of the lovely garlic you see here. It is Rich Tomsu's German Extra Hardy variety and look how huge the heads are! They are so pretty–the skins are pearly white with little brushstrokes of violet–Kat has been snagging them off the countertop and carrying them around the house, kissing them since I brought them home on Saturday. This variety of garlic is my favorite–hands down–because it is fragrant and oh, so zingy! The garlic flavor is strong and fiery without being the least bit bitter–in fact, it is quite sweet even before it is roasted. I have been buying Rich's garlic since we came back to Athens to live and I would say that it is the one garlic I use exclusively in my cooking for about 3/4 of the year. I buy it until he and Ann run out of it, and then I wait with baited breath until their green garlic comes in the spring.
Anyway–if you can get your paws on some of this variety of garlic, preferably locally grown and extremely fresh–give it a try.
This particular batch of huge garlic cloves are so strongly flavored that I could make pesto using only two of the cloves for about three cups of fresh, locally grown basil leaves. That was pretty cool.
It all turned out to be a fantastic, if simple supper. I also made a plain spinach salad with homemade balsamic vinaigrette to go with the potatoes and tomatoes, and I was perfectly satisfied.
New Potatoes and Tomatoes with Pesto
Ingredients:
8 ounces tiny new potatoes, scrubbed well
5 or 6 large cherry tomatoes, quartered
1 tablespoon finely shredded Parmesan cheese
1/4 cup pesto
1/2 teaspoon Aleppo pepper flakes
kosher salt to taste
Method:
Boil the potatoes in lightly salted water until they pierce easily with a fork.
Drain and set pot back on stove on low heat. Add potatoes and shake pot to help evaporate all the water.
Add quartered tomatoes and sprinkle with the cheese. Cook, stirring, until the cheese melts and the tomato skins wrinkle slightly.
Stir in pesto and sprinkle with Aleppo pepper flakes and salt to taste. Toss to combine well and serve immediately.
13 Comments
RSS feed for comments on this post.
Sorry, the comment form is closed at this time.
Powered by WordPress. Graphics by Zak Kramer.
Design update by Daniel Trout.
Entries and comments feeds.