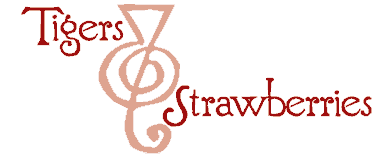 Cook Local, Eat Global
No, I am not talking about the death of Michael Jackson. Nor am I opining upon the resignation of Sarah Palin.
Nope.
This is about the death of a kitchen tool that has been a part of my life for well over ten years, which I found out about from an ad in the back of an old issue of Fine Cooking Magazine. It has served me well in my own kitchen as well as in the kitchens of others, and I even used it a bit when I worked in a professional kitchen–I just packed the critter up and carted it off with me.
Yes, my Sumeet has suffered a most final, and decisive death.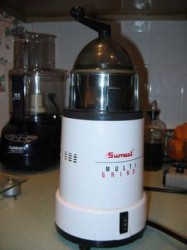 It is a sad, sad day.
It has been limping along for months–the motor housing cracked a long time ago, and was repaired with duct tape. The blades had finally dulled to the point that I could no longer put peeled chunks of ginger into the container and have them grind up–I had to roughly chop it first, and then the Sumeet would grind it to a paste. Fresh coconut and even worse, galangal had become impossible, even if cut into small pieces. And channa dalia–well, that is what put the final nail in the coffin of my faithful kitchen friend and burned out its workhorse motor. (The smell of burning motor bits is distinctive, disturbing and quite final. It was the smell, in addition to the sound of interior motor bits grinding against each other that told me that the Sumeet had given up the ghost.)
So, I raise my (third) cup of coffee of the day to my old friend and boon companion in all endeavors culinary, and wish it Godspeed as it goes off on its last adventure.
I feel as if I should give it a Viking burial, complete with grave offerings and burning ship, but I suspect I would get cited for littering, pollution of a waterway and unauthorized burning of a kitchen appliance in public if I hiked myself down to the Hocking River and after arranging a full array of funerary offerings (heaps of spices, garlic and ginger, most likely) around it on a raft, I set the supine Sumeet ablaze with all proper pomp and grief-filled circumstance.
So, let this post stand as the funeral to my loyal helpmate who until this very hour on this very day, never let me down, no matter what manner of crazy ingredients I set it to grinding.
Needless to say, I immediately ordered a replacement, but after doing research all over the web, but particularly among Indian blogs and websites, and hearing from readers of my blog over months that the company that makes Sumeet has given up on customer service, and reading reviews of other Indian wet-dry grinders, I decided to pick up a Preethi. (I started this research months ago, as I knew that this day was coming. The Sumeet has been wheezing along pathetically for a long time, so I have been preparing for its eventual demise.)
I have read great reviews of Preethi's various wet-dry grinders and it looks and sounds like it will be a worthy successor to my old and dear kitchen friend.
Look for a review of my new kitchen goodie when it arrives.
Until then, I will be back to grinding spices the old fashioned way–with a mortar and pestle. (The good thing about the old ways is that they always work, they don't require electricity and the stone implements required do not wear out within a human lifetime.)
13 Comments
RSS feed for comments on this post.
Sorry, the comment form is closed at this time.
Powered by WordPress. Graphics by Zak Kramer.
Design update by Daniel Trout.
Entries and comments feeds.