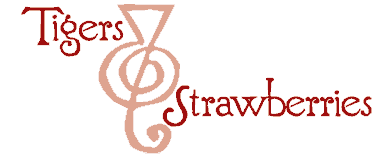 Cook Local, Eat Global
It came today! The Preethi came today–and I am itching to put her through her paces.
Yeah, I personify my tools–and this one seems to be very femail to me. It may be the shapes of the three jars–yes, THREE jars! Or it may be the name of the company, Preethi, which sounds feminine to me, and is a rather pretty sounding name at that, but for whatever reason, this new wet/dry grinder/mixie (which I can apparently use to churn my own butter!!!!) is a female.
I think I am going to name her Lakshmi–after the Goddess of abundance, prosperity, generosity and courage–I have a small statuette of Lakshmi in my kitchen, near my statue of Ganesha. (I named my rice cooker after Ganesha, btw.)
I have been reading the instruction manual, but have not yet viewed the instructional DVD–yeah, a DVD. Maybe it will demonstrate the churning of butter. (Mmmm–butter made from our own local Snowville Creamery cream!)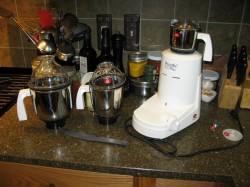 I think I am going to love the three different sizes of jars–one of the problems I always had with the Sumeet was that it wasn't quite big enough to do a really large batch of Thai curry paste or a whole lot of browned onions for a big batch of Indian curry. I like that I can choose which size jar I need for grinding or mixing or churning whatever it is I am working on. There are ones big enough to do idli or dosa batter–which is great–that means I can finally learn to make these South Indian treats!
Look for a full report soon after I have had a chance to put Lakshmi through her paces–until then, happy cooking!
13 Comments
RSS feed for comments on this post.
Sorry, the comment form is closed at this time.
Powered by WordPress. Graphics by Zak Kramer.
Design update by Daniel Trout.
Entries and comments feeds.