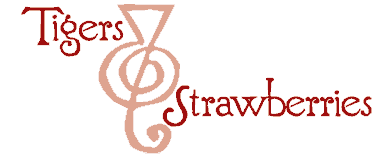 Cook Local, Eat Global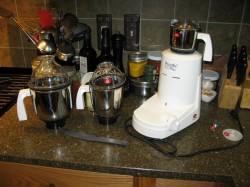 So, here's the post that the kitchen geeks have been waiting for: the review of the new Preethi Eco Plus wet/dry grinder mixie.
First of all, let me explain why I picked out the Eco Plus instead of one of the other, newer models of Preethi.
It is quite simple–the other, newer models, such as the Chef Pro Plus and the Blue Leaf Platinum, looked like they had a lot more gewgaws and bits like storage containers which I had no need of. They also had a lot more plastic parts–and as I am hard on my kitchen equipment, I am enamored of nice tough materials like the stainless steel mixing/grinding jars of the Eco Plus. In addition to having more plastic and extra accessories which did not interest me, the Chef Pro Plus and Blue Leaf Platinum are both higher in price than the Eco Plus.
All three models have a 550 watt motor, and the jars have the same basic capacities, so I went with the lower price, stainless steel jars and fewer accessories of the Eco Plus.
Now we come to performance.
I put the Preethi through her paces: I used the chutney jar to grind dry spices (peppercorns, nutmeg, cinnamon stick, cloves, black cardamom, cardamom, cumin, coriander and dried chilies), wet spices (ginger, chilies, garlic and cilantro), a mixture of the two, and hot, caramelized onions. The grinder performed admirably at all tasks. The dry spices whirred through the machine and in seconds, were reduced to a fine powder. The wet spices I cut into chunks, and ground up in the order that the instruction manual called for–and a smooth paste resulted in a few seconds without the use of additional water. To do the combination of wet and dry spices, I ground the dry spices first, then put the wet stuff in, cut into rough chunks as before and within seconds a fragrant paste was made. The hot caramelized onions were pureed in mere seconds as well.
Cleanup was simple–as per the instruction manual, I put a bit of water and detergent into the jar, put it on the motor and whirred it about to clean the interior. Then, I rinsed well and wiped down the outside and let it dry on a towel on my counter overnight. The instruction manual says not to clean the jars in a dishwasher, so I am not going to do it. I am being good!
Then, I used the larger jar to make lassi–you can see the frothy results in my post from Sunday. Crushing the ice was no issue for the Preethi, nor pureeing frozen strawberries that were still like little rocks. Whipping everything into a froth was also simple and fast. The one thing I will note is that the removable top portion of the lid that allows you to drizzle liquids in while the machine was running was prone to leakage of lassi. I did accidentally overfill the jar, so that is probably why. Oh, and I should mention that you are supposed to hold that little lidlet thingie down while running the machine. No starting it up and walking across the room because your cat is on the counter and you need to shoo it away. Nope. I suspect that would result in lassi on the ceiling, so take my advice and throw a shoe at the cat and keep your hand on the Preethi.
Or, alternatively, turn it off before walking across the room and dealing with the cat, though the shoe throwing is more cathartic and fun.
I also made butter, well, I did, and then I screwed it up by overmixing it, but that was not the Preethi's fault, but my own. But, let it suffice to say that butter is churned in under a minute, so keep that in mind and stop the Preethi as soon as chunks of butter slap up on the clear lid.
Now, you are thinking–that stuff was all easy. What about heavy-duty grinding? Like of lentils and beans and stuff, which the Preethi is specifically advertised to do.
I used it to grind soaked dried chickpeas for falafel, and, after a slight mishap, the Preethi turned the crunchy beans, spices, onions and garlic into a nice smooth paste that was ready for deep frying in the wok.
What was the slight mishap?
Well, I thought I had broken it for a moment. As I was grinding the beans, the motor ground to a halt and stopped dead.
I nearly cried.
But Zak, smart man that he is, came to my rescue. He turned the motor unit over, and saw there was a fuse on the bottom and pushed the button on it and VOILA! The Preethi woke back up, went back on the job and finished grinding those beans. In the future, I will be careful to do the bean grinding for falafel in two batches, then knead the dough together at the end. I may have overfilled the jar again.(Yes, I am going to present a recipe for falafel. Soon. Be patient.)
All in all, I am thrilled with my purchase. I have to say that the documentation included in the box is sparse. The instruction manual gets the point across in a spare and taciturn manner, though the English is pretty well grammatical and sensible. The instructional DVD is nigh-well useless though–it seems to all be television commercials, and even though you can select English on the menu, it is still a mixture of Indian languages with a tiny bit of English.
But that doesn't matter. The Preethi Eco Plus is a very good appliance which does many jobs very well and is going to be a wonderful workhorse in my kitchen, helping me make Indian, Thai and Mexican foods as well as frozen alcoholic beverages, smoothies, milkshakes and other tasty things.
Now–I have to say–it doesn't do everything. It has no shredding attachment, or slicing capabilities–for that you will still want to keep your food processor. But if you want dry spices ground to a powder and wet spices pureed smoothly and lentils and beans ground and made into doughs or batters and lassis and butter and all that stuff–you can turn to the Preethi without worry.
I bought my Preethi fromPerfect Peninsula, and their customer service is wonderful. Their response time is fast, their shipping is faster and the folks who answer their emails are very nice and helpful. I have nothing but good to say about them–they are a great online resource for Indian cooking essentials.
So, there we have it–my review on the Preethi Eco Plus–a grinder which has taken the place of my beloved but now deceased Sumeet. I hope that this review will be helpful to some of you, if not this moment, in the future.
16 Comments
RSS feed for comments on this post.
Sorry, the comment form is closed at this time.
Powered by WordPress. Graphics by Zak Kramer.
Design update by Daniel Trout.
Entries and comments feeds.