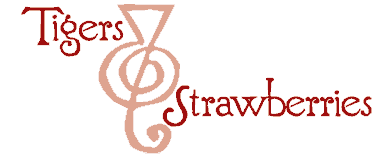 Cook Local, Eat Global
Nobody really knows where falafel originated. Many people say that these ground bean fritters came originally from India, probably brought to the Middle East region by spice traders. Considering that there are quite a few ground bean and lentil fritters traditional to various regions of India, and spice traders went back and forth from India to the Arab countries, this theory does hold water.
Others point to an origin in Egypt, where falafel is made exclusively from soaked, skinned and ground fava beans. Still others claim it is a traditional food of the Sephardic Jewish community.
Whatever the truth of the matter is, the fact remains that falafel is a much loved mezze, appetizer, street food and snack enjoyed in various forms all over the Middle Eastern region and now, throughout the world. It comes in many shapes and formulations–some are made with only fava beans, while others are made with only chickpeas, and still others contain a combination of the two. What is the same among all types of falafel is this–they are always made from beans which have not been cooked, but instead are soaked overnight in water, sometimes skinned and then are ground up with spices and aromatics and then fried.
This preparation method is fairly unique to falafel–most bean fritters are made from beans which have been cooked previously to being mashed or ground then shaped into fritters and fried. (South Indian idli, which are steamed cakes made from previously uncooked black lentils which have been left to ferment before being ground, are a similar idea–raw beans used to make a cake or fritter– but the preparation is steamed rather than fried and the fermentation makes the recipe completely different.)
I first came across falafel here in Athens, back when I transferred my credits from Marshall University to OU and came here to finish my degree. I tried them as the filling of a sandwich made by the Pakistani man who ran a street buggy called "Ali Baba's." He served his steaming hot chickpea falafel stuffed in a pita bread with onions, tomatoes, cucumbers, a garlicky yogurt sauce and, if you wanted, a hefty helping of his version of fattoush–bread and lettuce marinated in a tahini-lemon dressing.
I fell in love at first bite. I used to eat those sandwiches at least once a week–without fail. The only time I didn't stop by for a falafel was when I was struck down with bronchitis for two and a half weeks, and I remember the nice man stopping Zak when he saw him walking by and asking about me. He knew something must be wrong if I hadn't had falafel for two weeks!
After that, I took to eating falafel whenever and wherever I could get them–currently here in Athens, we eat falafel from Souvlaki's–a hole-in-the-wall "fast food" Middle Eastern place that caters to the after-bar student crowd. Which is cool in that they make a good living that way, but uncool in that they make enough money during the school year that they can close up for the summer. Which is cool for them, but extremely uncool for me, because that means I have to procure my falafel by other means.
Which, this year, meant I felt the need to learn to make it myself.
And I found out that it wasn't really so bad as all that.
The key to the making of falafel is two-fold. Be sure and soak your beans long enough–which means 24 hours. Yes, you have to plan ahead to make falafel. A whole day ahead. Don't try using a pressure cooker to partially cook them and speed up the process like I did–the beans don't soften enough that way. Just be patient and plan ahead and remember to put the beans in a bowl with water before you go to bed. Cover the bowl with a plate and leave it on your counter and check them in the morning. If they have soaked up all the water, add a bit more, cover them back up with the plate and leave them be until about two hours before you want to cook.
Then, uncover the beans and drain them well and allow them to air-dry until they are almost completely dry–just a bit damp–on the outside. It is important to do this, because it keeps your dough from being to wet to hold together in the hot oil once you grind the beans up and go to fry them.
Thus we come to the second secret of great falafel: the texture of the dough.
It cannot be too wet, nor can it be too dry. It must not be ground either too coarsely nor too finely–it has to be just right. When it is ground correctly, the dough will be slightly coarse and grainy, not perfectly smooth, and it will hold together well, but with slight cracking around the edges–if it is wet enough to hold together perfectly smoothly, it won't hold together in the oil! But, when you squeeze it into shape and open your hand, it shouldn't immediately fall apart either–in that case, it is too dry. If it is too dry, obviously you add more water, but the way I do it is by sprinkling a few drops in at a time with my fingers. If it turns out too wet, sprinkle in a bit of either all purpose flour or, chickpea (besan) flour. Too much flour will make the falafel tough, but a little bit–around a tablespoon–is fine.
The photograph above shows the ground dough–slightly coarse and pasty without being sticky.
Herbs, garlic, spices (often including cumin and chili pepper flakes), salt and onion are the main flavoring components of the dough which are ground right together with the beans. To grind the dough, I have used both my regular food processor and the Preethi: they both worked perfectly well. Some authors claim that in order to make the lightest and most delicate falafel, you must grind the dough in a meat grinder twice.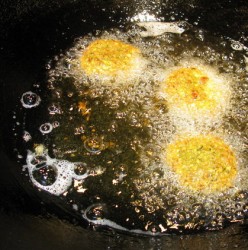 As for shaping the falafel–it can be rolled into walnut sized balls, or it can be flattened into patties like I did it, so they slip more easily into pita breads, or it can be shaped into egg-shapes or cylinders. After shaping it, you fry it–you can shallow or deep fry it according to your taste–in an oil that can withstand high temperatures like peanut or canola oil. I used my wok and shallow fried them in enough oil to cover the bottom, sides and most of the top. To check and see if the oil is hot enough, I dipped a bamboo chopstick into the wok–when the oil forms bubbles immediately around the chopstick, it is ready. You can also make a small ball of dough and drop it in and if it bubbles immediately, it is ready for the full-sized falafel.
A lot of people like yogurt sauce with falafel, but I prefer tahini sauce. A lemony, garlicky preparation made with tahini–sesame seed paste–it is rich and delicious, and versatile. Sure you can drizzle it over falafel or dip the fritters in it, but you can do quite a few other things with it. If you thin it out, you can use it for an amazingly fresh flavored salad dressing, or as a dip for crudite or pita wedges. It is also good with lamb.
I got the recipe for this tahini sauce from May Bsisu's beautiful cookbook, The Arab Table.
I added a bit more Aleppo pepper flakes than Bsisu calls for, and the garlic I used was very fresh so it has a strong flavor, making my version of the sauce extra zippy.
I also based my falafel recipe on Bsisu's formulation combined with Mark Bittman's version of the recipe.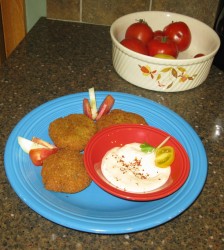 Falafel With Tahini Sauce
Ingredients:
1 3/4 cup dried chickpeas
2 cloves garlic, lightly crushed
1 small onion, quartered
1 1/2 tablespoons ground cumin
1 1/2 teaspoons Aleppo pepper flakes
1 teaspoon smoked paprika
1 cup chopped cilantro leaves (you can use fresh parsley instead if you like)
1 teaspoon salt
1/2 teaspoon baking soda
1 tablespoon lemon juice
peanut or canola oil for frying
Method:
Soak the beans in cold water to cover them by 3 inches or so. Unless you want dust and suchlike falling into the beans or your cats drinking the water from the bowl, cover the bean bowl with a plate. Soak for 24 hours, adding water as needed. Drain the beans well in a colander and then allow the surface water on them to dry for about an hour before transferring the beans to the bowl of your food processor.
Add all the other ingredients other than the oil, and grind the dough by pulsing the machine until everything is minced together but isn't pureed into a smooth paste. Taste the dough and add extra salt, Aleppo pepper and lemon juice to taste.
Put the oil into a wok or deep saucepan to a depth of 1 1/2 inches to 2 inches–more if you want to deep fry the falafel. Heat the oil over medium-high heat until the oil shimmers and a chopstick or a bit of batter bubble immediately when you put them in the oil. (Around 350 degrees F. )
Scoop the dough out in heaping tablespoonsful, and shape it into balls or patties and fry in batches, without crowding your oil, (I did 3 at a time) turning once if you shallow fry like I did, until the falafel are nicely browned. They should fry for no longer than five minutes–about two minutes or so per side.
Drain on paper towels before serving.
Tahini Sauce
Ingredients:
2-3 cloves garlic, peeled and minced
1 cup tahini (stir in the oil that rises to the top before measuring)
3/4 cup freshly squeezed lemon juice
Aleppo pepper flakes to taste (I used about 2 teaspoons)
salt to taste
1 tablespoon minced cilantro or parsley
Method:
Put all ingredients in the jar of a blender or food processor or grinder and process until smooth. Add water until the sauce is as thick or thin as you like it. I like it a little thinner than mayonnaise.
11 Comments
RSS feed for comments on this post.
Sorry, the comment form is closed at this time.
Powered by WordPress. Graphics by Zak Kramer.
Design update by Daniel Trout.
Entries and comments feeds.