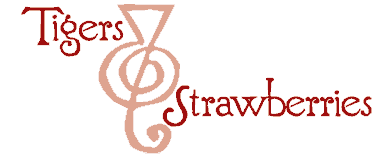 Cook Local, Eat Global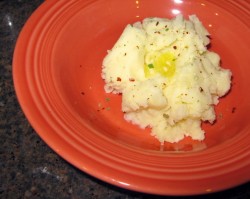 No one in my family ever made garlic mashed potatoes. No one had ever even heard of them until I started making them over a decade ago.
Mashed potatoes were simple things in my childhood: russet (or all purpose white) potatoes, peeled and cut into chunks, boiled until they were soft, then drained, then mashed with the following three ingredients: butter (or, alas, margarine), salt and milk (or evaporated milk.) That was it. No pepper even–pepper was to be added to taste at the table.
And the truth was, those mashed potatoes were plenty good. It isn't like I turned my nose up at them or anything.
And there were slight variations on these. Gram would often prefer to use red-skinned boiling potatoes rather than russets or all-purpose potatoes. Because of the waxy structure of thier starch the red-skinned potatoes, when boiled and mashed, turned into a creamier, more dense end product that had a slightly sweeter flavor than the usual fluffy and slightly dry mashed russets. Gram also mashed her potatoes by hand with an implement that I proudly use to this day while Grandma used her Sunbeam stand mixer and my Mom used her hand mixer.
I liked the texture that the hand-mashed potatoes had better than the ones done with mixers; however Grandma's made with Grandpa's homegrown Irish Cobbler or Kennebec potatoes with margarine and evaporated milk had the most amazing fluffiness–they were light and airy and amazing, and tasted very strongly of earthy potato. But I liked Gram's too, with the little lumps and their natural creaminess–and their amazing tastiness from all the real butter Gram used. (When Gram's mashed potatoes were perfectly smooth like Mom's or Grandma's we knew she had cheated and opened a box of potato buds.)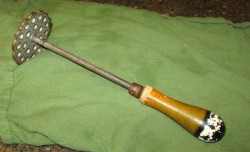 See, potatoes were a big deal in my family, and none more so than mashed potatoes. Fried potatoes, boiled potatoes with butter or with butter and dried parsley, or baked or scalloped or served au gratin, or made into delicious potato salad (my Mom was the Potato Salad Princess of our family–everybody loved hers best, and they still ask her to make it after all these years) all of these were good, but mashed potatoes were the queen of the dining room table. Everybody loved them.
I would say that we ate mashed potatoes at least twice a week, sometimes three times a week. We certainly ate potatoes in some form every day–it has to do with growing up poor, I suspect. Both my Mom and Dad grew up "on limited budgets" (let's be real, they "was po'" as they say in Charleston), and both sets of grandparents had lived through the Depression and World War II, so to all of them, potatoes were a necessity. Our house never had fewer than twenty pounds of potatoes in the 'tater bin, and Grandma and Grandpa–geez, they grew hundreds of pounds of them and had a special root cellar where they kept them all in the cool dark through the long winter months. (I loved the smell of the root cellar–all earthy and good, with a tinge of sweetness from the bins of apples and a tang from the kraut crock.)
So potatoes–it was all about potatoes, especially mashed.
Which is not to say that every dish of mashed potatoes brought to the table in my childhood was fantastic. Most of them were, true, but now and again, strange things would happen to the potatoes and the cook would be mystified and distressed. Sometimes, Mom would miss a bit of potato and there would be sizable lumps in her usually fluffy russets. Or, worse, now and again, Grandma's potatoes were turn out runny, even if she put the same amount of evaporated milk as usual in them–they would, instead of standing up in proud peaks and swirls, go plop on the plate in a sad ploopy pool of pathetic potato.
Or the worst–sometimes Mom's potatoes would turn inexplicably gluey and sticky–the texture would go all unpalatable and icky, and on those days they would have to be drowned in gravy just so I could get them down, because the texture would make my stomach go all squiffy and jello-like.
It turns out that the reasons behind these mashed potato misfires are simple and have to do with the structure of the potato starch or their native moisture content or the fact that sometimes quickly draining boiled potatoes and then sort of shaking them in their colander for a few seconds is not enough to remove sufficient water from them in order to get properly fluffy mashed potatoes.
The gluey mashed potatoes come about if you overbeat or overwhip boiled russets. The dry starch will go all sticky and gluey and wallpaper-pasty and really no one wants that. The solution is to very carefully not over beat them, especially if you are using a mechanical mixer. (And it is really easy to overbeat them if you don't pay attention as you go along. My Mom, when she was distracted, would not watch the potatoes as they whipped and within seconds, they would go from light and fluffy and delightful to ick. And she never figured out why. (When I found out why this happened from reading one of Julia Child's cookbooks, I told her, and since then, she has had very little trouble with wallpaper paste potatoes.)
I have found that if you mash your potatoes by hand, you run a much lower risk of having the starch go awry. In general, I figure your arm will get tired long before the glue gets working.
Grandma's runny potatoes came from not drying the potatoes thoroughly enough. When she would let them sit in the colander for a few minutes, they would usually dry out enough, but especially if the potatoes were young and had plenty of inherent moistness to them, even that wasn't enough. I learned from a Julia Child episode years later how to avoid that–pop the drained potatoes back in the pot, set them back on the stove and stir those suckers around until you get a little hazy film of potato starch on the bottom of the pot. That was the sign that your potatoes were sufficiently dried out for successful mashing.
So, now that I have given you a treatise on potatoes and a bit of cultural history as to the Fisher/Perks families' dietary habits in regards to the beloved spuds, let us get down to business and make some delicious garlic mashed potatoes.
My method is simple, and results in the most delicately flavored and perfumed garlic mashed potatoes you can imagine. I don't use roasted garlic, and I don't saute it or even simmer it in butter as some folks do. I simply put peeled garlic cloves into the pot with the potatoes and boil them together and when the potatoes are done, I mash the garlic in with them.
That is it.
And they are the best garlic mashed potatoes ever. Folks like my garlic mashed potatoes better than Julia Child's version, where she simmers the garlic in butter and then mashes them in and uses the butter in the potatoes. Her way lacked flavor, but that isn't surprising. Julia didn't love garlic as much as I do.
I use butter when I mash my potatoes, of course, and cream. Milk is good, too, but I like butter and cream best. For non-garlic mashed potatoes, I use butter and sour cream or butter and Greek yogurt instead of the butter and cream. And when I really want to go freakishly rich on everyone, I have been known to mash potatoes with a bit of butter, a bit of cream and a good bit of Brie cheese (with the rind cut off, obviously.) The Brie potatoes get fresh thyme leaves and fresh minced rosemary leaves stirred into them right before serving, and they are wickedly delicious.
Oh, and one more thing you should know about mashed potatoes.
If you have a pressure cooker, you can go from peeled and cut up potatoes to boiled in about three minutes. (Put the potatoes in the pressure cooker, with enough water to barely cover them, bring to a boil, lock the lid, bring to full pressure, cook for three minutes, then quick release pressure.) Then, you drain them, dry them and mash them–that takes about five minutes, which means you can have real, honest to God mashed potatoes in about eight minutes flat. (I timed myself doing it once.) That is slow food done fast–bite that, potato buds!
Garlic Mashed Potatoes
Ingredients:
5 pounds russet potatoes, peeled and cut into 1/2″ thick chunks
1 head garlic, cloves peeled, but left whole
4 tablespoons butter
1/4-1/3 cup heavy cream
salt and freshly ground black pepper to taste
Aleppo pepper and freshly snipped chives for garnish
Method:
Put the potatoes and garlic in a pot and cover with cold water. Bring to a boil and turn heat down to a merry simmer, and cook until the potatoes are fork tender. (Which means a fork goes into them and then comes easily back out again–no sticking.) Or taste a potato chunk to see if it is properly done. They should be something that you could melt some butter over and eat without mashing–underdone potatoes make awful mashed potatoes. Simply awful. Don't go there.
Drain your potatoes–allow them to sit in the colander for at least two minutes, shaking them now and again. While the potatoes are draining melt the butter and cream in the microwave until they are melty and warm. Then, pop the potatoes back in the pot, and stir them over medium heat until a film of potato starch forms on the bottom of the pot.
Remove from the heat, and mash by hand. (Come on, you can do it. Get yourself a potato masher and have at it. I do it all the time. I even mashed 20 pounds of potatoes by hand using Gram's masher in a huge pot for the Toyota Farm to Table event. If I did that, you can do five pounds for real. Besides, it builds up great forearm muscles.) When potatoes are pretty well halfway to mashed, pour in the melted butter and cream, and mash until most of the lumps are gone. Then, using the masher, beat the potatoes a bit, going in big circles around the pot. Sprinkle in the salt and pepper and beat them a little bit more. At this point, they should be fluffy and delicious.
Garnish with Aleppo pepper flakes and snipped bits of fresh chive, and if you must, a bit more melted butter. You know, just to make it pretty.
9 Comments
RSS feed for comments on this post.
Sorry, the comment form is closed at this time.
Powered by WordPress. Graphics by Zak Kramer.
Design update by Daniel Trout.
Entries and comments feeds.