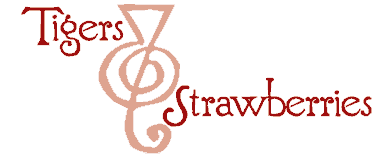 Cook Local, Eat Global
I just wanted to warn my regular readers that if my posting becomes slow or erratic over the next several weeks, it is because I am having some health problems that may require surgery.
For the past week, I have been having chronic sharp pains in the upper right quadrant of my abdomen and in the center of my back and under my right shoulder blade. Yesterday, I finally went to an urgent care facility because my regular GP couldn't see me until this coming Monday, and the doctor is pretty certain that I have gallstones. I had several x-rays and some bloodwork to confirm the diagnosis at the hospital last night.
After I talk with the doctor on Monday, he is probably going to refer me to the surgeon, and we'll go from there. I will probably be able to have the gallbladder removed through laproscopic surgery, which means tiny incisions and quicker healing. If there is a complication, then it is the old fashioned, big incision surgery for me and a long post-op healing period.
Not fun.
In the meantime, I am eating lots of whole grains, low fat dairy products, vegetables and fruits.
And soup.
And rice.
Thank God for rice!
Update to the update:
I went to my regular doctor this morning, and brought along the report from the x-rays and the blood work. The x-rays came back all normal; no gallstones showed up, no swellings in the organs, nothing out of the ordinary. Of course, both my regular doctor and the Express care doctor I saw on Friday (and whom I spoke with this morning) said that an ultrasound was called for, because the symptoms show a classic case of gallstones.
My blood work is fine–no raised white cell count, no signs of infection and the liver function is coming back normal. That is great news.
So, now I have an appointment for an ultrasound on the 9th of October and an appointment with the surgeon on the 11th.
In the meantime, on Wednesday, we are going to Baltimore so Kat and Zak's Grandpa, who is in his nineties, can visit. He saw her when she was a few months old, but hasn't since then, and we wanted to make certain he got to see her before heading back to Florida for the winter. We had already planned this trip when the gallbladder started to act up.
So, I will take care to eat low-fat food and just trust that all will be well.
28 Comments
RSS feed for comments on this post.
Sorry, the comment form is closed at this time.
Powered by WordPress. Graphics by Zak Kramer.
Design update by Daniel Trout.
Entries and comments feeds.