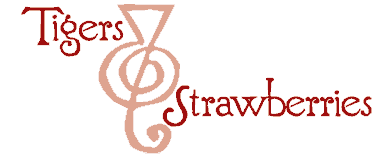 Cook Local, Eat Global
You know, I could have left this recipe for next week's "Meatless Monday," but I liked it so much and it tasted so good I couldn't wait that long.
This is yet another recipe to come about because I needed something as fat-free as possible and vegetarian to eat so as to not upset my already cranky gallbladder. And this–this delicious pasta recipe fit the bill. It is absolutely satisfying–I ate at seven-thirty and it is nearly midnight and I am still comfortably full (I am being careful to eat only small amounts at a time, because I find that eating too much at a sitting torques off my gallbladder almost as much as eating anything with fat in it. Persnickety little organ isn't it?) and have had minimal complaints from my digestive system.
And, the deal is–this tasted so damned good, I didn't feel deprived at all, even though I knew that Zak and Kat were down the road at Kiser's BBQ Shack having the best smoked chopped pork and handcut fries ever. (Yes, I will be writing a review of this new Athens restaurant. Oh, yes. Even if I can't eat their amazing smoked barbecue, I want everyone else to go out and eat it.) No, this pasta tasted so good, I felt special for having actually hauled off and cooked something really tasty for me, myself and I.
Of course, the base of this dish is something that I just started doing this summer–caramelized tomatoes.
And while I am all late and wrong on the process of caramelizing tomatoes, (everyone else was hip to this trend years ago, apparently) I am making up for lost time by wanting to pop all of the last fresh tomatoes season into my oven with a tiny bit of olive oil, salt, herbs and sugar and cook them down to soft, velvety-luscious morsels of concentrated tomato deliciousness.
I decided to pair them with a lovely seasonal green-rapini. I decided that the slightly bitter flavor of this very leafy cousin of broccoli would make a lively contrast in color, flavor and texture with the sweet tomatoes. Caramelized onions, minced garlic, a bit of red wine and a dash of really good balsamic vinegar, as well as a few late-season basil leaves from my garden were all that was required to round the sauce out.
In this photograph, you get to see how I handled the cutting of the tomato halves into quarters while they are still hot and in the pan right out of the oven. I wanted the fruits to be quartered, but I declined to quarter them before cooking them, knowing as I did that they would lose too much moisture and shape, and be more inclined to burn, the more surface area I exposed to the heat of the oven. So, I determined to cut them further when they were finished with the caramelization process. And since I was too hungry to wait for the little suckers to cool, I just snipped them in half longitudinally with my kitchen shears. It worked perfectly, and it was very fast going–much faster than using a knife would have been, because I didn't even have to bother dredging them up out of the pan, slopping them on the cutting board (all the while losing precious tangy-sweet tomato juices) then cutting them. This way, it was just a matter of snip, snip, snip, and they were all done in under a minute.
After that, I could just scrape them all into the saute pan at once, while making sure to transfer all of the sticky-sweet juices exactly where I wanted them to go. No messy dripping and dropping on my clean counters!
Once the tomatoes have been allowed to caramelize all by themselves in the oven, a process which takes about a half an hour if you use the quicker method I outline in this recipe, the sauce goes together really quickly. That means you need to use the time that the tomatoes cook to get all of your other ingredients cut up and ready. But really, that just means you need to slice an onion thinly, mince two or three cloves of really fresh garlic, and roughly chop up about two cups of rapini leaves, then pick off about a quarter cup of basil leaves from their stems.
That's it. Then, you just need to caramelize the onions in a nice big saute pan, add some Aleppo pepper flakes (or another chili flake of your choice), the garlic, and then the rapini. As soon as the rapini begins to wilt, you scrape in the tomatoes, add a dash of red wine and cook until the tomatoes wilt and release their juice. At that point, you toss in a dash of good balsamic vinegar, and if you are so inclined and don't care if you don't make a totally vegan dish, about a teaspoon and a half of anchovy paste.
Then you add the basil leaves, stir it up and cook it all down for about another minute, then take it off the heat and add in your cooked pasta and toss it all together.
About the pasta: I used Rossi Pasta's plain traditional soft-wheat flour handmade fettuccine, and I am very glad I did. When I make this again, I may exert myself and make homemade pasta, but for a quick dinner, Rossi's is the next best thing to fresh, homemade pasta. It cooks in about four minutes and has the most silken, yet still firm, al dente texture. It is truly divine stuff, and it is made not too far from Athens over in Marietta, Ohio.
You could use regular semolina fettuccini if you wanted too, but if you can get handmade soft wheat pasta or can make it yourself. please do. You will be glad of it, I promise you. The soft wheat pasta really sends this dish into the upper stratosphere of flavor and texture. (Rossi does mail order, btw. Just so you know. And no, I am not connected in any way with the company–I just love their pasta.
Finally, before we get to the recipe, I just have to tell you this: Zak, the man who really doesn't like tomatoes, and who will only deign to eat them in chunks if they are in salsa, really, really liked this sauce. Now, he didn't like it enough for him to say that he regretted eating pork barbecue for dinner, but I can't blame him for that. But he did say it was really, really good–like something you would get in a restaurant.
Which, of course, made me happy, and I am still grinning about it–and the taste of the sauce–hours later.
Fettuccini With Caramelized Tomato and Rapini Sauce
Ingredients:
2 1/2 pounds fresh roma tomatoes, cored and cut in half longitudinally
1 tablespoon olive oil
salt to taste (I used about a half teaspoon)
1/4 teaspoon ground fennel seed
1 1/2 tablespoons sugar
1-1/2 to 3 tablespoons olive oil–start with the smaller amount, and add more if needed
1 cup thinly sliced onions
1/2 teaspoon salt
1/2 teaspoon to 1 teaspoon Aleppo pepper flakes or other chili flakes to taste
2-3 fresh garlic cloves, peeled and minced
2 cups roughly chopped rapini leaves and flowers–I only used the thin stalks for this dish and left the thicker ones for another day
1 1/2 teaspoons to 2 teaspoons anchovy paste (optional)
1/3 cup soft red wine
1-1 1/2 tablespoons balsamic vinegar
1/3 cup fresh basil leaves, roughly chopped if they are very large
salt to taste
Method:
Preheat your oven to 375 degrees Fahrenheit. (You can read my earlier post on caramelizing tomatoes here, but please note that I am doing it a bit differently in this recipe. There is a reason for this choice. I cooked the tomatoes for a shorter period of time at a higher temperature because I wanted them to retain some of their juice. I wanted them to not dry out, nor did I want the juice to concentrate on the baking sheet–I did this because I am going to cook the tomatoes further in the saute pan. It is in -that- pan that I want the juices to concentrate into a syrupy consistency.)
Place the tomato halves on a Silpat lined baking sheet (or use a nonstick sheet lightly oiled with olive oil), cut side up. Brush each tomato half with some of the first tablespoon of olive oil. Then, sprinkle the tomatoes with salt and the ground fennel seeds.
Put them in the middle rack of your oven and let them cook for about a half an hour. At that time, take them out of the oven, sprinkle each tomato with some of the sugar, then put them back in the oven for between eight to eleven minutes. They should look slightly shrunken, juicy, shiny and slightly sticky with a few browned edges here and there, as in the photograph above where I am cutting them with scissors.
Cut each half longitudinally in half again, using kitchen shears if you have them, right in the pan.
While the tomatoes are cooking in the oven, heat the remaining measure of olive oil–starting with the one and a half tablespoons at first, over medium heat in a heavy-bottomed saute pan. When the oil is hot, add the onions, sprinkle with the half teaspoon of salt and cook, stirring, until they turn a deep golden brown color. Sprinkle the Aleppo pepper flakes or other chili flakes into the pan, and toss the onions a few times to combine. If you think you will need more oil to cook the rest of the dish, add it now, but be conservative. You don't want your sauce to feel greasy.
At this time, sprinkle in the minced garlic and toss together with the caramelized onions. Cook for a couple of minutes, stirring or tossing the whole time to keep the garlic bits from burning. Add in the rapini, and cook, stirring or tossing, until the leaves just start to wilt. (If you are using anchovy paste, add it after the leaves have just started to wilt.
After the leaves wilt, scrape the tomatoes and all of their collected juices from the baking sheet into the saute pan. Cook, stirring, until the tomatoes wilt and turn velvety and release their accumulated juices. Add wine, and cook off the alcohol.
If the sauce looks too dry to you, you can add about a half ladle's worth of the pasta cooking water to it. The starch in the water that is leached from the pasta will help thicken your sauce a bit. Stir in the balsamic vinegar and take the sauce off the heat. Toss in the basil leaves and stir well. Taste sauce and season as needed with salt.
Toss with two generous servings worth of freshly cooked, drained and still hot fettuccini, then twirl into pre-warmed serving bowls.
I couldn't do this, because my gallbladder would object, but I bet that freshly toasted, roughly chopped walnuts would add a delicious contrasting crunchy texture and a lovely browned flavor to this dish. If you make it and do it with the walnuts, let me know how it turns out! I would use about 1/3 cup roughly chopped, just-toasted walnuts.
Posted by Barbara on October 5, 2009 in Local and Sustainable, Recipes: Almost Vegetarian, Vegetarian and Vegan, Recipes: Bread, Pasta, Grains, Recipes: Comfort Food, Recipes: Fruits and Vegetables, Recipes: Italian, Recipes: Original | 3 Comments
3 Comments
RSS feed for comments on this post.
Hi Barbara! I wanted to comment on your beouf bourgignon post but I couldn't find it. Last night (or more like all yesterday afternoon) I made the Julia Child recipe you posted. It came out wonderfully, but I modified it a bit. I don't have a cast iron enameled pot, so I made in in a soup pot on the stove top, and added more liquid as it simmered for 3 hours. (One extra cup of low sodium beef broth and 3-4 cups of water). I also used more tomato paste because I couldn't find it in a tube, and it seemed a waste to discard half a can of Hunts tomato paste. In your opinion, is cooking it on a stove-top "cheating"? Does it make Julia's recipe less authentic? Do you recommend I invest int he "proper" equipment?

Maria in Oregon – My e-mail is mashinka3@hotmail.com.

Comment by Maria — October 11, 2009 #

Maria, I will answer you here and then, I think I will base a post on your questions, because they are interesting and bring up some interesting points for discussion.

You can certainly cook beouf bourguignon on the stovetop. A lot of people do, in fact. If you cover it, you won't have to add as much more liquid–especially if you use a piece of foil between the pot and the lid in order to seal it more tightly. (The enamelled cast iron pots have very tight lids, which lets a minimum of steam out, which thus retains much of the liquid. )

Cooking it your way does not make it inauthentic–all it does is make it so you have to do a bit more work. The whole point of putting it in the oven is so you don't have to check it so often! Also, the amount of liquid that does evaporate from the cast iron pot in the oven is just enough to reduce the liquid to a perfectly thickened delicious sauce.

Your way is just a little more work. Julia would not have called it inauthentic at all, so long as it tasted good and is in the spirit of the original recipe and its ideals.

As for the tomato paste–I am sure it tasted fine with the extra, in large part, because you added lots of extra liquid. But here is an extra tip–you can put the rest of a can of tomato paste into a plastic ziplock bag and either stick in the fridge where it will keep for a few weeks, or in the freezer for a few months.

You don't even have to thaw it out before using it, if you don't want to. Just stick it in the pot and let it go!

Thanks for this delicious recipe tips. It looks very yummy. I would like to make it tonight and hope my husband will like it as it is one of his favourite recipes.

Comment by fischölkapseln — November 30, 2009 #
Sorry, the comment form is closed at this time.
Powered by WordPress. Graphics by Zak Kramer.
Design update by Daniel Trout.
Entries and comments feeds.