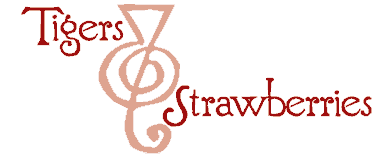 Cook Local, Eat Global
I adore tiny French fingerling potatoes, especially when they are just dug from the earth and scrubbed of mud. The little bite-sized ones are amazingly sweet with the most lovely contrast between the earthy, slightly bitter skins and their creamy, nutty-sweet flesh.
When you boil them, their skins pop under your teeth, releasing the meltingly-soft interior, and make a symphony of texture in the mouth: snappy skin that goes tender as soon as the potato's integrity is breached, contrasting with the yielding smoothness of the tuber itself. If you add in peas–fresh are great, but good frozen ones work wonderfully as well–you get the same sort of texture in the green vegetable: a pop of skin and a burst of flavor from the velvety soft flesh.
I extemporized this curry because I had bought these adorable tiny potatoes from Rich Tomsu at the farmer's market and really wanted to feature them in a recipe that would make them shine. Peas and new potatoes are a classic combination–I grew up eating them with cream or evaporated milk, and sometimes tiny pearl onions.
I wanted to do a gently spiced Indian version of peas, tiny potatoes and a dairy product, so what I came up with was Greek yogurt and a tiny bit of cream. Only enough to help thicken the sauce along.
The main spice in this curry is, believe it or not, fresh turmeric root.
I have seen fresh turmeric root appearing in Indian grocery stores more and more often these days, and when I see it, I buy it up gleefully. I love the way it smells and tastes, and the fresh, tingling, lightly medicinal flavor and scent it imparts to curries is amazing. Besides, if you are careful, and don't let them stay too damp so that they mold, you can keep the fresh rhizomes for up to a month in your fridge. So, if you like the flavor and color that fresh turmeric imparts to Indian and Thai dishes, by all means, pick it up.
And–if you have never tried fresh turmeric root and you see it in the store, get some. Try it! It is delicious, and is filled with anti-oxidants and anti-inflammatory agents. It is very, very good for you.
What does it taste like? Fresh turmeric has a lightly sweet, somewhat medicinal, flowery taste, a little bit like its cousin, fresh galangal, but not as strong. It is nowhere near as peppery and "hot" in flavor as its other cousin, ginger, It is pleasant, and the slight bitterness of flavor and lightly "dusty" scent that it has dried is not really present in the fresh rhizome.
You do have to wear gloves when you peel it–the powerful yellow coloring in it will stain fingers (it is used as a dye in India, Southeast Asia and China, particularly for Buddhist monk's robes) after just a short contact with skin.
You can peel and grate it just like ginger, or if you have a good, strong food processor/spice grinder like my Preethi, you can just peel and roughly slice it and stick it in with the other spices and aromatics to be ground into a thick, highly scented, orangish paste.
I kept the spicing for this vegetarian curry fairly simple–I really wanted the fresh turmeric to shine. I used some coriander seed, a little fennel seed, some cardamom and a couple of peppercorns for kick, as well as a single garlic clove and a well-browned shallot.
The result was a lightly sweet curry, fragrant with spices in a thick, creamy, pale daffodil yellow sauce. It isn't very saucy, because I wanted the peas and potatoes to take center stage, so I reduced the liquid so that it thickened and clung to the vegetables, leaving just a little bit of sauce in the bottom of the pan to drizzle over the rice.
I finished the curry with a squeeze of lemon juice and a sprinkle of chopped fresh mint from the porch garden. As cold as it has been, the mint is yet going strong.
The curry turned out very well–I know this for a fact because Dan finished his portion of it before he finished his rogan gosht, which is a favorite of his. I took that fact as a sign that this recipe is a keeper and will be appearing on my table again, probably in the near future.
So long as I can get Rich's fabulous tiny potatoes, that is.
Aloo Mattar
Ingredients:
1 pound of the smallest French fingerling or other tiny potatoes, well scrubbed
1 teaspoon salt
1/2 tablespoon ghee
1 very large shallot, peeled and very thinly sliced
1 garlic clove, peeled and sliced
1 teaspoon fennel seeds
1/4 teaspoon peppercorns
2 1/2 teaspoons coriander seed
6 green cardamom pods
3/4 inch cube (approximately) fresh turmeric root, peeled and sliced
8 ounces frozen peas, thawed
3/4 cup whole or 2% Greek style yogurt
2 tablespoons heavy cream
salt to taste
lemon juice to taste
1/8 cup minced fresh mint for garnish
Method:
Put the potatoes into a pot, cover with cold water, add the salt and bring to a boil. Turn down heat and simmer until they are fully tender–about ten or fifteen minutes if the potatoes are truly small.
In the meantime, heat the ghee in a heavy-bottomed pan. When it melts, add the shallot, and cook, stirring as needed, until the shallot is a dark golden brown color. While the shallots cook, grind up the spices from the garlic clove through to the turmeric root into a fragrant, orange-brown paste. When the shallots are golden, add the spice paste, and cook, stirring constantly, for about five minutes. Don't worry if some of the paste sticks to the bottom of the pan–so long as they just brown and don't burn, this will only add flavor to the finished curry.
Add the peas, the yogurt and the heavy cream. Drain the cooked potatoes and add them to the pot, and cook, stirring, until the curry begins to thicken. As soon as you add the yogurt and cream, start scraping any browned bits off the bottom of the pan into the sauce. The sauce should color fairly quickly to a pale yellow hue.
Keep cooking the curry until the sauce reduces and thickens enough to coat the back of a spoon pretty heavily. The color will deepen slightly to a pale jonquil tone. Remove immediately from the heat, stir in salt as needed, add the lemon juice to your taste and stir in the mint leaves.
Serve immediately with steamed basmati rice.
The leftovers from this dish rock–the turmeric flavor only deepens overnight in the fridge, and the reheating melds all of the spices together beautifully.
6 Comments
RSS feed for comments on this post.
Sorry, the comment form is closed at this time.
Powered by WordPress. Graphics by Zak Kramer.
Design update by Daniel Trout.
Entries and comments feeds.