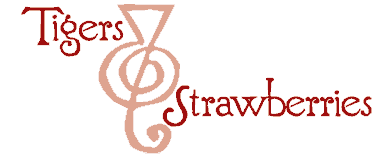 Cook Local, Eat Global
I don't make coconut or coconut milk based Indian curries as often as I make the ones based on yogurt or tomatoes. It wasn't until recently that I began experimenting with coconut curries, in large part, because my gallbladder seems to tolerate the fat in coconut milk more than it does the fat in dairy products.
And what is strange is this: I adore coconut. When I was a child, a couple of times a year, I would talk my Mom into buying fresh coconuts for me when we saw them in the store so we could crack them open and I could drink the water from inside them and eat the delicious, nut-like meat. I loved any sweet with coconut in it, and when I first tasted Thai food in a good restaurant, it was the coconut curries that beguiled me and drew me into appreciation for the cuisine.
So, why have I basically ignored Indian coconut curries for so long?
Habit, I guess. That is sad to say, but I think it is true.
But, no more. Having discovered I can basically eat coconut milk with relative impunity (my gallbladder has become quite annoying as I wait to have my surgery–it was scheduled for tomorrow, but has been pushed back to next week because my surgeon in the hospital this week), I believe I will be returning to it as a curry sauce base for years to come.
This curry is an adaptation of one I found in Camillia Panjabi's excellent and beautifully illustrated book, 50 Great Curries of India. The original recipe for Kori Gashi, which is from the port city of Mangalore, which is in the state of Karnataka in the south of India on the western coast, called for freshly made coconut milk, but I substituted Mae Ploy brand canned coconut milk, and I used different types of chili peppers since I have not gotten my hands on any genuine, brilliant red Kashmiri chilies. (To make up for a lack in red coloring, I added a bit of paprika to the curry, purely for its dusty scarlet hue.)
I also used tamarind concentrate instead of the actual fruit as the souring agent in the curry because it is what I had.
But the rest of the curry–the spicing and most of the techniques for putting it together are the same. I did use a few more curry leaves than were called for in Panjabi's version, because I really love the flavor and aroma they impart, particularly in coconut-based curries. And instead of chicken pieces on the bone, I used boneless skinless breasts cut into chunks, because they are lower in fat and they were what I had in the freezer.
While I am certain that the original recipe as written was even tastier than the version I made, I have to say that this was one of the most fragrant, intensely flavored chicken curries I have had in a long time. I loved the spice mixture and the strong chili flavor was amazing, though balanced by the tang of the tamarind and the musky, pervasive scent of the curry leaves. It also makes a great deal of sauce which is very good poured over rice–in fact, I had some of the curry sauce, sans chicken, draped gracefully over a bowl of basmati rice for lunch this afternoon, and it was very satisfying. Not too filling, but definitely delicious, with a complex bouquet of flavors.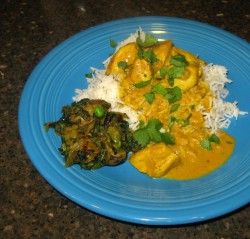 Fragrant Coconut Chicken Curry From Mangalore
Ingredients:
5-15 whole dried red chilies, depending on the heat you want (I used my home grown and dried Thai chilies)
4 heaping teaspoons coriander seeds
1/4 teaspoon mustard seeds
1/2 teaspoon fenugreek seeds
1 inch cinnamon stick
1 teaspoon cumin seeds
8 peppercorns
4 cloves
2 teaspoons Aleppo pepper flakes
1 cup chopped onion
1 1/2 inch cube fresh ginger, peeled and chopped
6 large cloves garlic, peeled and cut into slices
1/2 teaspoon turmeric
1 1/2 teaspoons bright red paprika
2 heaping tablespoons coconut oil or canola oil
1 1/2 cups thinly sliced yellow or red onions
1 teaspoon salt
1 1/2 cans Mae Ploy coconut milk, shaken before use
1 1/2 tablespoons tamarind concentrate
2 pounds boneless, skinless chicken, (breasts or thighs or a combination) cut into bite sized pieces
15 curry leaves (fresh or frozen)
salt to taste
1 cup roughly chopped cilantro leaves for garnish
Method:
In a small, dry skillet, toast the chilies, stirring constantly for about three minutes. Add the whole spices and the turmeric, and continue stirring and toasting for about another two minutes. Dump the spices on a plate to cool. When they are cool, put them into a spice grinder, blender or mixie, along with the Aleppo pepper flakes, chopped onions, ginger, garlic, turmeric and paprika, and blend to a smooth paste.
Heat the coconut or canola oil in a heavy-bottomed wide skillet, and add the 1 1/2 cups sliced onions. Spread out the onions, sprinkle with salt and cook, stirring constantly until the onions turn a deep golden brown. Add the spice paste and stir well, then add the chicken pieces, and cook, stirring until the pieces begin to brown a bit and spice paste sticks to the pan, browning.
Stir in the coconut milk (reserve the extra half can in case you want more sauce or you want to dilute it a bit–when you are done, however, you can keep it in a closed container in the fridge for a week, or in the freezer for several months), scraping up the browned bits on the bottom of the pan, making sure to get it all up and mixed in–this is what makes the curry taste so very good.
Add the curry leaves and stir them in well, cover the pot loosely (let a bit of steam escape, in other words), turn heat down to low and simmer until chicken is tender.
Salt to taste and stir in or sprinkle the cilantro over the top for garnish.
10 Comments
RSS feed for comments on this post.
Sorry, the comment form is closed at this time.
Powered by WordPress. Graphics by Zak Kramer.
Design update by Daniel Trout.
Entries and comments feeds.