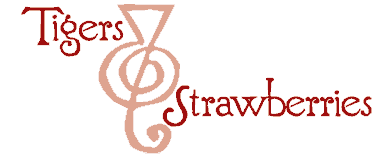 Cook Local, Eat Global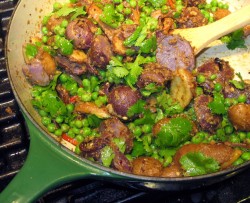 Recently, I have been delving more deeply into the cuisines of the southern states of India. I had eaten in a couple of South Indian style restaurants once or twice, but I was not impressed with the food. However, after following the blogs of so many talented Indian cooks, and reading Cooking With Pedatha, I have become convinced that the restaurants were not very good, and have become inspired to learn more about the beautiful foods from the southern regions of India.
I mean, really, I already like vindaloo, which is from Goa, which is in the south. And I cook a mean vindaloo myself–filled with the delicious combination of garlic, onions, mustard seed and chilies–and when I realized that, I began to rethink my whole avoidance of South Indian recipes. I thought about the flavors prevalent in these cuisines and realized that I was being completely silly, because I -liked- all of those flavors already!
One of the favorite spices of the region is mustard seed, and I have found in my cooking, that nothing beats mustard seeds fried in ghee or oil for giving a dish a nutty flavor and a satisfying "pop" when the cooked seeds are crunched under the teeth. And chilies–I am not afraid of chilies–on the contrary, I crave them. And while I am still somewhat sensitive to black pepper, I can eat it in judicious amounts, and black pepper is used commonly in the south. And coconut–coconut has been one of my favorite foods since childhood!
And then there are the curry leaves.
Oh, the curry leaves.
I have loved them since the first time I bought them in a lovely little Indian market in Columbia, Maryland. I had picked them up from the produce case and sniffed them curiously and a dear little grandmother in a gorgeous green and amber-colored sari stepped up to me and asked if I knew what they were. I did know–but I had never used them, though I was finding myself intrigued by their musky, seductive scent. She smiled, and told me all about how to use them, so of course, I put them in my basket.
The little lady (who had the most amazing hair–a long, thick braid of shimmering white down her back all the way to her waist) was very pleased, and waved goodbye to me as I paid for my purchases and left. I never saw her again, but I rather think of her as the Fairy Godmother of Curry Leaves, because she introduced them to me so graciously, that I feel as if she must of come from heaven to put on the path to more delicious Indian food.
I generally had confined my curry leaf use to dal, however, because Zak was not partial to the flavor and fragrance they imparted to any dish I cooked them in. Since he doesn't like dal (I know, how can that be?), I would use them with profligate abandon in my dal and eat it to my heart's content, until my very skin smelled like curry leaves.
However, with my new explorations of South Indian curry, I have been using curry leaves in many dishes–including the one I am going to give to you here. And guess what–Zak has decided that he loves them, too! Everyone who tastes these dishes loves them–and cannot get enough of them–so, in my house, South Indian cooking is here to stay, and I will likely always have a supply of fresh or frozen curry leaves on hand from now on.
So, now, let me tell you about this very picturesque dish, which is a combination of two of my favorite vegetables: potatoes and peas. (Yes, I have finally decided that peas are one of my favorite vegetables. I can hear both of my dearly departed Grandmothers up in the aether somewhere, laughing with delight, as I refused to eat them through most of my childhood, much to their mutual dismay.)
Specifically, tiny fingerling potatoes–including little blue ones–and frozen peas, as they are a really delicious and nutritious vegetable to eat all winter long. Not to mention their emerald green color looks stunning paired with the burgundy red skin and creamy white flesh of fingerling potatoes and makes pretty blue potatoes look even bluer.
This is a very simple dish, really, and no, you don't have to use blue potatoes in it at all if you cannot get them. They just look so very pretty, and I love the colors of Indian foods so much–they remind me of the vivid colors of silk and cotton saris and the exuberant polychromatic style in which many popular depictions of Hindu gods are painted.
But what you do need to do to make this dish taste great is this–you need to use curry leaves, you need to be certain that you cook your mustard seeds in the oil or ghee until they sputter and pop, and you need to brown your onions very well. (If you do not fully cook your mustard seeds until they sputter and pop, they will be underdone, and instead of popping under the teeth in a way reminiscent of caviar, they will have an unpleasant gritty texture, and worse than that, underdone mustard is very bitter with an acrid feeling on the tongue.)
I also suggest you use ghee in this dish, but if you are a vegan and you want to use canola or another vegetable oil, I do understand. But the ghee adds a voluptuous flavor and mouthfeel to the dish that I think is very appealing.
At any rate–here is a vegetarian dish that my non-vegetarian friends and family adore, which means that most omnivores would like it.
South Indian Style Aloo Mattar
Ingredients
1 pound mixed fingerling potatoes, including some blue ones if you can get them
3 tablespoons ghee or canola oil
2 cups thinly sliced red onions
1 teaspoon salt
1-3 fresh red chilies (I used serrano), thinly sliced on the diagonal
5-8 curry leaves
1 teaspoon mustard seeds
1 1/2 teaspoon cumin seeds
4 large cloves garlic
1/2 teaspoon fennel seed
1/4 teaspoon fenugreek seed
1/2 teaspoon cumin seed
1 tablespoon coriander seed
1/4-1/2 teaspoon black peppercorns
1/2″ piece of cinnamon stick
2 cloves
water as needed
1 pound frozen peas, thawed if you wish
salt to taste
1/4 cup chopped mint for garnish
1/4 cup whole cilantro leaves for garnish
Method:
Scrub the potatoes well, and put them in a pot of cold water. Cook until tender, drain and allow to cool. Cut them in half longitudinally once they are cool enough to handle.
Heat the ghee or oil in a heavy-bottomed, deep skillet and add onions, then sprinkle with the salt. Cook, stirring, until the onions are a nice medium golden brown. Add the chilies, and curry leaves, and cook until the onions are a deeper golden color, then add the mustard and cumin seeds. Cook until the mustard seeds sputter and pop, stirring constantly.
Add the potatoes to the pan, and cook, stirring, until the cut sides of the potatoes brown lightly.
While the onions cook, grind the garlic and the remaining spices into a thick dryish paste. Add the spice paste to the pan, and cook, stirring, until the spices brown and begin sticking to the bottom of the pan. Deglaze the pan with as little water as possible–start with 1/3 cup and work up from there, being certain to scrape up all the browned bits.
Add the peas, and cook, stirring, until most of the liquid is boiled away and the spices cling to the vegetables. Add salt to taste.
Stir in the mint and cilantro just before serving.
8 Comments
RSS feed for comments on this post.
Sorry, the comment form is closed at this time.
Powered by WordPress. Graphics by Zak Kramer.
Design update by Daniel Trout.
Entries and comments feeds.