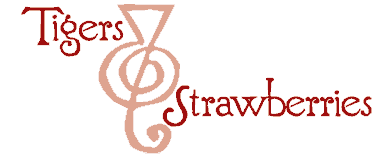 Cook Local, Eat Global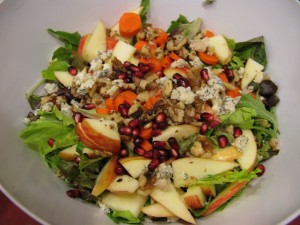 (Are we still doing "Meatless Monday?" I've been out of the loop for so long, I have no idea. Just in case, here is a meatless salad for y'all to enjoy.)
I think there must be something a bit backwards in the way that I am wired.
Most people eat more salads in the summer time. You know, when its generally considered to be salad season, when you can get all the fresh vegetables you could ever want and it's too hot to eat anything else but something light and crisp and common as corn in a cratch?
Not me. It isn't that I don't eat salads in the summer–I do, but I also eat stuff that I don't really consider a salad, like slices of tomatoes lightly sprinkled with salt and maybe some roughly chopped basil. Or cucumber and onion slices soaked in vinegar and ice water. I guess most people would think of those as salads, but I guess I'm weird. I just think of them more as vegetable side dishes.
But salads–for whatever reason, as soon as it gets cooler out and the days are shorter and the evenings are darker, I crave salads fiercely. Maybe its because vegetables are not as prevalent as they are in the summer months that I suddenly crave them. Maybe its because most of the autumn vegetables are generally cooked and I suddenly want something crunchy. But for whatever reason, starting in the autumn, I all but lust after crisp green leaves and crunchy vegetables and juicy fruits, all tossed together with a dressing that binds the separate bits into a gregarious whole.
Such a day was today, so I set out to make a salad for myself and my guests. And it ended up to be a mostly local salad.
I say mostly local, because pomegranates are not exactly a big crop in Ohio. On the other hand, they are an absolutely divine seasonal fruit, so I eat them gleefully all through the late fall, early winter season when they are at the peak of juicy perfection. And, the walnuts aren't local–ideally, I would use black walnuts, harvested in Athens county (maybe even from my front yard!) but I was fresh out of them this evening, so California English Walnuts it was!
The rest of the salad ingredients, however, came from our county, or the Appalachian region. The salad greens mix is from Green Edge Gardens here in Athens, the carrots are from Shade River Farms, also in Athens, and the Gala apple is from Gillogly Orchard, in Albany.
And the delicious, washed rind blue cheese is from Kenny's Farmhouse Cheeses, an artisan cheesemaker out of Austin, Kentucky. I picked it up at The Village Bakery on a whim, because every cheese I have bought there have been exemplary, and because I thought it would taste amazing with the apples and pomegranates I already had in my refrigerator!
The raw milk blue cheese is very strong–absolutely amazingly delicious–but peppery and pungent. Of course, I had to taste it after cracking open the lovely blue wax coating, and was surprised by the sharp aroma tingling in my nostrils! The taste is rich and full, and so heady that it would be easy to overpower a fruit-heavy salad with it. So, even though I am a cheeseaholic of the highest order, I was careful and sprinkled it over the salad very sparingly.
The salad dressing is very simple–an olive oil and apple cider vinegar (from another local orchard, Shew's) based vinaigrette flavored with dijon mustard, local honey (Cantrell's), salt, Aleppo pepper flakes and some of the last of the fresh tarragon from my herb garden. The honey's fragrant sweetness balanced by the tang of the mustard really ties the salad together–from the very crisp verdant greens to the tart apple, the wonderfully funky cheese and the earthy crunch of the walnuts.
I suppose one could make this a main dish salad by adding some sort of meat, but I personally think it wouldn't taste right with meat. I prefer it the way it is–a greens and fruit based salad kissed by cheese and nuts–that conveys the richness of autumn.
Autumn Salad with Honey Dijon Vinaigrette
Ingredients:
6 cups (loosely measured) crisp salad greens, rinsed and fully drained
1 Gala or Honeycrisp apple, cut into small chunks (leave the skin on–it adds color and texture)
1/2 cup lightly crushed English or black walnuts
2 medium sized carrots, peeled and cut into 1/4″ thick coins
1/4 cup pomegranate seeds
1/4 cup strong blue cheese (or, if you use a creamier, less pungent variety, use 1/3 cup), crumbled into very small pieces
1/2 cup good olive oil
1/8 cup apple cider vinegar
1 heaping tablespoon dijon mustard (the smooth kind, not the grainy)
3 tablespoons (or to taste) wildflower or clover honey
Aleppo pepper flakes to taste (I used about 1/4 teaspoon)
1 teaspoon fresh tarragon leaves, roughly chopped
salt to taste (I used about 1/8 teaspoon)
Method:
Tear the salad greens into bite-sized pieces. Yeah, you can cut them, but I like to tear them. It just seems so much more personal, and besides, I like the sounds they make as they get ripped apart. (That sounds more violent than I mean it, though. I just like the tearing sound.)
Put them into a bowl, and then sprinkle the chunks of apple over them.
Lightly toast the nuts in a heavy cast iron skillet over medium heat on the stove. Once they start to warm up, stir or toss them constantly to keep them from burning on the bottom. Toast them until they smell roasty and brown and good, just like the smell of woodsmoke and dried leaves in the October woods, and then dump them onto a plate to cool.
Sprinkle the carrot coins, cooled nuts, pomegranate seeds and the crumbles of cheese over the salad.
Make the vinaigrette: you can either put all the ingredients into a measuring cup or bowl and whisk them, or you can do what I do because I'm lazy. Put them all in a small jar (but not one that is so small that the ingredients fill it–you need to have empty space in the jar so there is room to agitate the ingredients properly) screw the lid on tightly and shake like the dickens. I just put on some happy dancing music and go to town with the jar! It sure isn't very chefly of me, but it is fun, so who cares!
When you are ready to serve the salad, drizzle the dressing over it and toss it well.
5 Comments
RSS feed for comments on this post.
Sorry, the comment form is closed at this time.
Powered by WordPress. Graphics by Zak Kramer.
Design update by Daniel Trout.
Entries and comments feeds.