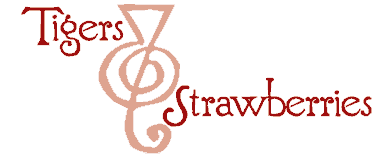 Cook Local, Eat Global
My favorite dish at Reethika in Columbus is their Green Chicken Curry. Mrs. Reddy makes hers with coconut milk, and it is a haunting, complex, aromatic version of a South Indian favorite.
While I didn't want to copy her curry completely, I did want to use it as a starting point to make my own version of Green Masala Curry, so I thought about the melange of flavors that make up her version. Fresh curry leaves are definitely involved, as is cilantro. Methi greens and bay leaves also smell like they are a part of her palette of herbs, so I decided to use those as well.
But, in addition to these gloriously green herbs, I wanted to use a large amount of a seasonal favorite in my kitchen–locally grown green garlic grown by Rich and Ann Tomsu. Why? Because green garlic is like baby garlic–all of its brashness has been toned down to a sweet gentleness that is so delightful, yet rich, that it cannot help but complement any food which is cooked with it.
The other ingredients I used in the green masala paste were fresh ginger, a few cloves of regular garlic, green Thai chilies and thinly sliced well-browned yellow onions. For the cilantro, I used the thick stems from the root end all the way up to the leaves–two bunches worth of them. The leaves, I kept separate, to be finely minced and added near the end of the cooking process.
For spices, I made a garam masala out of toasted cinnamon stick, green cardamom pods, a few cloves, cumin seeds, fennel seeds, coriander seeds, black peppercorns and fenugreek seeds. After the whole spices were toasted, I ground them up, and stirred in a half teaspoon of ground turmeric for its fragrance, color and health-boosting properties.
Instead of the traditional coconut milk base for the curry sauce, I thinned the very thick green masala with a bit of homemade chicken stock and used this as the cooking medium for the chicken. I found it imparted a very rich flavor to the sauce–and besides–I was fresh out of coconut and coconut milk and really didn't want to go out to the store. (Instead of stock, one could use chicken broth, or vegetable stock or even water, though water would be my last resort.)
At the end of cooking the chicken, to soften the sauce and enrich it, I stirred in about a heaping half cup of Greek yogurt–a very North Indian touch, which makes this Green Garlic Masala Curry is uniquely my own variation.
Finally, at the end, I stirred in some very finely minced cilantro leaves–and allowed them to cook for about three minutes in the sauce, and added salt to taste.
The results were very good, and I was pleased with them, but it wasn't until I had a bit of the leftover curry two days later, reheated, that my socks got knocked off. After two days in the fridge, the flavors deepened and melted into each other, the individual fragrances and tastes becoming less distinct and pronounced, instead, weaving themselves into a complex symphony of gustatory goodness. The garlic was still quite present, but the fragrance was not unpleasantly bold, but instead, it joined the browned onions in giving an underlying sweetness to the curry, while the curry leaves, methi, cilantro and cardamom all danced together on the tongue, singing as a choir instead of several competing soloists vying for attention.
So, I am quite happy with the end result of all of my experimentation and work and will certainly make this as often as I can while green garlic is in season. After that, I will have to adapt the recipe to the lack of baby garlic in the marketplace.
Green Garlic Masala Chicken Curry
Ingredients:
2 tablespoons ghee or canola oil
2 medium yellow onions, peeled and very thinly sliced
1 teaspoon salt
the stems from 2 bunches of cilantro, chopped roughly (reserve the leaves)
15 very fresh curry leaves
2 heaping tablespoons dried methi leaves, soaked in warm water
1 dry bay leaf, soaked in warm water until lightly softened
7 stalks green garlic, white and green parts, roughly chopped into 1/2″ pieces
2″ cube fresh ginger, peeled and roughly chopped
3-6 fresh green Thai chilies
2 cloves regular garlic
water as needed
3/4 inch piece of cinnamon stick
12-15 green cardamom pods
1/4 teaspoon black peppercorns
1 1/2 teaspoon cumin seeds
1 teaspoon fennel seeds
1 1/2 teaspoons coriander seeds
1/4 teaspoon fenugreek seeds
1/2 teaspoon ground turmeric
1 cup chicken stock or broth
2 pounds boneless skinless chicken breasts and/or thighs, trimmed and cut into 1″ cubes
generous half cup of unflavored Greek yogurt (whole milk is best, but 2% works almost as well)
1/2 cup finely minced reserved cilantro leaves
salt to taste
Method:
Heat ghee or canola oil in a wide, heavy-bottomed deep skillet over medium heat. (Le Creuset cookware works wonderfully in curry making.) Add onions, sprinkle with salt, and cook, stirring until they are a deep golden color. While the onions are cooking, put the next nine ingredients (from cilantro stems to water as needed) into a wet-grinder or blender jar and blend into a thick, deep green paste. When the onions become the deep golden brown color I mentioned, add them to the masala paste and puree again.
In a dry skillet toast all the dry spices but the ground turmeric until they brown a bit and are fragrant. Grind into a powder with a spice grinder. Put the masala paste and the ground spices back into the pan the onions were cooked in (adding a tiny bit more ghee or oil if needed) and cook over medium heat again, stirring constantly until the color of the paste deepens and dulls somewhat from its brilliant green to a more yellow green, and the fragrance is amazing–about three to five minutes.
Deglaze the pan with the chicken stock and bring to a boil. Turn down the heat to medium low so the sauce simmers and add the chicken, stirring until all the meat is covered. Cook until the chicken is just barely cooked through and amazingly tender–about ten minutes.
Stir in the yogurt and allow to simmer again, then stir in the cilantro leaves. Cook for three more minutes, then add salt to taste. Serve over steamed basmati rice.
Note: You could cook this curry up to three days ahead of time for a party or dinner and it will taste even better reheated than it did when you made it the first time. Just don't add the yogurt and cilantro leaves until you have reheated the dish. THEN, add them and cook as directed above.
4 Comments
RSS feed for comments on this post.
Sorry, the comment form is closed at this time.
Powered by WordPress. Graphics by Zak Kramer.
Design update by Daniel Trout.
Entries and comments feeds.