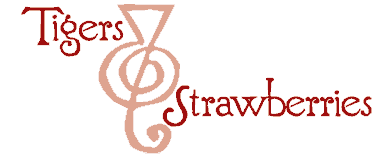 Cook Local, Eat Global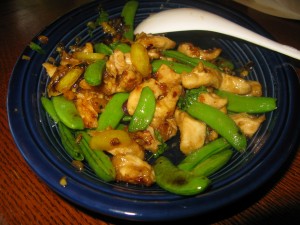 Aren't those snap peas just the prettiest things?
Those sweet green goodies have been driving me mad for three days because they've been in my crisper drawer, waiting, waiting, WAITING for me to cook them, and I haven't been able to, but I've wanted to for just days and days.
See, I've had an ear infection and for the past three days before today, it had gotten bad enough to affect my sense of balance. And Zak made the command decision that a Barbara who pitches and yaws about like a lumbering, drunken ox is unsafe to be holding anything resembling a sharp knife or cleaver and even more unsafe to be around fire and a cast iron wok.
But, I had a doctor's appointment today and I am pleased to say that with the first dose of antibiotic, bacteria were mowed down ruthlessly such that the pressure in my ear and sinuses lessened to the point that I can stand up and walk a straight, or mostly straight line. The first thing I decided to do was get in that kitchen and prep to cook up those delicious snap peas I got from the Farmer's Market that I've been dreaming about for days!
They were still crisp and brilliant peridot green when I popped them on the counter and stringed them. And they smelled just like springtime ought to smell–fresh and verdant. I scrubbed baby carrots in shades of orange, yellow and violet and sliced them diagonally to go with the peas, and the colors were all so pretty it was hard not to just gobble everything up raw.
But considering how much Kat ate at dinner, I'm glad I didn't snarf up all of the veggies myself. She ate her entire bowl of rice, chicken, peas and carrots and asked for more, all without any prompting from Mom or Dad. For those with four year old kids, you know what a victory that is! She even asked if she could have the leftovers for lunch at school tomorrow (that would be today), and she hardly ever does that…..
Anyway, this is just a simple stir-fried dish with clean, fresh flavors that enhance rather than cover the natural flavors of the chicken, peas and carrots. I used a small amount of fresh garlic, more ginger and fresh scallions as aromatics, and the flavorings were soy sauce, honey, sesame oil and mirin.
Mirin is a rice wine from Japan that is light and sweet, much more subtle and flowery in flavor than Shao Hsing wine, which is the Chinese rice wine I usually favor. I happened to have some and decided to use it and was pleased at how seamlessly it melded with the honey and light soy sauce flavors.
This is not a dry dish, but what sauce there is clings to the vegetables and chicken and does not pool on the serving plate. There is enough to flavor the rice in your bowl, but not so much that it is drippy or gooey.
The soy sauce I used in this dish is almost locally made–it's from Kentucky, and is brewed in a Japanese style, using old bourbon barrels as fermentation vessels, so it has a distinctive smokey aftertaste. Bourbon Barrel Foods makes a mighty fine soy sauce, and is well worth seeking out and trying. It has a clean refreshing flavor with that wonderful smoky finish that I just love, and is perfect to use when you want your food to just taste oomphier and better, not soy-saucey. (Their smoked paprika is awesome as well.)
Besides, I get a kick out of using soy sauce made in Kentucky. It just makes me smile, because you don't think Kentucky and see visions of soy sauce dancing in your head, do you? I know I don't.
(Same as I don't think of West Virginia and instantly muse on about tofu, but you know, the best tofu I've ever had, Spring Creek, is made in Spencer West Virginia, from soybeans grown here in SE Ohio, one county away from where I live. Now that I think on it, Appalachia has some mighty fine artisanal Asian foods being made in the sheltering arms of her mountains and hollers.)
But, I digress.
What was I talking about again? Oh, yes–the snap peas and the chicken dish. Right.
I was talking about the flavorings in it–right? Well, the honey is from right here in Athens County–Cantrell's. Jack Cantrell is a great beekeeper and his honey is wonderful and I think it's the reason why my nose hasn't fallen off this year from the allergies. Pollen is horrible this year–the air is yellow with it, and usually when its that bad, I have two or three asthma attacks at least, but since I've been having a spoonful of the local honey a day, it seems to have helped me build up enough immunity to it that I can at least go outside and breathe with impunity. And, you know, honey sure tastes better than Benedryl!
And the sesame oil is the final flavoring ingredient–always be sure and use the toasted sesame oil for the best flavor and add it at the end of cooking so it stays fresh tasting and doesn't scorch.
At any rate, here is the recipe for the dish that Kat not only ate all of her portion of, but which made our house smell so good that when we came back from seeing Kung Fu Panda 2 at the theatre, it was like stepping into Po's Dad's noodle shop!
Oh, and the movie was great fun, by the way, and the use of 3D was much more subtle and beautiful than I expected. (I usually am unimpressed by 3D anything.)
Honeyed Chicken with Snap Peas and Carrots
Ingredients:
1 medium boneless skinless chicken breast, cut into 1″X1/4″x1/2″ strips
1 teaspoon honey
2 tablespoons mirin or pale rice wine
2 tablespoons thin or light or Japanese style soy sauce
3 tablespoons cornstarch
3 tablespoons canola or peanut oil
1 clove garlic, peeled and minced
3 scallions, trimmed and white parts and light green parts minced
2″ cube fresh ginger, peeled and minced
5 baby carrots, scrubbed and cut on the bias into 1/8″ thick oval slices (use multicolored carrots if you can get them)
1 tablespoon light soy sauce
1 teaspoon honey
2 tablespoons mirin or light rice wine
8 ounces snap peas, stringed
1 tablespoon fresh lemon juice
1 teaspoon toasted sesame oil
1/4 cup cilantro leaves, picked off the stems
Method:
Toss chicken with next four ingredients and allow to marinate while you prepare the rest of the ingredients–about 20 minutes.
Heat wok over high heat until a thin ribbon of smoke rises from the heated metal surface. Add the canola or peanut oil and swirl wok to coat bottom. Allow to heat for about thirty seconds or until you can see the surface of the oil shimmer and move with convection currents.
Add the chicken, reserving any marinade that is not clinging to the meat. Spread the chicken out into a single layer on the bottom of the wok and sprinkle the garlic, scallion and ginger over the top of the chicken.
Allow the chicken to sit undisturbed on the bottom of the wok to brown for at least a minute. THEN and only then begin to stir fry, stirring constantly to keep the chicken and the aromatics from sticking.
When the chicken is mostly done–very little pink is showing–it is mostly brown and white–add the carrots, and the second measures of soy sauce, honey and mirin and keep cooking and stirring for another thirty seconds or so. Add the peas, and cook, stirring, until the chicken is done and the peas have taken on a bit of brownish color from the hot wok.
Add the lemon juice, stir it in thoroughly, remove from heat and stir in the sesame oil and cilantro.
Scrape onto a heated platter and serve right away with steamed jasmine rice.
Add
7 Comments
RSS feed for comments on this post.
Sorry, the comment form is closed at this time.
Powered by WordPress. Graphics by Zak Kramer.
Design update by Daniel Trout.
Entries and comments feeds.