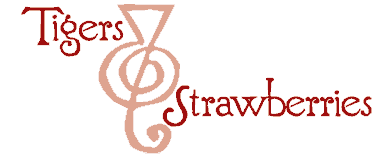 Cook Local, Eat Global
I got the idea of making chevre and sour cherry cheesecake from Jeni's Splendid Ice Creams. They have a flavor called "Goat Cheese with Red Cherries" that is one of my very favorite of their summer ice creams–it's rich, creamy, tangy and fruity all at once. When Zak and I were in Columbus last week, I had a scoop of it and decided that I had to use some of Integration Acre's fresh chevre and some local sour cherries and turn it all into a cheesecake.
At first, I was just going to do my usual thing and make it into one big cheesecake. But, then, as last week turned into this week, and I remembered that Kat would be out of preschool all week, and I was coming up with activities for the two of us to do together, I knew she wouldn't have a lot of patience for waiting for a cheesecake to take its normal 50 to 60 minutes to bake, and I'd have to contend with her asking questions for every minute of its baking that would go something like this:
"What's it doing now, Mommy? Can I see it? Why not? Why's it taking so long? Is it done yet? Why not? When can we eat it? Why not now?"
Then, of course, after it was baked, it would have to take its usual several hours to cool to room temperature, and then overnight in the refrigerator.
Kat's head would have exploded with impatience by then, waiting for Mommy to finally cut into the cheesecake.
I needed to speed up the process a bit.
So, I decided to make miniature cheesecakes, which Kat now calls, "Fairy Cheesecakes," because they are about the right size for a whole passel of fairies to share for a big celebration.
Since I didn't have mini cheesecake pans with removable bottoms, I went the simple route: I used muffin pans with paper cupcake liners.
Baking cheesecakes in muffin pans is not only simple and you end up with cute, portable, single-portion sized cakes, but the little darlings bake in only 15 minutes–10 if you have a really awesome convection oven like I do. Think about that for a moment. Cheesecake that bakes in 15 minutes that is real, honest to God cheesecake–not a Jello-from-a-box faux cheesecake mix.
Not only that, but they cool quickly and will chill even faster in the refrigerator than their full-sized relatives.
Yep. I'm sold on little baby cheesecakes made in muffin pans.
One caveat–you must use paper liners. Otherwise, they're nearly impossible to remove from the pans.
Finally, on to the recipe–it's fast and easy, an makes a great summer time dessert, not only because chevre and sour cherries are seasonal summer favorites, but because the oven doesn't have to be on warming the kitchen for more than an hour.
That's fairy magic, right there!
Speaking of fairy magic, I'm very pleased to announce that I've finally hit upon a cheesecake recipe that Zak not only just likes, but adores. Previously, with all of my other cheesecakes, he'd have a bite, maybe two, and declare, "It's pretty good," and then he'd turn up his nose and refuse to eat any more. This wasn't exactly a blow to my ego, but it was confusing because Zak loves graham cracker crusts, creamy fillings, fruits, puts thousands of tons of cream cheese on his bagels, and dammit, there was no good reason for him not to worship my cheesecakes like everyone else in the world!
These mini cheesecakes changed all of it. I think it has to do with the crust to filling ratio–not as much filling, so the flavors and textures are more balanced, the tanginess of the goat cheese balances the sweetness of the sugar, and the fluffy texture is beguiling to the senses. The sour cherries are just lovely, and he likes sour fruits, and the hint of cardamom, almonds and almond extract sealed the deal! Finally, a cheesecake for Zak!
Chevre and Sour Cherry Miniature Cheescakes
Ingredients:
1 cup graham cracker crumbs
1/3 cup roughly ground almonds
1/4 teaspoon ground cardamom seeds
4 tablespoons melted butter
12 ounces good, creamy (not chalky) chevre at room temperature
4 ounces cream cheese at room temperature
scant 3/4 cup raw sugar
2 well-beaten eggs
1/2 teaspoon almond extract
1/2 teaspoon vanilla extract
1/2 pint sour cherries, pitted
1 small jar sour cherry preserves
Method:
Preheat your oven to 350 degrees F.
Line 2 standard sized muffin pans with paper cupcake liners to make 12 small cheesecakes.
Mix graham cracker crumbs, chopped almonds and cardamom well. Add butter and mix and toss everything together until the crust starts to stick together nicely and form small to medium clumps.
Divide the crust ingredients evenly between all of the muffin cups and press lightly down on the bottom to form the crust.
To make the cheesecake batter, beat together the two cheeses and sugar until they are smooth and creamy. Add eggs, and extracts and beat well until the mixture is pale yellow and fluffy. Using a tablespoon, fill each depression on the muffin pans halfway with batter. Sink three pitted sour cherries into the batter in each cup, then cover them with more batter, smoothing the top a bit. Sink 3 more cherries into the tops of the cheesecakes, so that they are half-covered with the batter.
Bake for fifteen minutes–ten if you have a convection oven–and allow to cool in their pans on top of a wire rack until you can handle them. Then, remove from pans with the paper liners intact and set the individual cakes on the wire racks to finish cooling to room temperature.
When cool, top each cheesecake with a scant 1/2 teaspoon of sour cherry preserves, just glazing the top of the cakes.
Chill in a sealed container in the refrigerator until ready to serve.
Makes 12 cheesecakes, which is enough for 6-12 people, or one blog admin named Dan. (Dan, look for your cheesecakes in a day or so. I have to go to Columbus today, so I won't be able to bake until tonight or tomorrow morning.)
4 Comments
RSS feed for comments on this post.
Sorry, the comment form is closed at this time.
Powered by WordPress. Graphics by Zak Kramer.
Design update by Daniel Trout.
Entries and comments feeds.