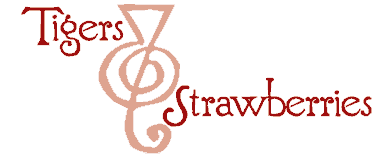 Cook Local, Eat Global
Longtime readers will recall that oh, a year or so ago, it was mentioned that my friend and videographer, Dan Trout, and I were working on a documentary film about the food community here in Athens, Ohio.
I am pleased to announce that the cogitation, pre-production equipment gathering and research phase is finished and as of last week, actual filming has begun.
And, as you can see, we have a name for our production company–which I suggested as it uses both of our last names to good effect and it's tangentially about food. Dan took my idea and turned it into a really readable, memorable and cute graphic for all of our business cards, release forms, letterhead and suchlike stuff.
Dan went out shooting b-roll footage last Wednesday and then he and I went out on Saturday to the Farmer's Market to shoot specific images to use in the trailer for the film, which does have a working title (Simple Gifts: The Athens Food Model) and to talk with some of the people we want to interview on camera.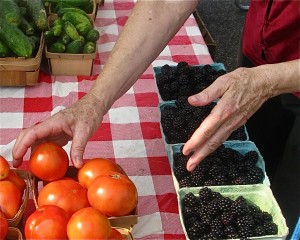 I was unprepared for the enthusiasm with which our project was met by pretty much every person with whom we spoke. I was sick with nervousness; I had awakened overly early in the morning and was unable to go back to sleep because I was dreading talking to people because I had the fear that no one would want to talk with us, or that they would think that the project wasn't worthwhile.
I was so wrong–it turned out that it was just my nagging self-doubts at play in my head. From the very first farmer I spoke with (Star of Shade River Farm), everyone was unfailingly positive, and many were exceptionally enthusiastic. Even farmers who started out as somewhat suspicious warmed up when we described our project as an independently produced feature-length documentary that shows how Athens grew this amazing local food system, with the aim of showing people in other communities how they can do the same thing. Once we got it across to people that we wanted to empower other communities to look at how Athens managed it and then start a similar system in their areas, farmers were ready for us to come to their farms and talk.
They -want- us to tell their stories, not only for the sake of these stories themselves–but so that other people can make their own stories and successes elsewhere.
That meant a great deal to both Dan and I. In fact, it rather blew us both away. It was truly breathtaking.
Between getting contact information from farmers and community organizers and business owners, I took some still photographs to use in marketing and packaging. Dan tells me that much of his footage caught the same look as my photographs–which capture much of the feel we want for our film. We want it to be beautiful and uplifting–not only because Athens is a beautiful place, but also as an antidote to many of the recent food-related documentary films that are out there, which, let's be honest, are pretty bleak.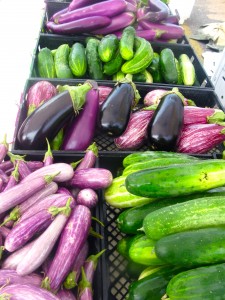 We have a pretty full schedule of shooting set up for the next couple of weeks; our goal is to have a trailer put together and ready to present by the end of August or the beginning of September. We are taking a full year–a cycle of the seasons to complete our filming, and then begins the long, arduous editing process.
This project, which is being independently funded and produced, is going to be a long, time-consuming work, but it is work that I believe has worth in the world. Feeling the excitement of the food producers here in Athens as we described our project, seeing their faces light up as we talked, showed me that this can mean a lot not only to Dan and I, not only to Athens and to the food community here, but to viewers out there in the world. The story of our town's food system can really make a difference in the lives of people in other small communities.
We want viewers to feel uplifted, cheered and empowered by this documentary. We want them to see that there are things they can do to change their own communities, that the power to grow a sustainable local food network lies in their own capable hands.
Not in the hands of the government, or of corporations.
But simply in the hands of ordinary citizens. Individuals who do seemingly ordinary things, but who, when working together, can build something extraordinary.
9 Comments
RSS feed for comments on this post.
Sorry, the comment form is closed at this time.
Powered by WordPress. Graphics by Zak Kramer.
Design update by Daniel Trout.
Entries and comments feeds.