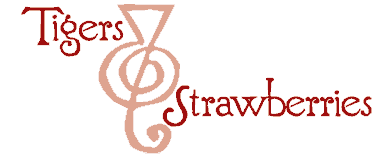 Cook Local, Eat Global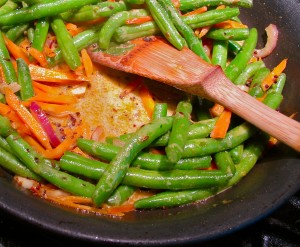 No, this isn't traditional. At least, I don't believe it is a traditional Indian dish. It's possible that I hit upon a cooking method and ingredient list that is used in some of the South Indian states as a traditional dish by sheer luck, in which case, if there's a real name for this, please, someone let me know.
Basically, I put this dish together to go with the Lamb Patties With Incendiary Green Chutney out of the vegetables from our garden and the other ingredients I had from the farmer's market and laying about in the pantry.
This was meant to be a side dish, but if you wanted it to be the centerpiece of your dinner plate, you could add either tofu or paneer cheese and serve it with rice, spelt or wheat berry pilau or bread for a complete meal. You'd just pre-fry the tofu or cheese, then drain it on paper towels and then add it back to the pan at the same time you add the green beans so it has a chance to soak up the flavors from the pan without becoming overly brown.
I was inspired to make this because my curry plant is finally large enough to harvest bits and pieces, and I really wanted to use the musky-scented leaves in some sort of vegetable dish. I had green beans, a sweet bell pepper, garlic and carrots from our garden, as well as one purple onion from the market. Cumin seeds and mustard seeds go beautifully with curry leaves, so out of the cabinet they came.
Since the lamb patties are dry–though they are served with a green chutney and yogurt that acts as a sauce, I decided to add a little coconut milk to the pan to make a small amount of thick, clinging sauce which I colored with a scant bit of turmeric and smoked paprika. The paprika adds a subtle smoky flavor as well as color–I've found that it gives Indian food just a little bit more of a depth than plain paprika does.
Anyway, this is simple to make and tastes lovely. Zak, Kat and I gobbled it down gleefully–the vegetables retain their color and crunch, while still absorbing lots of the scents and savors of the spices. The coconut milk binds it all together and adds just enough moisture to keep the vegetables both crisp and juicy.
Well worth the time it took to think out and make, and is a good quick side dish or main dish to add to your repertoire.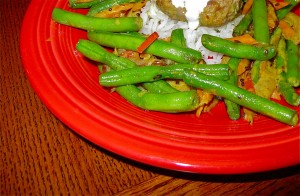 South Indian Style Vegetable Saute
Ingredients:
1 tablespoon coconut oil or peanut oil
1 medium red onion, peeled and thinly sliced
1/4 teaspoon salt
2 large garlic cloves, peeled and thinly sliced
1/2 teaspoon whole cumin seeds
1/2 teaspoon whole mustard seeds
10 curry leaves
1 small red bell pepper, seeded and cut julienne
3 carrots, peeled and cut julienne
8-12 ounces green beans, washed, topped and tailed and blanched then drained
1/2 cup coconut milk, divided
1/8 teaspoon ground turmeric
1/8 teaspoon smoked paprika (or regular paprika)
salt to taste
Method:
Heat the oil in a heavy-bottomed skillet over medium high heat. Add the onion, sprinkle with salt and cook until the onion is turning golden. Add the garlic, cumin seeds and mustard seeds, then the curry leaves. Cook, stirring, until the garlic takes on a golden color and the onions are darker gold. Add the pepper and carrot, and cook, stirring, for several minutes, until the carrots start to become tender and take on color.
Add the green beans, and cook, stirring until the onions are well browned and the vegetables have nice brown spots in places. add half of the coconut milk, add the turmeric and paprika, and stir to combine. Cook down until the coconut milk virtually disappears and the vegetables are tender. Add the rest of the coconut milk, stir and cook for one more minute.
Add salt to taste and serve immediately.
Makes enough for three adults and one child.
No Comments yet
RSS feed for comments on this post.
Sorry, the comment form is closed at this time.
Powered by WordPress. Graphics by Zak Kramer.
Design update by Daniel Trout.
Entries and comments feeds.