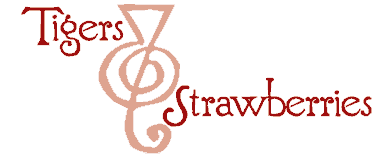 Cook Local, Eat Global
I don't tend to use a lot of different spice blends; I tend to make my own, particularly when it comes to Indian, Mexican, Chinese and Thai foods.
But, sometimes I pick something up at Penzey's because I like the smell of it, or it seems appealing in some way, or I end up getting it free with an order.
Herbs de Provence is one of those blends I picked up because I liked the way it smelled.
And because I do very little French style cookery, I was somewhat slow in using up the tiny jar I had of it.
Which is a shame, because it really is a nice blend of the sorts of herbs which are often used in southern French cookery: marjoram, summer savory, rosemary, thyme, fennel seeds, basil and lavender. It is full of fragrance that brings to mind fields of sunwarmed flowers–it smells green and golden, all at the same time.
I made up for my underutilization of the herbs de Provence jar last week when Zak's Dad and Grandpa were visiting; Grandpa cannot eat very spicy foods, so I took it upon myself to cook in a more European fashion than I generally do. I had two packages of lamb stew meat in the freezer, and pulled them out, determining to make a nice lamb stew.
Since our friend Kendra had mentioned coming to visit and she is allergic to onions, I determined to use elephant garlic, which looks like garlic, but is milder and is very closely related to leeks, and garlic as the main aromatic flavoring components. I had the last of a bottle of dry red wine, and on a whim, I pulled out the nearly empty jar of Herbs de Provence along with tarragon, celery seed, lavender, basil and half-sweet Hungarian paprika. From the garden, I brought fresh rosemary, basil and thyme.
I discovered that the combination of tarragon and lamb is absolutely heavenly–and a little dried tarragon goes a long way. It reinforced the fennel seed in the herbs mixture, and it helped boost the similar licorice-like flavor of the fresh basil. Its very green freshness really cut through the rich lamb broth and meat.
I also discovered that using thyme, rosemary and lavender together accentuates the similar flavors in those three herbs–that tangy, medicinal quality that I find to be so haunting. The dry red wine synergized with those herbs and the black pepper I added in copious amounts to the dish, and added a complex layer of fragrance to the broth.
No one missed the onions.
It really was a simply made dish: I browned the lamb in olive oil in my stewpot, and then added the minced up elephant garlic and garlic. As the alliums began to turn golden, I added the first round of dried herbs: Herbs de Provence, lavender, tarragon, basil and celery seed. As the color of the garlic deepened toward brown, I deglazed the pot with about a cup and a half of the dry red wine, and then added minced fresh thyme and rosemary (about a tablespoon of each) and the paprika and black pepper. After most of the alcohol boiled away, I added some chicken and vegetable broths and half-covered the pot, turned the heat down and allowed it to simmer and reduce for a couple of hours. Before I walked away, I threw in a couple of big handfuls of mixed sliced mushrooms–shiitake, portabello and white mushrooms, mostly, to simmer in the stew.
When the meat was fork tender, I added red and white baby potatoes that I scrubbed and cut into quarters and baby carrots, and allowed them to cook until the potatoes were meltingly soft and the carrots still had the tiniest bit of a crunch to them.
At which point, I made a roux from flour and olive oil, allowed it to brown slightly and thickened the broth with that, and roughly chopped a large handful of fresh basil leaves and blossoms.
After thickening it, I added about twelve leaves of lacinato kale, which I cut into thick ribbons, and allowed them to wilt into the stew.
I served the stew with a generous garnish of the fresh basil, and it really punched up the flavor; the stew was by turns tender and sweet, rich and dark and full of mysterious, flowery-herbal fragrance.
I will have to make it again–and this time, pay enough attention to how much of what I put in so I can write the recipe down more properly, as both Zak and his Dad said I had to make it again.
Next time, though, I think I will add some baby turnips to the vegetable mixture. Their sweetness will really go well with the fresh basil.
12 Comments
RSS feed for comments on this post.
Sorry, the comment form is closed at this time.
Powered by WordPress. Graphics by Zak Kramer.
Design update by Daniel Trout.
Entries and comments feeds.