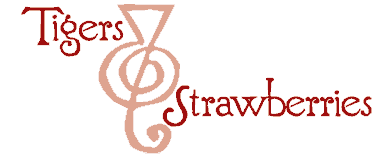 Cook Local, Eat Global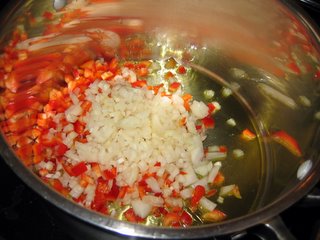 It is spicy.
It involves rice.
It has sausage and ham in it.
Did I mention, it is spicy and involves rice?
Oh, yeah, I did.
Well, you can see why I think jambalaya may be my all-time favorite bit of American Southern Country-Folk food of all time.
Because it is spicy, involves rice and it has sausage and ham in it.
Three of my favorite things, right there–heat, rice and pig.
You cannot possibly go wrong.
Jambalaya is a dish that is claimed both by the Cajuns and the Creoles of south Louisiana, and I have heard credible origin stories from both sides. However, I think that like many of the foods of that region, no one can definitively argue which side is the rightful creator of the dish–it is something that grew organically from the varied ethnic groups who settled Louisiana in successive waves.
It is almost as if, with each wave of immigrants, someone threw something new into the pot which bubbled merrily on the collective kitchen fire, and eventually, what was served forth was jambalaya.
Some say it was inspired by the Spanish dish paella–and one can easily see that comparison. Paella involves rice cooked with spices, aromatics, herbs, sausage and seafood, and jambalaya is based on the same principle, though the practice of using a shallow pan to cook the dish such as the Spaniards use, is absent. The name, "jambalaya," is said to come from the French "jambon" for "ham," with "a la" added as a suffix. And while the sausages in Louisiana all tend to have French names, it is said that the German immigrants really got the sausage-making tradition going when they arrived….you see what I mean when I say that as far as I am concerned, everyone in South Louisiana can lay claim to the origin of the dish, because everyone had a hand in putting something in the pot.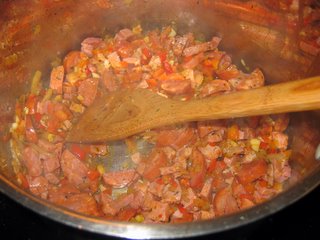 Now, I am not from South Louisiana, I am from West Virginia. We don't grow rice there, no one eats crawfish or "mudbugs," and there aren't too many French speakers there. So, where did I pick up the habit of making jambalaya?
Not from a cookbook, if that is what you are wondering.
Nope–I learned it from several friends, all of whom have family roots sunk deep in South Louisiana and New Orleans. And I met all of them in southeastern Ohio.
Which, now that I think on it, is rather odd, but the world is a very strange place sometimes.
Anyway, it was kismet, because I was destined to bump into jambalaya–and believe me–it was love at first taste. It is a magical dish, full of flavor, fire and festivity. It is a melange of tastes that dance a wild two step on the tongue, leaving you hungry for just another bite, even when you are so full you are like to burst.
After my first taste, I knew I had to learn how to make it, which I did.
My friends are generous with their familes' recipes.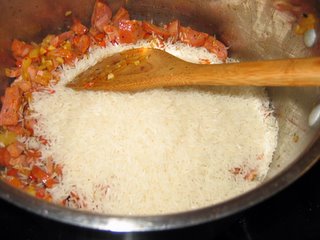 What it comes down to is this–you start with good flavoring ingredients: the holy trinity–onion, bell pepper and garlic, with some celery (or in my case, celery seed–Zak hates the texture of celery.) Then, you add fire, in the form of fresh chiles or dried cayenne–or both. Then, you have at least one pork product–that is, if you don't keep kosher or halal or aren't a vegetarian. In my case, I add two–really good quality ham and andouille sausage. Then, you can add any flesh, fowl or seafood you want–since I live in a land-locked state, this is usually chicken, though venison makes for an amazing jambalaya experience. Then, you have herbs, long-grained rice, wine, broth or stock and some fresh herbs to mix in for green color, fresh flavor and a little crunch.
And that is it. That is how it is made. It is a magical process of layering flavors that you coax out of each ingredient with whatever kitchen wiles you possess. It requires patience and diligence, and a couple of nice big pots, long wooden spoons and just the tiniest smidgen of good old Southern juju to make it come out right.
You will notice in the recipe that I am somewhat inexact about amounts and the like–that is because I was taught to cook this by feel. It is hard to put "by feel" into written instructions, but I tried–I hope it works for y'all.
Oh, you will also notice I said nothing about tomatoes.
I am a no-tomato jambalaya kind of person. Others folks disagree with me on this point, which is fine–that is their perogative. They can make their jambalaya with tomatoes and when I am at their house, I will eat it that way, because it is sinful to turn down a bowl of jambalaya, just plain sinful.
But at my house, no tomatoes are harmed in the production of jambalaya.
I save them for other, even more wicked, enchantments. (Like puttanesca.)
Oh, and one more thing–you can stretch this recipe or shrink it in any direction. Just keep the proportions of rice and broth or stock the same and you will do fine. You can add more or less meats. I don't know if you can do it meatless. I have never tried. I am rather of the opinion that it might be boring that way, but you never know. I figure you can do an all seafood version, however.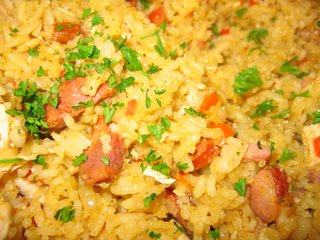 Jambalaya
Ingredients:
Enough olive oil, lard or bacon grease to cover the bottom of your jambalaya pot in a very thin layer (about 4-5 tablespoons)
1 large yellow onion, diced finely
1 fresh red bell pepper, diced finely
1-5 chile peppers (I used 5 serranos) de-seeded if you like and minced
1/2 teaspoon celery seed, lightly crushed (or one stalk celery, diced finely)
1 head garlic, minced
1 bay leaf
2 teaspoons Spanish smoked paprika
1 teaspoon half-hot Hungarian paprika
1/2 teaspoon dried powdered rosemary
1 teaspoon dried thyme
1/4 teaspoon dried rubbed sage
freshly ground pepper to taste
dried ground cayenne pepper to taste (or Cajun Creole seasoning to taste)
1/2 pound really good cooked ham, diced finely
1 pound andouille sausages cut in half lengthwise then cut into thin slices
1/2 cup dry red or white wine
3 cups long grain rice (I used jasmine, because that is what is in the house)
6 cups chicken broth or stock (Depending on your stove and rice, you may need up to a 1/2 cup more.)
2 cups shredded leftover chicken bits
1/2 cup minced fresh parsley
1/2 cup thinly sliced scallion tops
Method:
Get a nice big pot that has a lid and melt or heat your fat of choice in it.
Throw in the onion, sweet pepper, chiles and celery seed or celery, and saute until the onions turn dark golden and start to turn reddish. Add garlic, bay leaf and dried spices and keep cooking, stirring, until the onions really start to caramelize and the garlic is golden and everything smells really, really good. Add the ham and sausage, and cook until they brown lightly.
Deglaze the pan with the wine, and allow most of the liquid to boil off.
Add the rice, and cook, stirring, until all of the rice is coated with the oil and is shiny and somewhat transluscent.
Add the stock or broth, and bring to a boil. Toss the chicken in on top of the rice. Clap the lid on the pot, turn down the heat to low and simmer for 10-20 minutes. Check after ten, and if it is looking done, eat it then. If not, put the lid back on. If the liquid is all gone but the rice is still not quite done, add a little bit more broth or stock, stir and then cover up and cook about five more minutes. This step is variable–because I don't know how low the low on your stove is or how fresh your rice is. When I made this batch pictured here–it cooked in about ten minutes, because my stove was electric and didn't cool as fast as it should, and the rice was super fresh.
Sprinkle with the parsley and scallion tops and stir them in and serve right away with a salad and some nice French bread.
9 Comments
RSS feed for comments on this post.
Sorry, the comment form is closed at this time.
Powered by WordPress. Graphics by Zak Kramer.
Design update by Daniel Trout.
Entries and comments feeds.