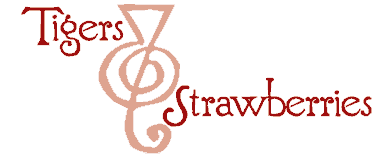 Cook Local, Eat Global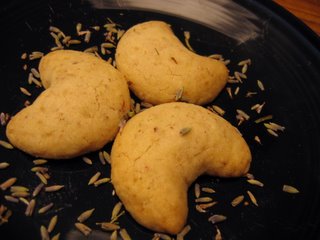 Anyone who has read this blog long enough to come across my rosewater-flavored Aphrodite Cakes and the much more recent Frostflowers, should be able to divine that I have a thing for cookies and confections with unusual flavorings.
Many of the flavors and scents that I favor come from spices, herbs or flowers.
One has to take great care with floral scents in cookery–it is easy to go overboard with them; the aroma of rose can take over the palate, giving the impression that one has just used a spritz of Glade air freshener as a breath spray.
But flowers have a long history in cookery, dating back to the ancient world. The Romans and Greeks used essences of flowers in their pasteries and in some savory dishes; the Persians were masters of using distilled flower waters in both meat dishes and desserts. In the Middle Ages, flowers were often eaten in conserves or preserves, and these were served along with roasted meat or fowl.
These ancient uses for floriferous ingredients were not really the inspiration for these cookies–to be honest, I first made these subtly flavored shortbreads as my own version of the "lembas," or Elvish waybreads of J. R. R. Tolkien's Lord of the Rings books. I decided to base them on shortbread because Zak told me that he always used to pretend that Walker's Shortbread petticoat tails were lembas when he played at being an elf as a child.
I began thinking on it, and decided to surprise Morganna two Yules ago with some lembas of her very own. For her, I made them in leaf shapes, and then wrapped them in French paper leaves that are used to line cheese trays, much the way the lembas were wrapped in leaves in Peter Jackson's films. In trying to decide what flavors I would use, I thought of what Lothlorien would smell like, and the first thing that came to mind was lavender. Then a subtle waft of powdered ginger and the sweetness of cardamom filled my thoughts, and I set to work.
Using a basic Scottish shortbread recipe, which contains only butter, salt, sugar and flour in it, I replaced some of the flour with ground almonds to give a bit of texture. Then, replaced some of the white sugar with raw sugar, because I like the way it gives crunch to pastries, and the tiniest hint of molasses is much more interesting than pure sweetness. Unlike brown sugar, however, it doesn't darken the dough noticably.
The dried lavender buds came out of my garden, but if you lack a handy supply, you can order food-grade lavender buds through Penzey's. Thiers are fresh, full of rich scent and have been sprayed with no pesticides.
This batch of cookies, however, instead of being leaf-shaped lembas, are crescent shaped, in honor of a client whose birthday I am catering. Her name is Diana, and she wanted to do a lunar themed party, and I thought that little hand-sculpted crescent moons would look lovely on the sweet tray.
Happily, they are even simpler to shape than the leaves–there is no need to carve veins into the unbaked dough with a skewer, for example.
In this shape, they come together quickly and easily, and look graceful, especially when paired with round cookies.
If you want to make leaf-shapes and call them lembas, by all means do so. Roll each portion into a ball, then flatten it slightly. Draw one side out into a point, so that you have a flattened egg-shape. Bend this gracefully and elongate it slightly so that it looks like a willow or rose leaf, then with the pointed end of a skewer, carve a central vein and a few stylized veins off to the sides. Then, bake as directed.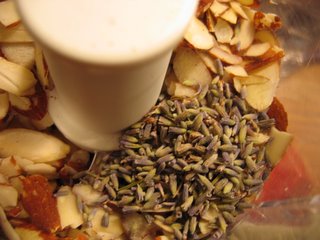 Lavender Crescents (aka Lembas)
Ingredients:
2 cups all-purpose flour (Or whole wheat pastry flour)
½ cup finely chopped/ground almonds (I used unblanched almond slices to start with, and pulsed them in my food chopper along with the lavender buds)
½ tsp. lavender buds, dried and ground finely
1/8 tsp. ground cardamom
1/8 tsp. ground ginger
1/3 cup raw sugar
1/8 cup white sugar
1 cup cool salted butter
Method:
Preheat oven to 300 degrees F.
Mix all ingredients except butter in food processor until well combined.
Cut butter into small pieces and distribute evenly over the flour mixture. Pulse repeatedly until the dough comes together.
Remove from workbowl, and bring together into ball. Using a cookie scoop, shape spare, level two tablespoon balls, then cut them in half with a sharp knife. Take each half and roll gently between the palms until they form a rough oval, then shape into a small rounded crescent shape. Set onto cookie sheet and flatten slightly. Turn the points of the crescent slightly inward.
Bake 25 minutes, until barely browned on the bottoms and edges.
Makes 40 cookies.
food recipes cookies shortbread lembas lavender
13 Comments
RSS feed for comments on this post.
Sorry, the comment form is closed at this time.
Powered by WordPress. Graphics by Zak Kramer.
Design update by Daniel Trout.
Entries and comments feeds.