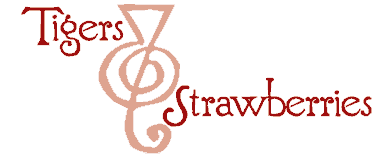 Cook Local, Eat Global
I have a confession to make.
I buy cooking magazines, and I read them.
And I see recipes that sound interesting, but I seldom actually use them. I mean, other than looking at them and thinking, "What a good idea," then running into the kitchen to recreate a dish like it from memory, I don't really -use- the recipes as they were intended. I don't cook from them; they are inspiration.
So, this Christmas, I decided I would force myself to try some of the recipes in some of my cooking magazines for cookies. Since I make new cookies every year anyway, why not see if I could find some really nice cookies to bake from some of these luscious-looking creations in the pile of magazines that teeter precariously on my desk?
So, I tried to do that. With the Ginger Lemon Cookies from Fine Cooking Magazine's special Holidays edition, I mostly adhered to the recipe as written: I only changed a couple of very minor things.
And I liked the result pretty well, and they went over nicely with my erstwhile taste testers.
But then, I found a prize-winning recipe in the January 2006 edition of Cook's Country Magazine, for "Molasses Spice Lemon Sandwich Cookies", and I got to thinking. I got to thinking about one of my favorite store-bought cookies, which are from the UK. They are ginger snaps with creamy sour lemon icing in between them and they are devilishly tasty.
And the more I looked at the recipe from Cook's Country (which is put out by the Cook's Illustrated team, and which involves a lot of recipes from readers, rather like the wildly successful and purely awful Taste of Home Magazine, which is the cooking magazine with the highest circulation–or at least it was at one time) and I thought about the Fine Cooking recipe, and those wonderful British cookies, I decided to heck with exactly reproducing the magazine recipe. I was all for combining the recipes with a dash of my own ideas and coming up with a third, unique version that featured the best of both recipes, while duplicating the good parts of the commercial cookies.
While the results turned out not to be as absolutely fabulous as I would like, the cookies were solidly good, shading into excellent.
One thing I might change is the use of all melted butter in the construction of the cookies–melted butter makes cookies with a chewy texture, reminiscent of oatmeal cookies. It also gives the cookies a tendency to crisp a bit, and I think that the crispiness was too much. The topping of crystallized ginger, which I took from the Fine Cooking recipe was good, but too chunky, so I should try to mince it finer next time. And, finally, my instinct to add more lemon juice to the filling was a good one, but I needed still more, to balance the very sweet cookies.
The original Cook's Country recipe had molasses, which made the cookies quite dark in color. I had no molasses, so I used honey instead. However, I didn't take the darkness of molasses into account when I baked the cookies, so I may have baked them a bit longer than necessary in an effort to get the cookies the same color as in the magazine photograph. So, instead, next time, I think I will bake them about a minute less, to go with more of a chewy, instead of a crisp-chewy texture.
I also dropped the use of cloves, reduced the cinnamon and upped the dried ginger in the dough, as well as adding a considerable amount of freshly grated ginger, which changed the flavor profile of the cookies considerably. Adding a bit of lemon extract and lemon oil to the dough enhanced the ginger flavor without making the citrus apparent. In addition, I added lemon oil and lemon zest to the filling, bringing a very strong lemony scent to the icing, which I think really made the overall flavor sing. The acidity of the icing is cooling, while the ginger is very warming; this balance of contrasting sensations is the best part of eating these cookies.
So, here is an early Christmas gift for everyone–a cookie that came from four different sources: two different magazine recipes, the memory of a cookie from the UK (or should I say biscuit?) and my own propensity for tinkering in the kitchen.


Ginger Lemon Sandwich Cremes

Cookie Ingredients:
2 cups all-purpose flour
2 teaspoons baking soda
1/2 teaspoon ground cinnamon
2 teaspoons ground ginger
3 tablespoons grated fresh ginger root
1/2 cup white sugar
1 cup raw sugar
1/4 cup honey
1 teaspoon lemon extract
5 drops lemon oil
1 large egg
12 tablespoons (1 1/2 sticks) butter, melted and cooled
1/2 cup white sugar
1 egg white lightly beaten
3 tablespoons minced crystallized ginger
1 tablespoon raw sugar
Filling Ingredients:
3 tablespoons butter softened and at room temperature
4 tablespoons lemon juice
zest of 1 lemon
5 drops lemon oil
2 cups confectioner's sugar
Method:
Mix together flour, baking soda, cinnamon, ginger, and grated fresh ginger in a medium bowl.
In a mixer bowl, blend together sugars, honey, lemon extract, lemon oil, egg and melted butter until well combined. Add dry ingredients in three parts, mixing well after each addition. Dough will be somewhat fluid and quite sticky.
Cover bowl with plastic wrap and refrigerate for about an hour, or until dough is quite firm.
Preheat oven to 375 degrees F. Line two baking sheets with silpats or parchment paper.
Place 1/2 cup of sugar in a small bowl. In another small bowl, mix together crystallized ginger and raw sugar.
Scoop out dough into 1 tablespoon pieces, and roll into small balls. Roll half of the resulting balls in the sugar, and place on baking sheet, flattening them gently with your fingers into 1/4 inch thick rounds. The other half of the balls, flatten without rolling into sugar. These you brush with egg white and then sprinkle with the crystallized ginger, pressing it down lightly to get it to stick to the dough.
Bake until tops are just beginning to crack–about eight minutes. (In my really efficient convection oven–I baked them for a total of only six minutes–adjust accordingly if you have such an oven.) Turn the cookie sheets 180 degrees halfway through baking to ensure even browning. (With my convection oven, I turned them after four minutes, and baked them for another two minutes and they came out pretty well, though in retrospect, I maybe should have only baked them for five minutes….)
Remove from oven and allow to cool for three minutes in the pan, then remove to wire rack to cool completely.
To make filling, whisk together butter, lemon juice, zest and oil. Add sugar and whisk together until smooth.
To assemble, place a bare teaspoon of filling on the back of one of the sugar-topped cookies, spreading the filling to within 1/4 inch of the edge. Top with one of the ginger-topped cookies, and press down to bring filling neatly to the edge. Allow filling to set up for about an hour before storing in an airtight package.
3 Comments
RSS feed for comments on this post.
Delicious! I got this recipe from the foodporn community, and I had to make my own… I didn't use lemon extract or lemon oil since those things are basically all contained in the lemon peel, so I substituted fresh zest and juice. It made 23 cookies– they're wonderful!

Comment by Carole — December 31, 2005 #

I am glad to hear that you liked them, Carole! Thank you for letting me know.

They improve after a day or so in an airtight container. The cookies soften a bit from being in contact with the icing and the flavor becomes a bit more intense and complex.

This recipe is terrible. The cookies came out soft and very greasy. And yes, I followed it to the letter. What a waste of time and ingredients.

Comment by Melissa — December 19, 2008 #
Sorry, the comment form is closed at this time.
Powered by WordPress. Graphics by Zak Kramer.
Design update by Daniel Trout.
Entries and comments feeds.