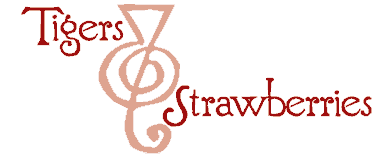 Cook Local, Eat Global
I love salads, but I don't write about them much.
I think it is because I generally have only a few salad tricks, and once those are revealed, there is not much else to discuss.
I like mixed greens. My standard salad dressing consists of olive oil, balsamic vinegar, soy sauce and honey. There is usually a fruit, or a vegetable, or both, layered atop the greens. Often almonds or walnuts find themselves scattered over the top. And if there are flowers blooming that are edible, they are the garnish, along with some sort of cheese, usually a nice, tangy chevre.
You cannot write about that more than once or twice, before people begin to think that you lack creativity or initiative when it comes to salads.
However, I must note that while Bryian was scarfing down the salad Christmas night, he said, "You know, I really don't like salad at all, but I always love yours because yours tastes interesting and good." If you knew Bryian and how much he really doesn't care for salad, you would know how high of a compliment that is. Perhaps, I should not be so humble and modest about my salad.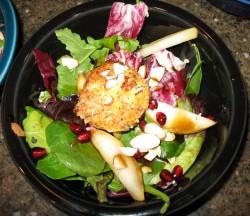 Holidays, however, create an excuse to dress up. The house gets decorated, the people wear nice clothes and all sorts of festive foods parade out of kitchens in various states of prettification.
The salad I served on Christmas was no exception.
It included a spiffed up dressing, two kinds of fruit, and chevre that had been blanketed in breading and fried to a crisp on the outside, and to a molten wonderfulness on the inside.
And that is a salad to write about.
I had never fried goat cheese, though I had eaten it at a couple of restaurants. It really is simple to do–you just cut slices from a roll of chevre (use waxed, unflavored dental floss–it breezes right through the sticky cheese and makes a nice clean cut), let them come to room temperature, dunk them in beaten egg and then roll them in some sort of breadcrumb action. Then you fry them in shallow oil for a minute or two on each side–just until they brown. Then drain them on a paper towel lined plate, and put them on top of your salad, then dress it. Voila! Instant fanciness.
Since I couldn't find my panko, I used seasoned matzoh meal, which made a lightly crisp, well-browned crust. I seasoned it with some dried shallots from Penzey's, salt and pepper, and some Herbes de Provence. I used about 1/8″ deep canola oil in a heavy bottomed frying pan to cook them, and they cooked quite quickly and easily–about one and a half minutes per side was all that as necessary. They just took a bit of watching.
The rest of the salad was mixed baby greens, ripe Anjou pears, pomegranate seeds and sliced almonds.
Oh, and the dressing. I used pomegranate molasses in place of some of the balsamic vinegar, lowered the amount of honey and used sea salt and black pepper instead of the soy sauce. Pomegranate molasses is found in Middle Eastern markets, and is a sweetish, sour, very thick, nearly black fluid that is basically pomegranate juice that has been reduced to the point where it is the texture and color of molasses. (I guess you now know where the name came from.) The best comes from Lebanon–I use Cortas brand, because it is consistently a good balance between tangy and sweet, with a very floral fragrance and aftertaste. One bottle should last you a very long time, because a little goes a long way in any recipe–it is a very rich flavoring.
I urge anyone who tries to recreate this dressing to do this to taste, but the basic ratio for the ingredients is thus: 3 parts oil to 1/3 part pomegranate molasses and 2/3 part balsamic vinegar to 1/4 part honey. Salt and pepper to taste.
5 Comments
RSS feed for comments on this post.
Sorry, the comment form is closed at this time.
Powered by WordPress. Graphics by Zak Kramer.
Design update by Daniel Trout.
Entries and comments feeds.