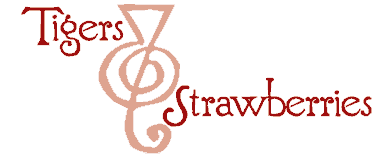 Cook Local, Eat Global
I really enjoy dishes that have poetic names.
Even if the name is not in English, if it is poetic, I seem to remember it better, and appreciate it more.
Besides, poetic names usually have a story behind them, and we all know that part of the fun of learning a new recipe is that you get to hear the tale behind the making of it. (If we were not all fascinated at the stories behind recipes, there would be no one reading this blog–or any other food blog, for that matter.)
Navrattan korma is one of those poetically-titled dishes which I have come to love. But, it doesn't just have a pretty name–it is also a delicious, if rich dish made of a medly of vegetables sauced in a yogurt sauce enriched with cream and ground almonds. It is usually gently spiced; my favorite versions have leaned heavily on cardamom seeds, garlic, pepper, and some fennel seeds. I also like to finish mine with a sprinkling of minced fresh mint and sliced almonds–the green freshness of the mint cuts through the richness and dances in a verdant swirl above the creamy sauce, while the crisp almonds contrast with the velvety softened vegetables.
The word "navrattan" comes from the Sanskrit "nav" meaning "nine," and "ratnas," meaning jewels, and it refers to the tradition of having nine beloved and trusted courtiers in the Indian king or emperor's entourage. Emperor Akbar, one of the greatest of the Mogul Emperors, had among his "Navratnas," great poets, orators, musicians, generals, writers, ascetics and mullahs. Akbar was himself a very learned man, and a great patron of the arts, so while the empire did expand during his reign because of military campaigns, much emphasis was also placed upon art, poetry, architecture, horticulture, music and literature.
Navrattan korma is said to be named for these men, these beloved jewels of the emperor's court. Consisting traditionally of nine vegetables and fruits, and spiced with nine spices, it was numerogically perfect, as nine was triple lucky, being thrice three. It also happened to suit Akbar's taste on "fast" days, when in sympathy with his Hindu subjects, he ate vegetarian meals. (Akbar himself was Muslim, but during his reign, many Muslims followed his lead and adopted many Hindu religious and cultural practices as their own.)
I first tasted navrattan korma Akbar in Columbia, Maryland, and that is where I first heard the story of the emperor's nine courtiers from one of the waiters. He was, like myself, an armchair historian, and so he liked to regale me with tales of the old days of India in between filling up chai cups and water glasses. He especially was fond of the doings of the Mogul Emperors, and Akbar and Shajahani were his especial favorites. He suggested the dish to me when I said I wanted to eat only vegetables one night, but I wanted something different than my usual channa masala or malai kofta. He said that this dish would be filling, but still not as heavy as meat, and he was quite right.
After I tasted it, he and I had to have our usual game of "guess the ingredient," for he would not openly give away the chef's secrets. However, if I guessed correctly, he had no problem in confirming my cleverness. Besides, he always wanted to see how many spices I could unravel from the very well-melded mixtures in their dishes. I think it amused him.
At any rate, here is my version of the dish–it is based on the version I ate often at Akbar, but it is not exactly the same. You will notice that I did not end up with nine vegetables in the dish this time around. That is because I added what I had. If you like, you could add other vegetables to make up the difference: I would suggest mild chiles or red sweet peppers, or perhaps parsnips.
Navrattan Korma
Ingredients:
4 large cloves garlic, sliced
1/4 teaspoon dried ginger
1 bay leaf
1/2 teaspoon fennel seeds
1/4 teaspoon cardamom seeds
10 black peppercorns
15 white peppercorns
1/4 teaspoon cinnamon
2 whole cloves
1 tablespoon white poppyseeds
2 tablespoons butter or ghee
1 cup yogurt
1/2 cup roasted almond butter
1/2 cup half and half
salt to taste
1/2 cup frozen peas, parboiled until tender-crisp
1/2 cup sliced baby carrots, parboiled until tender crisp
1/2 cup frozen or fresh stringed green beans, cut into 1/2 inch lengths and parboiled until tender crisp
1/2 cup frozen baby lima beans, parboiled until tender crisp
5 baby potatoes, quartered, and boiled until done
1 turnip cut into a medium dice, parboiled until mostly done
6 baby mushrooms, quartered
water as needed
1/2 teaspoon powdered turmeric
garam masala (optional)
handful minced fresh mint
handful of sliced almonds
Method:
Grind together garlic with all spices (including the poppyseeds) until a fine, dry paste is formed. Heat ghee or butter in a heavy bottomed pan until it is bubbling and add spice paste and begin to stir. Stir until quite fragrant, then add yogurt, almond butter and half and half and stir until it is all combined. Taste and correct for salt.
Drain all the vegetables of their cooking water and add to the pan with the sauce. Add enough water to thin sauce to a consistency where it can simmer easily. Add the turmeric, and simmer, stirring now and again until the vegetables are all tender and the sauce has become thick and clings tightly to the vegetables. Taste for seasoning, and add garam masala if you like. Keep a close eye on the simmering process and do not let the vegetables or the sauce stick to the bottom of the pan. Add more water as necessary.
Serve with plain steamed rice or a pillau with golden raisins and almonds.
Sprinkle with the mint and almonds just before serving.
Note: This dish is best when cooked the day before it is needed, thoroughly cooled, and stored in the fridge overnight. Then, add a bit more water, and reheat over a slow fire. Simmer until the excess water is gone, then serve as noted above. Most Indian foods are best the next day, after the spices have had a good long rest in the fridge wherein they have time to get to know each other and become friendly as they settle into the overall flavor of the dish.
6 Comments
RSS feed for comments on this post.
Sorry, the comment form is closed at this time.
Powered by WordPress. Graphics by Zak Kramer.
Design update by Daniel Trout.
Entries and comments feeds.