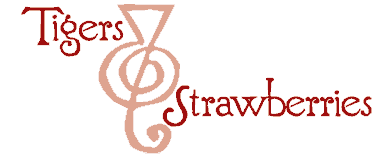 Cook Local, Eat Global
Methi, also known in English as fenugreek greens, is a lovely plant.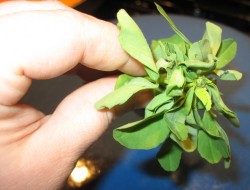 It has delicate ovoid leaves of a nice medium bluish green, dainty triangular flowers and grows in a mounding habit.
A legume, meaning it is of the same family of nitrogen-fixing plants as peas, beans, clovers, alfalfas and locust trees, methi has deliciously fragrant, slightly bitter leaves when fresh; when dried, these same leaves have the amazing scent of newly-mown hay. In fact, the English name, "fenugreek" comes from the Latin species name, foenum graecum, which means, "Greek hay." This name comes from its use as an animal fodder in the ancient Mediiterranean region.
The leaves and thin stems can be used fresh as a vegetable or an herb in Indian cookery, depending on how much of it the cook uses. It is delicious cooked as spinach, but the flavor is much more assertive than the much more unassuming spinach. Used dried, the hay-scented leaves (sold as kasouri methi) are wonderful flavorings either for potatoes or dal, both of which benefit from being cooked with the fresh leaves as well.
The dried seeds are used toasted and ground in many masala mixtures, and iin many Western curry powders. In fact, when Americans ask what spice is it that "smells like curry powder" I always tell them it is fenugreek, and when they smell it alone, I am almost always right. To most American and British palates who grew up eating curry powder, fenugreek is what makes curry taste and smell like curry.
Some Americans object to the smell of it; particularly considering that it seems to get into the body and seep a bit from the skin's pores. This does not bother me. Fenugreek seeds are naturally somewhat antibacterial, and I like their earthy smell. After having ramps get into my skin from the inside out, I can only say that methi is a great improvement!
Aloo methi was my first experience with methi leaves. I ate the dish at Akbar's in Columbia, Maryland, and it was a great surprise. They made it with dried leaves, and the flavor was addicting. Zak and I ate all of it, and he is not even that fond of fried potatoes. But these he loved, and could not get enough of them. Vowing to learn to make the dish, I scoured the local Indian markets for methi, and was thrilled to find large bouquets of them fresh.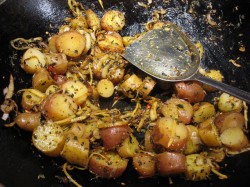 Snatching it up, I cooked it with potatoes and was sad to find that the flavor was good, but different. Fresh methi and kasouri methi carry two different aromas and flavors, I soon discovered, and so over the years, as I developed my aloo methi recipe, I changed it so that it uses methi in three different forms: fresh, dried and as toasted, ground seeds.
This results in a dish that is very intense with subtle layers of flavoring from the three very different versions of the same herb.
The amount of ginger and chiles is variable to one's taste, but I always use a geat deal of deeply browned onions in the dish. While boiled, peeled and cubed potatoes are traditional, I like to boil whole fingerling potatoes in their jackets and then cut them into chunks, skin still on. Fingerling potatoes have a creamy texture that when boiled and then fried turns into a crispy outer coat, concealing a meltingly velvet interior.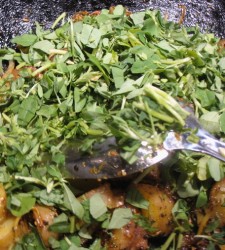 Aloo methi, however, is not the only dish that benefits from the addition of fresh and dried methi leaves. I am also exceedingly fond of dal tarka methi–a dal that has been flavored with a tarka of browned onions, garlic, chiles, mustard seeds, cumin seeds and a saute of fresh methi leaves. To add my characteristic "triple punch" of methi flavor, I also add a couple of tablespoonds of the dried herb to the lentils and beans as they cook, as well as using toasted ground seeds in the masala mixture that goes in at the beginning of the cooking process.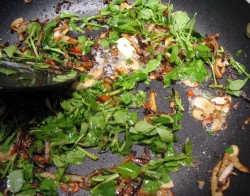 Methi is an herb that is well worth seeking out, particularly if one cooks a great deal of Indian food. It is good added to the spinach in palak paneer, it is good cooked in a mixture of greens in saag aloo and it is really very good in any dal. I am told that it is good with chicken, as well, but I have to admit to liking it so much with potatoes and dal, I have not tried it cooked with chicken yet. (Besides, curry leaves and chicken are a magical combination–one that I will highlight next week on my second venture into Weekend Herb Blogging.
But for now, to celebrate my first entry into Kalyn's Weekend Herb Blogging event, I present not one, but two recipes featuring methi in three forms: my fingerling potato aloo methi and my dal tarka methi which is made of a combination of masoor dal–pink lentils, and split moong dal–split moong beans. (I like the combination of the two dals into one dish because masoor dal cooks into a smooth puree, which gives the dish body, while the moong beans keep their distinct shape as they cook, giving textural contrast.)
The aloo are good with roti, while I like the dal with steamed basmati for breakfast or lunch. Or dinner–it is one of my favorite foods. The dal is particularly nice with cucumber-tomato raita in the summer, too.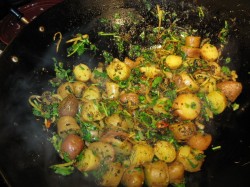 Aloo Methi
Ingredients:
1 teaspoon cumin seeds
1/2 teaspoon black peppercorns
1 tablespoon coriander seeds
1/2 teaspoon fenugreek seeds
2 cloves
1 teaspoon turmeric
4 tablespoons peanut oil
1 medium sized onion, thinly sliced
1/2 teaspoon salt
1″X2 1/2″ cube fresh ginger, peeled and julienned
3-6 red thai bird chiles, thinly sliced on the diagonal (to taste)
2 tablespoons dried methi leaves, soaked in water until rehydrated, then drained with the excess water squeezed out
2 teaspoons cumin seeds
1 1/2 teaspoons mustard seeds
1 pound fingerling potatoes, scrubbed well, boiled and then drained and cut into 3/4″ chunks
1 large bunch fenugreek greens, large stems discarded, washed well, drained dry and chopped roughly
salt to taste
Method:
Toast the first five ingredients in a small, heavy bottomed pan over medium heat until lightly browned and fragrant. Remove from pan, allow to cool, then grind into a powder. Add turmeric powder, and set aside.
Heat oil in a wok or heavy-bottomed skillet until it smokes. Add onion, and sprinkle with salt. Cook, stirring constantly, until onion is golden brown. Add ginger and chiles, and whole spices. Add soaked methi leaves. Continue cooking, stirring constantly, until onion is deep brown.
Add potatoes, and cook, stirring until the cut edges are browned, and everything is quite fragrant. Add fresh methi, and cook, tossing and stirring, until the leaves just wilt.
Salt to taste.
(Note: you can add a squeeze of lime or lemon juice to this dish for a new, tangy version.)
Dal Tarka Methi
Ingredients:
1 1/2 cups masoor dal
3/4 cup split moong dal
water as needed
1 bay leaf
1 big pinch asafoetida
2 tablespoons minced fresh ginger
1 tablespoon coriander seeds
1/4 teaspoon cardamom seeds
1/2 teaspoon fenugreek seeds
1/2 teaspoon black peppercorns
3 cloves
1 teaspoon turmeric
1 teaspoon paprika (all I had was smoked Spanish paprika, and it added a non-traditional, but delicious flavor)
1 can diced tomatoes (14 ounces), juice drained (I used Muir Glen Fire Roasted tomatoes)
2 tablespoons dried methi leaves
2 tablespoons butter or ghee
1 small onion, thinly sliced
3-5 red thai bird chiles, thinly sliced
3 cloves garlic, peeled and thinly sliced
1/2 tablespoon cumin seeds
1/2 tablespoon mustard seeds
1/2 large bunch fresh methi leaves, prepared as for aloo methi
salt to taste
Method:
Sort through dals, and discard any twigs, bits of rock, dirt or weird looking beans. Rinse well, and drain. Put into a medium sized heavy bottomed pot with enough water to cover by 1″. Add bay leaf, ginger and asafoetida. (It is said that these three will help prevent flatulence. I don't know about that, but they do make the dal taste good–and really–the more dal you eat, the more accustomed to digesting it your body becomes.)
Bring to a boil, turn down heat and simmer.
Toast the coriander, cardamom, fenugreek and peppercorns as directed above, then grind. Add to the dal along with the turmeric and paprika. When the masoor dal has broken down, and the moong beans are just tender, add tomatoes and dried methi, and then cover pot, and turn heat off. Allow to sit, cooking in its own heat while you cook the tarka.
Heat butter or ghee in a heavy-bottomed pan, and cook onions until they are dark golden brown. Add chiles, garlic, cumin seeds and mustard seeds. Cook until onions are dark reddish and everything is very, very fragrant. Add methi greens, and cook until wilted.
Pour tarka into pot of dal, clap the lid back on, stir, turn heat back on, bring to a simmer. Bring lid up just a bit to taste–add salt as needed, and put lid back on.
Bring to the table, and lift the lid before family or guests and allow the steam from the tarka carry the delicious flavors to their noses.
32 Comments
RSS feed for comments on this post.
Sorry, the comment form is closed at this time.
Powered by WordPress. Graphics by Zak Kramer.
Design update by Daniel Trout.
Entries and comments feeds.