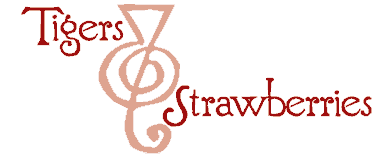 Cook Local, Eat Global
A little more than a month ago, I posted about my pantry and how disorganized and messy it was.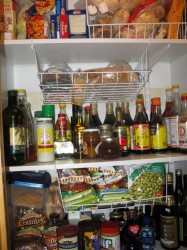 A bunch of kind folks commented to let me know that my pantry wasn't that godawful and I should really not worry overmuch about it.
But, you know, due to a genetic flaw from the Bavarian side of the family, I have this underlying need for order and organization. It doesn't express itself all the time, but sometimes it does, and this weekend was one of Those Times.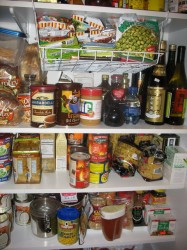 So, I tackled two messpits in the house: the utility room and the pantry. And now, if you go back and look at the photos from a month ago and look at these, the whole thing may not look that different at a casual first glance.
But the fact is–there is a whole hell of a lot more food stored in that closet now, AND, it is easier to find things in it. It makes sense now, even to people who Are Not Me. (And since there are two other people living in the house, that is important.)
Like, there is a system to it, and everything. Cooking wines and liquors are together, staples are together, noodles, Asian condiments, tomato products, broths, soups, snacking things and quick things like bread and peanut butter (that is the shelf that is primarily for Morganna and Zak), ramen and the like. There is an entire shelf devoted to cooking oils, then vinegars, soy sauces and other Asian sauces, and other liquid flavorings like Tabasco, and sweeteners like honey.
It makes my Germanic heart go pitter-pat.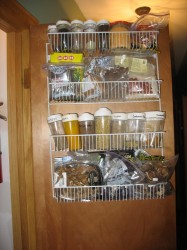 And may I just say this: I absolutely love those organizing racks, baskets, shelf-clips, jars and closet dooflinkies that they sell at The Container Store, (but they sell at Lowe's for a lot less) a whole lot? I am especially fond of the little racks that go on the inside of a door. I was able to put all of my Indian spices in one of those, along with a bunch of dried mushrooms, various Asian condiments and other really neat flavoring items that are small and would otherwise go missing.
Like tubes of anchovy paste.
I had three of them, because I kept losing the ones I already had. Now, I can find them, and know to not buy any for a while so as to avoid having more of the little buggers around the house than are necessary.
I'm getting a second one of those racks to go on the door. I don't know what I will put in it, but something will go there. Maybe more Asian condiments, like soy bean pastes and the like. Right now, they are somewhat visible, but not comepletely so, on the next to the last shelf.
Ooh–and if you look at the bottom shelf you will see that I found fresh coconuts at Taj's in Columbus. I just need to get cheesecloth so I can make fresh coconut milk. Indira has convinced me that I can do it.
And you know what that means? Probably fresh Thai curry. Maybe some other goodies.
I have ideas. You will see.
There is still a secondary pantry in the utility room. (And a cabinet devoted to herbs and spices in the kitchen.) I have an entire cabinet devoted to flours, sugars and other baking necessities. I still have tubs of rice in there as well, though, I am thinking of getting deeper, heavier storage bins for it. The bin I have for jasmine rice holds about fifteen pounds, but I buy it in 25 pound bags, while the basmati bin only holds five pounds, and I buy it in ten pound bags–and we go through it very, very quickly these days. So, that is my next project: rice storage facilities.
8 Comments
RSS feed for comments on this post.
Sorry, the comment form is closed at this time.
Powered by WordPress. Graphics by Zak Kramer.
Design update by Daniel Trout.
Entries and comments feeds.