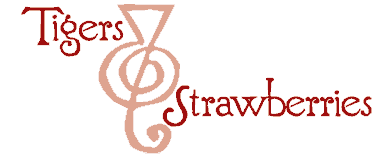 Cook Local, Eat Global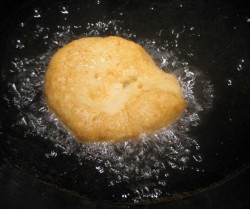 Some say that fry bread came from the time when about 8,000 of the Navajo people were imprisoned at Fort Summer, New Mexico during the nineteenth century. It is said that the Navajos were just given wheat flour and lard to eat–two commodities that were quite foreign to their bean and corn-based diets. Others say that the Navajo and folk of other tribes made the bread because they didn't know what else to do with the government-granted wheat and fat they were given on the reservation to live off of. Still others say that they are a variation on the sopapillas that the Spanish settlers made that the Navajos found to their liking and learned to make.
In whatever case, what may well be a dish born of want and adversity, has become a symbol of pan-Native American pride a century later. Fry bread is comfort food with a big "C" to Native Americans, many of whom call themselves, "Indians," in defiance of political correctness.
I know, because I am related to some of them.
I didn't learn to make fry bread from my Grandma, even though she is the source of the Cherokee genes that gave me my eyes with the slight epicanthic folds and my high cheekbones. The looks she gave me, but the bread, well, that I learned on my own.
I learned it because Morganna wanted me to.
Fry bread, served with fruit, honey, or jam, or with bison-based taco meat, or pinto beans, is a staple food on the powwow circuit. Morganna grew up attending powwows with her stepgrandfather, another of Cherokee descent, and started doing fancy shawl dancing when she was only about eight or nine years old.
So, she grew up eating a lot of fry bread.
And, it was inevitable that she would ask me to learn to make it.
So, I did.
Most recipes are leavened either with baking powder or yeast, but I used both. Most recipe use only white flour, but I added whole wheat flour, because I like the flavor and texture it adds. Most recipes use milk or powdered milk for the liquid, but I used water. I also added a bit more honey for a more developed flavor, and then I decided to let the dough rise slowly in the refrigerator overnight. The longer, slow fermentation develops a delicious flavor in the bread, and the texture of it, once it is fried is light as a cloud on the inside, while the outside is chewy-crisp.
While they are similar to bhatura, they are not exactly the same. They are lighter on the inside, and the flavor is very different, due to the whole wheat flour and the honey. The yogurt in the bhatura gives the dough a characteristic tart flavor that is very distinct from the taste of these fry breads.
I made them this Sunday past when my Mom and Dad came to visit for the afternoon. I had cooked a pot of chili with three kinds of beans, chipotle chiles, smoked Spanish paprika, beer and coarsely ground beef in it; instead of serving it with the usual crackers that my parents would expect, I decided that fry bread was just the thing for dipping and scooping.
And I was right.
I think my Mom ate three pieces of the bread herself; my Dad only ate a moderate two pieces, but his bowl of chile was bigger.
As for Morganna: well, she says that I make the best fry bread in the whole world, but I think she is biased.
Besides, all the Indian kids say that about their Moms.
It's a tradition.
Ingredients:
5 tablespoons honey
3 tablespoons oil (I use canola or olive oil–lard is more traditional)
2 cups hot water (bathwater temperature)
1 tablespoon active dry yeast yeast (I use SAF)
2 cups whole wheat flour
1 cup all purpose flour
1 tablespoon salt
2 teaspoons baking powder
2-4 cups additional flour (evenly split between whole wheat and white flours)
Peanut oil for deep frying
Method:
Mix together honey, oil, water and yeast. Allow to sit to proof yeast.
Put first three cups of flour, salt and baking powder into bowl and stir well. When yeast mixture is foamy and thick, pour into flour bowl and stir until it forms a thick batter. Add in two more cups of flour, oil hands well and begin kneading to incorporate flour. Knead until the dough is firm and begins pulling away from sides of the bowl and pulls dough off of your hands.
Spray the inside of a large ziplock bag with canola oil, and put the dough in, then seal it up, leaving plenty of air inside. Put into the refrigerator and allow to rise for about twelve hours. Degas the dough by squeezing it and deflating it and let it rise again, preferably overnight.
When you are ready to fry, take the dough from the refrigerator and open the bag slightly, and allow the dough to come to room temperature. When it is warmed up, on a floured countertop, roll the dough into a long rope and cut into 12 equal pieces. Roll each into a ball, and flatten into a disk that is slightly thinner in the middle and fatter on the edges. Flour them sparingly, and keep the ones you are not working with covered to keep the dough from drying out.
Heat oil in a wok to frying temperature. (The easiest way to test if the oil is hot enough is to use a bamboo chopstick. If you put the tip of the chopstick in the oil and bubbles form around it immediately, the oil is hot enough. If it takes a minute or so for them to form–it is still too cool. Wait a minute and try again.)
Slide each disk gently into hot oil and cook about 1 1/2 minutes per side, or until nice golden brown. Allow to drain on paper towels and serve hot.
25 Comments
RSS feed for comments on this post.
Sorry, the comment form is closed at this time.
Powered by WordPress. Graphics by Zak Kramer.
Design update by Daniel Trout.
Entries and comments feeds.