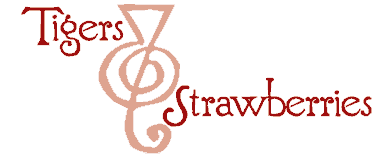 Cook Local, Eat Global
When the Too Many Chefs threw down the gauntlet for this month's IMBB, I couldn't help but take up the challenge.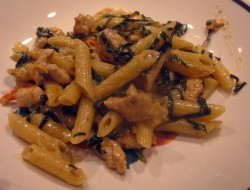 Cook a meal, with as much of it being from scratch as possible, within thirty minutes, a la Rachael Ray.
One of the charges book reviewers often level at Ray's cookbooks is that they cannot manage to make the recipes within thirty minutes as promised. I think that is partly because people are not used to cooking efficiently. It isn't that hard to put a meal on the table that is decent and doesn't include convenience foods, so long as the cook is in good practice with kitchen prep, understands the necessity of organization and is endowed with a good sense of timing.
All of these things require practice.
It used to take me forever to cook anything.
Then, I went to culinary school, and learned how to do everything faster, simpler, and with less fuss and mess than I ever thought was possible before. I learned the importance of mise en place–a French term which means, "everything in its place." It refers to having every bit of prep work done and the ingredients organized before cooking starts. I also learned how to move smoothly and efficiently from one part of the kitchen to the other, to set up my workplace so that there is a flow to my movements, and to make use of as little equipment as possible, in order to save on cleanup later.
So, in order to fulfill the requirements of this challenge, I created a recipe that uses a minimum of ingredients, utensils and most importantly, time.
It is a recipe based on a lemon cream pasta sauce that I learned from the book, The Top One Hundred Pasta Sauces by Diane Seed, years and years ago. The original recipe was much different; it included ham, dried chile flakes, and much more heavy cream than is truly necessary–two cups worth. My version is lighter, and more flavorful, because I use fresh chile, one more garlic clove, I leave out the ham entirely, and I add sherry. The flavor of the sauce comes from the lemon zest and pulp, in addition to lemon juice, and from the fresh herbs that I add in two stages: in this version, I used lemon thyme and rosemary to grand effect. The lemon thyme echoed the lemon flavor and the rosemary complemented it.
Since I had them (thank you, Michelle!) I used the juice, zest and pulp of one Meyer lemon instead of the components of regular grocery store lemons. This evening, I paired the Meyer lemon sauce with penne, and sauteed slivers of chicken with a chiffonade of collard greens for a light-tasting, yet filling seasonal dish. Looking at the pictures, one might assume that the chiffonade would take forever to cut–it being tiny green ribbons less than one quarter of an inch thick. However, the secret is, to take the big central ribs out of the leaves after you have washed them,lay them out flat, roll them up tightly and cut them into slivers from the "log" that you have made. They fall away, magically unfurling into perfect verdant ribbons.
The prep time was minimal–cutting up the chicken and cooking the pasta took the longest time of anything. Everything else was a breeze.
Enjoy!
Penne with Sauteed Chicken and Collard Greens in a Meyer Lemon Cream Sauce
Ingredients:
1 boneless skinless chicken breast, trimmed and cut into 1/4″ wide by 1″ long slivers 1/4″ thick
1 tablespoon sherry
1/4 teaspoon powdered dried rosemary
1 teaspoon Fox Point Seasoning from Penzey's
1/2 tablespoon freshly cracked black pepper
2 tablespoons all purpose flour
EVOO (you all know what that is, right? Extra Virgin Olive Oil!) twice around the pan (about two tablespoons and a half)
1 clove garlic, minced
1 chile pepper (I used a fairly mild one–use your judgement or leave it out) cut into thin diagonal slivers
1 tablespoon fresh herbs–I used lemon thyme and rosemary–use what you like or have
2 cups collard green leaves cut into a very thin chiffonade (about 1/8 of an inch thick) (That is about four really large leaves)
3/4 pound penne pasta
1 tablespoon EVOO (I know you know what it is now, I said it once, I won't say it again.)
1 clove garlic
zest from a large Meyer lemon (The one I used was bigger than my fist and heavy–filled with juice if yours are smaller, use two)
pulp from 1/2 Meyer lemon–this is easily removed by cutting it in half, removing the peel by hand, and then squishing it out of segment membranes with your fingers. Do this over a bowl to catch the juice
2 tablespoons sherry
Juice from the rest of the lemon (this added up to about 1/3 cup of Meyer lemon juice–I even measured it)
1/3 cup heavy cream
salt and pepper to taste
1/4 cup reserved pasta cooking water–just scoop it out before you drain the pasta, and hold it in reserve–you probably won't use it all–I only used about 2 tablespoons of it, but you might need more.
1 tablespoon fresh herbs–again, I used the lemon thyme and rosemary–you use what you like
Method:
Start boiling water for the pasta. Add salt.
Toss your chicken with the sherry, seasonings and flour. The flour will help make the chicken brown nicely and will help give the sauce body.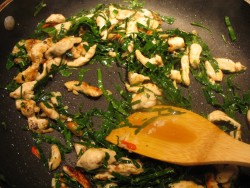 Heat the first amount of EVOO in a saute pan. When it is hot, add the chicken, breaking it up and spreading it into a single layer on the bottom of the pan. Have your heat on high. When it browns on the first side, start stirring it, and turning it over. Add first garlic clove and the chile and keep stirring until the chicken is nearly done–it should be well browned and most of the pink should be gone. Add the herbs and the chiffonade of collards, and stir briskly until the collards turn emerald green and wilt gracefully. They will shrink up a bit in the pan. Sprinkle a bit of salt (about a half teaspoon or so) and some freshly ground black pepper over it all.
Put your pasta into the boiling water. Set the timer for the desired doneness–mine takes about eight minutes.
Scrape the contents of the pan into the bowl you had the greens in. Put it back on the fire, put the second amount of olive oil in and add the garlic. Cook until it is starting to turn golden. Add the lemon zest and cook stirring until the garlic is golden and fragrant. Add sherry and cook off alcohol. Add lemon pulp and the lemon juice and cook down, stirring, for about five minutes. Add the cream and stir until combined. Reduce until quite thick. Season to taste with salt and freshly ground pepper.
Put chicken and greens back into pan, in the sauce. Take out a ladleful of pasta boiling water, put it into the bowl that held the cream, and leave it. Stir in the chicken and greens into the sauce, drain the pasta. Add pasta to the pan, along with however much of the pasta cooking liquid is necessary to thin the sauce. You just want it to coat the pasta, greens and chicken–you do not want it to be drowning in the sauce. That is why there is so little sauce.
Sprinkle the fresh herbs into the sauce and serve in warmed bowls.
Notes: For vegetarians, change out the chicken for mushrooms.
This is a very strong-flavored sauce. You don't need much; in fact, if you are one of those people who likes pasta swimming in sauce, I challenge you to try this dish and see if it isn't really good with just enough sauce to coat everything and make it all very tasty.
The trick of thinning the sauce with pasta water I learned from an old Italian chef in culinary school. The starch in the water helps make the sauce adhere to the pasta, he said, and, I also think it helps keep the water from thinning the sauce -too- much.

There it is–28 minutes from start to finish. I used a lot of prep bowls, a zester, a juicer, a cutting board, a knife, a pot for pasta and the saute pan. Not too much to clean up. The trick is to know what you are doing, do it efficiently, and keep your burners on high. On high, mine can cook this sauce and reduce it within ten minutes flat. That left me plenty of time to prep and saute the main ingredients. As for the prep–cut the chicken when it is partly frozen and it goes faster. The time you take to cut it into precise small pieces is made up for in the speed with which it cooks.
Zak and Morganna loved it, I am happy to say, as did I.
What I loved the most was it was easy to make, and fast.
Tagged with: IMBB24 + 30Minutes
Posted by Barbara on March 26, 2006 in Blogs and Blogging, Culinary School Stories, Recipes: Almost Vegetarian, Vegetarian and Vegan, Recipes: Bread, Pasta, Grains, Recipes: Italian, Recipes: Meat, Poultry and Fish | 11 Comments
11 Comments
RSS feed for comments on this post.
Sorry, the comment form is closed at this time.
Powered by WordPress. Graphics by Zak Kramer.
Design update by Daniel Trout.
Entries and comments feeds.