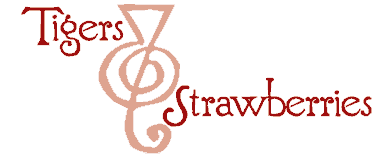 Cook Local, Eat Global
I have to admit that this recipe came about because I was copying the flavors of a soup that they have at The Olive Garden. (Though, mine is better.)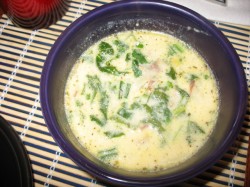 Don't get me wrong–I generally dislike The Olive Garden, and find most of their foods to be quasi-Italian at best, and downright crap at worst. But, the one thing I like to eat there, and will eat if I am forced to go there by circumstance (a friend really wants to go, in other words) I can order the endless bowls of this soup and be happy. They call it, "Zuppa Toscana," though, not knowing if this soup has diddly to do with Tuscany, I call it, "Rustic Italian Sausage, Potato and Kale Soup."
It is a great peasant dish, full of flavor and nicely filling without being overly heavy. As we had it the other night, served with a fresh mixed greens salad and a full-bodied whole-wheat bread, it is a really good supper that bridges the seasons of winter and spring.
The farmer's market here in Athens, Ohio, is still filled with cool weather greens that many associate with fall and winter, such as kale, collards and chard. A few folks have potatoes that have been kept in a root cellar all winter, along with squash, turnips and beets. These wintery vegetables are starting to give way, however, to harbingers of spring: ramps, and green garlic, for example.
Ramps, are a foraged wild member of the leek, onion and garlic family, and they are plentiful here in the hills and valleys of Athens county. They grow all through the Applachian mountain range, from Georgia all the way up to Canada, and they bring a sometimes biting, sometimes sweet savor of garlic to everything they are cooked in. (You can see the greens in the photo above–they look like little verdant spearheads.)
Green garlic is the new shoots of hardneck garlic, and can be eaten completely, from the tiny white bulbs at the bottom to the last of the kelly green leaves. More delicately scented than ramps, green garlic looks like scallions, but has the sweet, seductive flavor of garlic at its finest.
When I picked up bundles of green garlic and a handful of ramp leaves at one end of the market, and then fell in love with the tender blue-green, curly, lacy bunches of kale at the other end, I knew what I had to make. My soup.
So, some potatoes were aquired, and off home we frolicked, with every intention of making soup in my thoughts.
There was only one wee problem.
I had no Italian sausage.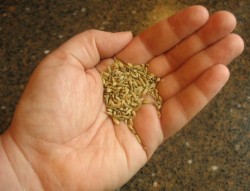 But it was only a small problem, as I -did- have ground pork in the freezer, and herbs and spices in my cabinet. Certain that I could make a perfectly good Italian sausage through the application of salt, herbs and spices to the ground meat, I pulled it out to thaw, and started rinsing greens.
Italian sausage is simple to make: the main flavorings are fennel seed, salt, a mixture of rosemary, thyme, oregano, and basil, and some optional red pepper flakes. Most people also add black pepper, but considering my newly found sensitivity to the spice, I prudently left it out of the recipe.
Out of the tablespoon and a half of fennel seed I added to the pound of ground pork, I ground one tablespoon of it finely, and simply cracked and left partially whole, the other half tablespoon, to give the sausage texture. I added about a teaspoon of oregano, two teaspoons of basil, 1/2 teaspoon of rosemary and 1/2 teaspoon of thyme, along with about two teaspoons of salt. The amount of red pepper flakes I added might have been more than most would use, but I like spicy sausage, so I added a full tablespoon of medium-hot pepper flakes. This also helped make up for the lack of black pepper in the entire dish.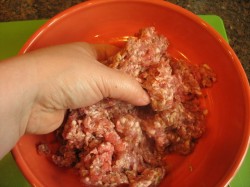 Putting the sausage together was simplicity itself; there is no need for casing as I would have taken whatever sausage I bought out of the casings to cook it anyway. I simply squished the spices into the meat with my fingers, blending it together until it was very well mixed.
The rest of the cooking was simple, and the results were quite flavorful. The only non-local ingredients were the dried herbs (though some were from my garden last year), spices, olive oil, an onion, flour, and the chicken broth. The potatoes, green garlic, pork, kale, ramps, milk and cream all came from Ohio, with most of it coming from within 100 miles of Athens.
The greens in the salad we ate were from Athens, and the flowers used to garnish it came from my own porchboxes. The bread was an Italian olive oil loaf from the local food outlet, "The Village Bakery, " which rests down at the foot of the hill on top of which our house perches.
It made a wonderful lighly filling dinner, though I have to admit, that it is even better after having rested for a day in the refrigerator, and has made an excellent lunch, sans bread and salad.
Rustic Italian Sausage, Potato and Kale Soup
Ingredients:
2 tablespoons olive oil
1 medium sized onion, quartered and thinly sliced
1 pound bulk Italian sausage, or sausages removed from their casings
8 stalks of green garlic, bulbs and light green parts thinly sliced, darker tops reserved
1 teaspoon dried thyme
1/8 teaspoon dried powdered rosemary
1 teaspoon dried oregano
2 teaspoons red pepper flakes
3/4 cup dry white wine or sherry
2 quarts chicken broth or stock
4 medium potatoes, cut into quarters lengthwise, then sliced into 1/4 inch slices
1/2 cup milk
1/2 pint heavy cream
2 tablespoons olive oil (optional)
2 tablespoons flour (optional)
1/2 pound kale leaves and thin stems, cut into ribbons about 1/2 inch wide
ramp leaves cut into 1/4 inch ribbons
reserved green garlic tops, sliced thinly
salt (and black pepper, if you can) to taste
Method:
Heat first amount of olive oil in a heavy bottomed soup pot until hot. Add onions and sausage, and cook, stirring to break up sausage and to keep onions from burning. Cook until sausage is browned and the onions are a deep golden-reddish color.
Add the green garlic slices, and herbs and stir, cooking until they become quite fragrant: about 2 minutes.
Add wine or sherry and cook off alcohol, stirring.
Add broth when the alcohol is cooked out of the wine. Add the potatoes and the milk.
When potatoes are tender, add cream.
If you would like a thicker soup, in a separate heavy bottomed frying pan, heat second quantity of olive oil. When it is hot, add flour and stir until it forms a paste. Cook, stirring on medium heat for three minutes. Add half of this roux to the boiling soup, and stir until it thickens. If it is still not as thick as you want, add the rest of the roux and stir until it thickens.
Add the ribbons of kale, ramps and green garlic tops, and cook, stirring, until greens wilt. Season to taste with salt and pepper and serve hot.
14 Comments
RSS feed for comments on this post.
Sorry, the comment form is closed at this time.
Powered by WordPress. Graphics by Zak Kramer.
Design update by Daniel Trout.
Entries and comments feeds.