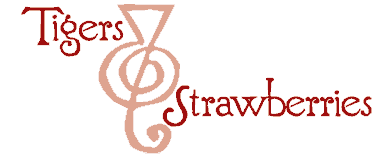 Cook Local, Eat Global
Here we are again, with the final entries into the Spice is Right II–"Sweet or Savory?"
Once again, I really want to thank everyone for participating in this event with such fun, fascinating entries that have been a joy to read and write about. I hope that you all come back and play in the next round, entitled, "The Perfumed Garden."

Luv2Cook, the blogger behind Cooking Medley, tells us all about how she used to help her mother and grandmother scrape the ginger roots clean before they were used. Yes, back then, she says, in India, ginger used to be sold with lots of red clay dirt clinging to it tightly, and so she and her cousins and siblings used to have the chore of scraping and washing the ginger clean, especially in the summer when kilos of it were bought to help preserve the pickles her mother and grandmother made. But she didn't mind, because she so loved the smell of ginger, and she tells us that her family used it in nearly every savory dish they cooked. So, what did she present as her sweet dish? She made Ginger Shortbread Cookiesusing fresh, not powdered ginger. They sound delicious to me, and I bet they will to you, too.

Saffron is one of the most expensive spices in the world, but it is also nearly universally loved. Haalo, of Melbourne, Australia, and the author of Cook (almost) Anything at least Once, decided that since a very famous Italian dish that used saffron was the beloved Risotto Milanese, she would use saffron to flavor and color a classic Italian dessert–Panna Cotta. The results were beautiful, especially when she dressed up the Panna Cotta with a drizzle of Saffron Syrup: a golden confection of sugar, water and saffron threads. Her Saffron Panna Cotta with Saffron Syrup is a study in delicate flavor wedded to decadent texture and is not to be missed.

Vineela of Vineela's Cuisine tells us that cloves are used in Indian cuisine to flavor biryanis, soups, in garam masala and to flavor some Bengali sweets. But, she wanted to try something new so she made a delightful-sounding version of baklava, the ubiquitous Greek or Turkish pastry made from phyllo dough. Phyllo, she tells us, is the Greek word for "leaf," and the reason that the pastry is called that is because it is stretched into sheets as thin as paper. She carefully describes the care one must take when working with phyllo that it does not dry out, then presents her recipe which has a filling that includes cashews, almonds, pistachios, peanuts, coconut, and dried apricots and is flavored with cinnamon, cardamom and cloves. Wow–I want to go to Vineela's house just so I can have a bite of her Sweet n Flaky Baklava.

Jen of bigdayton made a truly sumptuous recipe featuring vanilla, citing it as one of her favorite flavors and scents. (One of the trends, I see in this challenge has been to use vanilla in a savory context. Get on with yourselves, vanilla people!) I can't help but agree with her–vanilla is beautiful–the pod of a gorgeous flower, with a scent that is on the one hand comforting and homey, and on the other hand, sensual and mysterious. She decided to pair it with garlic in a veloute sauce. What's a veloute sauce? It is one of the classic French "mother sauces" from which many other sauces are derived–it is based on chicken stock thickened with a roux. The dish looks and sounds fabulous, and as Jen tells us, it is only nine Weight Watcher points, if you only eat half the sauce on the plate. So run off and read about her Chicken Scallopine with Vanilla and Garlic Veloute, and be prepared to lick your lips. (But, don't lick the screen on your monitor–it is neither good for the monitor or your tongue.)

Now you -know- I just have to love this dish. It's Chinese! A variant of red-cooked beef, which is braised in a spiced liquid that includes cinnamon, ginger and anise, spices that to most American palates are considered "sweet" and are relegated to baking and desserts. Rosie of Bitchin' in the Kitchen had this dish in Vegas a few years back and fell in love and it has become a comfort food for her. Well, I tell you, I feel comforted just looking at it, but I also feel a mighty hunger welling up inside, too. I might have to sneak over to Rosie's for a bowl of Cinnamon Beef Noodles–and the thing is, I -could- concievably do that, since she is just a hop, skip and a jump away in Columbus, Ohio. Watch out, Rosie! You may find me on your doorstep yet, fainting with hunger.
While I'm threatening hopping, skipping and jumping for a bite to eat, I feel like I should drop in on Lucette, of Cooking Vintage up in Cleveland. Not only because she likes to combine chocolate and chiles, but because she seems like a darned neat lady, too. But, really, that chocolate and chiles action helps a lot, too. Maybe I should organize a road trip and visit all the Ohio food bloggers, and have adventures with them and then blog about it. That could be fun! Where was I? Oh, yeah–Lucette's Chocolate Chipotle Shortbread, which she says looks kinda like brownies, but has the sandy, texture and buttery flavor of shortbread, along with the smokey heat of chiles and the richness of chocolate. Wow. Sign me up for some of that! Now, Lucette says she adapted the recipe from two other recipes, and so the next time she makes these, she is going to change them a bit, but I think she is definately on the right track so far.

Cooking Theory, a native of India, whose self-named blog, Cooking Theory is brand new, wanted to make an unusual sweet for us. First, she wanted to use ginger, but was not sure it could be considered a spice (it is, just so she knows) and wanted to make a sweet, because so many spices are used in savory dishes in India. She wanted to make something unexpected. So, she decided to make Caraway Seed Cookies. In the US, we think of them as the flavoring agent in rye bread, so I think she picked a winner–unexpected flavors in an unexpected place. That is what this challenge is all about. Great job CT, thank you!
Linda, who is from the Netherlands, but is living in Tel Aviv (maybe I should introduce she and Hadar?) likes to make life sweeter by baking and creating sweets and confections, which is probably why she named her blog, Make Life Sweeter. It seems logical to me, anyway. So, what did she send in for our delectation? Well, she sent in a splendid recipe (alas no picture, but that is okay, we love her anyway) that utilizes curry powder in a completely unexpected way. She tells us that curry powder is always used in savory contexts in the Netherlands, so she wanted to step outside the mold and make a recipe using bittersweet chocolate ganache infused with curry. The resulting Curry Chocolates are then hand-dipped in bittersweet chocolate, which would make them go really nicely with Mackey's chili chocolate truffles from the second round-up post. In fact, I think that the two should get together and open a chocolate shop.

Raspberry Sour of Toronto, the author of The Sour Patch, decided to take on cinnamon as her topsy-turvy spice of choice, and let's listen to what she has to say about it: "My spice is cinnamon, most often spotted adorning various toasts, buns, pies, and rouglach about town. Only in North America would cinnamon be forever relegated to such mundane, pedestrian duties. Perhaps fearful of the ensuing flavour explosion, we have kept it safely corralled behind saccharine gates. Not so for the rest of the world, where cinnamon is routinely called upon to strut its stuff on the runways of flavour, dabbling in sweet and savoury as the mood strikes." I couldn't have said it better myself. So, what savory dish did she choose to de-sweetify her cinnamon? Moroccan Chicken Qdra, which sounds and looks lovely.

And here we are, at the end, with the hostess' humble entry. I grew up with cinnamon used in sweets, just like most everyone else in the US, and my first introduction to cinnamon in savory dish was not successful. I still cannot abide Cincinnati chili to this day, but I have learned to love cinnamon used in Greek, Persian, Mexican and Indian savory dishes. So, what did I choose to present for this feast of Sweets and Savories? I chose to make Galavat Kebab, which are made with minced lamb spiced with fresh mint, garlic, and freshly made garam masala which features cinnamon prominently. The kebabs were fried in oil which had been infused with two cinnamon sticks, and then on the side, I served Green Chutney, which is made with shallots, fresh mint, cilantro, chiles, green garlic and coriander seed.
Thus ends the round-up of entries for The Spice is Right II: Sweet or Savory? I hope everyone enjoyed the game, thus far, and once again, it looks like we have a great bunch of recipes to read, play with and try out over the next month. Join us next time with the challenge, "The Perfumed Garden," where I ask participants to mix edible flowers with spices in a dish.
If I missed anyone else (as I did miss Jen), just email me, and I will edit you into the round-up, with many apologies.
14 Comments
RSS feed for comments on this post.
Sorry, the comment form is closed at this time.
Powered by WordPress. Graphics by Zak Kramer.
Design update by Daniel Trout.
Entries and comments feeds.