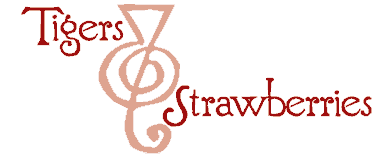 Cook Local, Eat Global
I know that last month, I promised as the strawberries came into season, to write about a bunch of recipes that used them while they were at their peak of flavor and freshness.
And did I do that?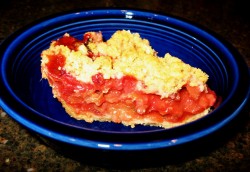 No.
Why?
Because I was too busy eating them up to cook with them.
They just tasted way, way too good eaten out of hand, or perhaps dipped in slightly sweetened sour cream, to bother cooking with them. I haven't even made strawberry shortcake yet! Or strawberry ice cream. Or, well, anything.
Until last night. I had about a quart and a half of strawberries and a pound of rhubarb in the fridge that needed to be used, so after supper, I rolled up my sleeves and prepared to make pie.
Except–I have never, ever made a strawberry rhubarb pie. I know it is a classic combination of late spring and early summer fruits, but I still had never tasted it. I am not certain why, except that no one in my family much liked rhubarb except my Grandpa. Apparently, he hadn't grown it in years, either, by the time I came into pie-eating age, so there we are. Never once did I eat it, until today.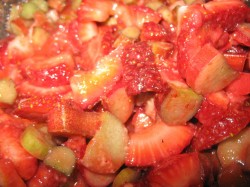 I have to say this–rhubarb stalks are very, very pretty. Ranging in color from celery green to ruby red, the smooth stalks glint with the hues of the semi-precious gemstone watermelon tourmaline. It is simple to work with, requiring no peeling, only cutting off the dried out ends from the stalks and trimming any leaf bits that may be left; the leaves are toxic and will sicken a person if they eat them. After that, all that remains to be done is to slice the stalks into 1/4″ pieces, and they are ready to be made into pie filling.
The strawberries have to be rinsed, hulled and sliced, and then, into the bowl they go with the rhubarb. I used roughly twice as much rhubarb as strawberries, as I was following a recipe from Ken Haedrich's book, Pie.
Were it left up to me, I probably would have added more strawberries out of ingorance of the refreshing sour flavor of the rhubarb. But, I am glad I vaguely followed the instructions for the filling and left the proportion of strawberry to rhubarb essentially as written. I did use a few more strawberries than were called for; but that is because I wanted to use them up.
But, you know me–I could not leave the recipe completely as written; I had to tweak it a little. So, I did add the zest of a lemon and two tablespoons of rosewater to the filling mixture to grand effect, if I do say so myself. The rosewater adds a little extra "oomph" to the filling without being obviously floral, while the lemon zest adds complexity and melts beautifully into the cardamom and ginger that Haedrich's source for the recipe, Dolores, used.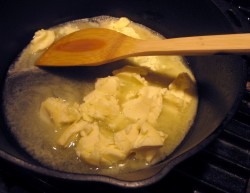 The crust was an unusual one–it is a "skillet crust." Made by melting butter in a skillet, and then mixing in vanilla extract, and then stirring in flour and sugar until it forms uniform crumbs, the crust was simple to prepare, and a snap to use. Two thirds of it were pressed into the bottom and up the sides of a deep dish pie pan, while the rest was reserved to make a crumb topping. It was as simple to prepare as a graham cracker crust, but required no pre-baking; and I have to admit that it smelled really nice coming together.
I was at first dismayed by the amount of sugar in the crust, but after tasting it, the shortbread like consistency and flavor really offset the tang of the filling. Dolores really knew what she was on about when she made that crust recipe.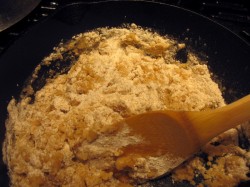 All in all, it turned out beautifully, and the pie comes out with a crisp crust and topping, filled to bursting with juicy, tangy fruit. It is a lovely dessert, and I will not hesitate to make it again–besides, I feel as if I must make up for all of those years I never tasted rhubarb! The spices are used in small enough amounts not to overpower the fruit and the rosewater really brings out the flowery nature of strawberries.
Strawberry and Rhubarb Crumb Pie in a Skillet Crust
For the Crust: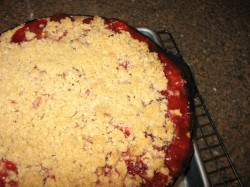 2 1/4 cups all-purpose flour
1 cup sugar (I used raw cane sugar)
3/4 cup butter
1 teaspoon vanilla extract
Method:
Combine the flour and sugar in a bowl and set aside.
Melt the butter in a large skillet over medium heat; when it is melted, blend in the vanilla.
Turn off the heat and stir in the flour and sugar mixture; this may take some time, but be patient and keep stirring until you have a pan full of evenly mixed crumbles.
Transfer about two thirds of the crumbs to a 9 1/2 inch deep dish pie pan, and press them to the bottom and up the sides of the pan.
Preheat oven to 350 degrees F.
Ingredients For the Filling:
1 1/2 pounds fresh rhubarb stalks, trimmed of leaves and sliced crosswise 1/4 inch thick (They should come out to be about 4 cups of slices)
2 cups hulled and sliced fresh strawberries
3/4 cup sugar (I used raw cane sugar)
zest and juice of one lemon
1/4- 1/2 all purpose flour (if your rhubarb stalks are small, use the larger amount of flour–if they are large, they are drier, use the smaller amount of flour)
1/2 teaspoon ground cardamom
1/2 teaspoon ground ginger
1-2 tablespoons rosewater (use smaller amount for a more subtle effect)
Method:
Mix together the filling ingredients and allow to stand for ten minutes.
When the oven is preheated, put the filling ingredients into the prepared bottom crust and level it carefully. Crumble the reserved crust mixture over the pie evenly, and press it down gently with your hand.
Place the pie in the center oven rack and bake for thirty minutes. Turn the pie 180 degress and turn the heat down to 325 degrees F. Close the oven and bake for another 40-50 minutes, until the topping is golden brown and the juces bubble thickly up around the edges of the crust.
Remove from oven, and allow to cool at least two hours before serving. (This is important–the filling thickens up as it cools. If you try to cut into it before it is at least just barely warm, it will be a sloppy, messy, painful procedure, and your pie will look more like roadkill than dessert.) (Although, for those with a morbid sense of humor, "Roadkill Pie" does have a sort of ring to it.)

28 Comments
RSS feed for comments on this post.
Sorry, the comment form is closed at this time.
Powered by WordPress. Graphics by Zak Kramer.
Design update by Daniel Trout.
Entries and comments feeds.